Main content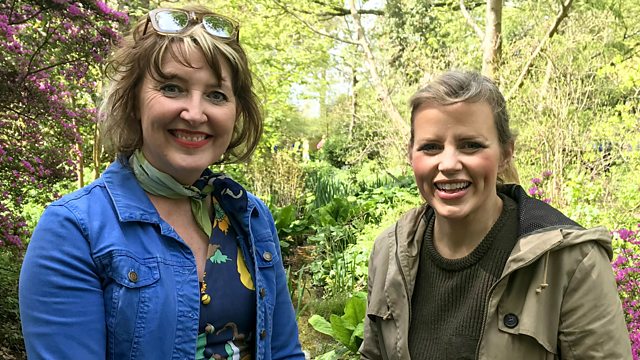 Spring Special
Ellie Harrison meets the designer who's creating a celebratory 30th anniversary Countryfile garden for the Hampton Court Flower Show.
Matt Baker is whipping up a Welsh spring treat with baker Beca Lyne-Pirkis.
Ellie Harrison meets the designer who's creating a celebratory 30th anniversary Countryfile garden for the Hampton Court Flower Show.
Anita Rani's in Dorset living life on the edge, in the hope of spotting migrating birds. Steve Brown discovers how a Somerset artist gets an unusual view of our fresh new landscape.
In the Norfolk Broads John Craven explores the legacy of the Edwardian naturalist and photographer Emma Turner.
We meet the Buckinghamshire farmer who's becoming an internet sensation and the metalworker who's capturing spring in miniature.
Adam Henson is getting fit for spring, with a little help from some farm friends.
Welsh Spring Delights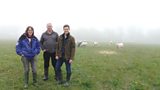 Matt visits a farm on the Llyn Peninsula where sheep are being reared just for milk.He meets local cheesemaker Dr Carrie Rimes, who turned professional six years ago after training in France.The cheese Carrie produces comes from Friesland and Leyn sheep, reared on Alan Jones' farm...but how good does their milk taste? Matt has a taste of the cream of Welsh produce to find out...
Meet the milksheep
Hampton Court Garden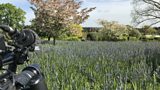 With spring, gardens across the country are coming alive...and the Royal Horticultural Society garden in Wisley, Surrey, is no exception. Countryfile is joining forces with award-winning garden designer Ann-Marie Powell to create a special 30th anniversary garden.To make sure the garden feels natural rather than nurtured Ann-Marie has gathered ideas from the wilder parts of Wisley itself.And Ellie discovers how a dedicated team are growing nearly 15,000 plants from scratch to create a natural-looking - and very Countryfile - garden for this year's RHS Hampton Court Palace Flower Show.
Create your own wildlife garden
Paragliding Painter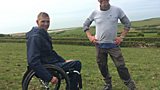 For renowned landscape painter James Lynch the Dorset landscape has always provided inspiration - although he views it from a very different perspective.
Steve joins the artist to see how you can really capture a bird's eye view for a painting - by going paragliding!  
He takes a tandem flight with instructor Andrew Pearse, who works closely with the charity Flyability.
But it's not only James' sky-high technique that stands out - the way James makes his paint is also unusual. 
He uses egg tempera, paint made from water and egg yolks - which have been kindly provided by the chickens at the end of his garden!
More about paragliding
Online Farm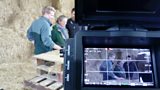 Sarah Denne runs a livestock farm in Buckinghamshire and has been doing so since she was 14.
Her son, Rufus, and his friend, Josh, work in online marketing and are setting out to make one film every month this year about Sarah and the realities of farming.
They post the films online to make this story of everyday agricultural life accessible to audiences of all ages.
Emma Turner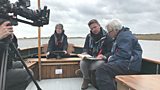 Born in the 1860s, Emma Turner was a pioneering naturalist whose passion was to study and photograph the birds of the Norfolk Broads.
Emma was largely forgotten until seven years ago when photographs of her were discovered in the private collection of the aptly-named The Rev Bird.
The find inspired natural history author James Parry to co-write a book about Emma's life.
John travels to the Broads to find out more about the naturalist, who lived among the reeds on a houseboat she named The Water Rail after the first bird she photographed.
He also hears how Emma astonished ornithologists in 1911 with a photograph of a bird that was thought to be extinct in the UK - the bittern.
More about Emma Turner
Fitness Farm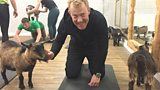 From shifting old tractor tyres to hammering in stakes, Adam knows only too well that farm life is a work-out in its own right!But he's off to meet the farmers who are bringing fitness and farming even closer together.Farmer's son Tom Kemp was brought up on the family's arable farm in Essex - and now runs an outdoor gym where Adam is put through his paces.In need of something a little more relaxing, Adam heads off to try out the latest fitness craze - Goga...where participants do yoga with kid goats...


Spring in Miniature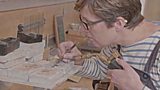 Nature has always been central to Laura Baxter's life and work. 
Born and raised in the countryside of the Lincolnshire Wolds, from an early age Laura made tiny objects as homes for ladybirds using seeds and flowers from the garden. 
Today plants and wildlife remain a boundless source of inspiration while Laura works in her Nottinghamshire metal work studio.
We meet her as she collects inspiration for her spring jewellery collection in the bluebell woods on the Welbeck Estate.
When is it OK to pick wildflowers?
Life on the Ledge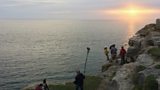 What better way to enjoy the warmer days of spring than with a camping trip, some bird-watching and a picnic.But Anita is going to a whole different level on the Isle of Portland...roping up for a spot of cliff-camping - on a hanging cot suspended on the cliff face.Climbing instructor Eddy Young says cliff-camping is the best way to see wildlife from a whole different perspective...while enjoying a spring sunset and some local fish and chips! 
Credits
| Role | Contributor |
| --- | --- |
| Presenter | Matt Baker |
| Presenter | Ellie Harrison |
| Presenter | Anita Rani |
| Presenter | Steve Brown |
| Presenter | John Craven |
| Presenter | Adam Henson |
| Executive Producer | William Lyons |
| Series Producer | Joanna Brame |