Main content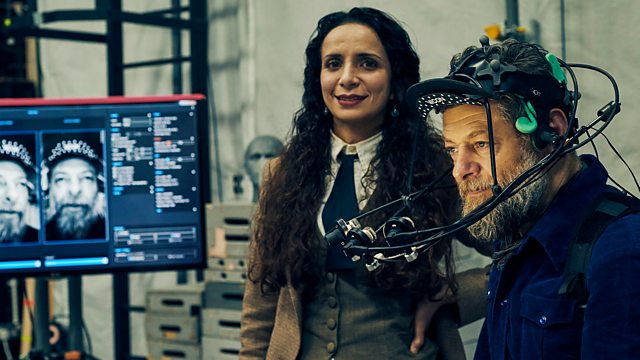 In this episode, Ella Al-Shamahi explores the fate of the Neanderthals - asking why they became extinct, and discovering how they live on inside of us today.
According to recent science the Neanderthals are not the knuckle-dragging apemen of popular imagination. In fact they are our distant ancestors. About 2% of the DNA of most people is of Neanderthal origin - and it continues to affect us today.
In this episode, Ella Al-Shamahi explores the fate of the Neanderthals - asking why they became extinct, and discovering how they live on inside of us today. The programme starts in the caves of Gibraltar, which may have been the last place the Neanderthals survived. Discoveries here have shown the Neanderthals lived a good life - feasting on seafood and wild game. These were a people who were supremely well adapted to their environment. But about 40,000 years ago they disappeared. Why? It wasn't because they were socially unsophisticated. Back in the studio we return to Ned - the scientific recreation of a Neanderthal we built in the first programme with the help of actor Andy Serkis and a team of scientific experts. In this episode, Andy helps us see Ned towards the end of his life. Ned's fossil shows that he had survived for many years after suffering a number of crippling injuries. This could only have happened if he had been cared for by the rest of his community. This was an advanced society that knew how to survive. So why did they disappear?
One of the reasons might have been that they lost out in a physical showdown with modern humans. Ella investigates one of the world's oldest murder mysteries. A Neanderthal skeleton found in the Shanidar cave in Iraq gives us clues to a gruesome death. In the studio Ella and her team of scientists reconstruct an experiment to discover whether the perpetrator of this murder was a Neanderthal or a modern human. There are other reasons why Neanderthals may have become extinct: their small population size, or climate change. But when their DNA was first decoded in 2010 it became clear that they hadn't completely disappeared - because they live on inside of us - everyone except people from sub-Saharan Africa. Ella meets scientists who reveal how our genetic legacy from Neanderthals may have made all the difference to our survival in Ice Age Europe and how today the DNA from our ancestors affects our skin, our immune system, our risk for cancer, and even certain neuro-psychiatric diseases such as addiction.
At the Pasteur Institute in Paris, Ella meets a scientist who explains how, once we know exactly what we have inherited from Neanderthals, we can use this information to develop new approaches to treating diseases such as the 'flu virus. But not all of our Neanderthal inheritance is necessarily good for us - it is possible that obesity and type 2 diabetes may have their roots in Neanderthal heritage. Finally, Ella explores a truly mind-blowing possibility that we could manipulate their DNA to bring a Neanderthal back to life. Individually many of us have around 2% Neanderthal DNA. But each person's 2% is different. It turns out that modern humans living today collectively have up to 70% of the Neanderthal genome walking around within us. It's enough that scientists have started contemplating bringing Neanderthals back from extinction.
More episodes
Next
You are at the last episode
Credits
| Role | Contributor |
| --- | --- |
| Presenter | Ella Al-Shamahi |
| Presenter | Andy Serkis |
| Director | Vikram Jayanti |
| Executive Producer | Vikram Jayanti |
| Producer | Vikram Jayanti |
| Producer | Ian Dodd |
| Producer | Rebecca Chambers |
| Executive Producer | Andrew Jackson |
| Production Manager | Shivani Srivastava |
| Composer | Nicholas Singer |
| Production Company | VIXPIX Films Ltd |
| Editor | David G Hill |
| Special Effects | Jellyfish Pictures |