Main content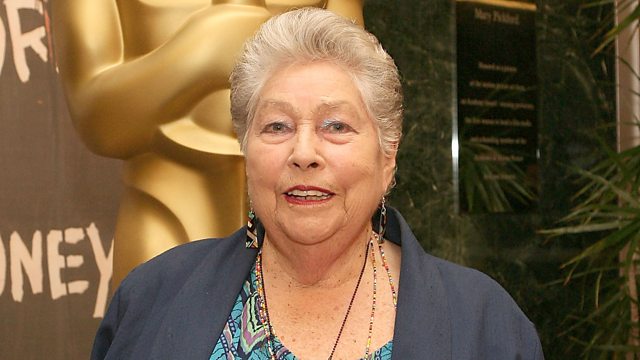 John Ashdown-Hill, Anne Coates OBE, Dr Davida Coady, Samuel F 'Ted' Dabney, Brendan Ingle
Matthew Bannister on film editor Anne Coates, historian John Ashdown-Hill, pediatrician Dr Davida Coady, video game pioneer Ted Dabney and boxing trainer Brendan Ingle.
Photo: Anne Coates OBE
Matthew Bannister on the prolific film editor Anne Coates, who worked on Laurence of Arabia, The Elephant Man and Fifty Shades of Grey.
John Ashdown-Hill, the historian who helped to discover the bones of Richard III under a Leicester car park.
Dr Davida Coady who travelled the world from Biafra to Honduras helping the sick and starving.
Ted Dabney - one half of the partnership that started the successful computer games company Atari
Brendan Ingle, the Sheffield based boxing trainer who developed the careers of Herol "Bomber" Graham and "Prince" Naseem Hamed.
Archive clips from: Back Row, Radio 4 15/12/00; Front Row, Radio 4 07/12/16; Woman's Hour, Radio 4 13/02/07; BBC News 24, 04/02/13; People's Century 1954: Living Longer, WGBH and BBC Worldwide 05/01/97; Newsnight, BBC Two 27/10/81; Sport on 4, Radio 4 04/03/95; World Championship Snooker, BBC Two 03/05/09.
John Ashdown-Hill
Born 5 April 1949; died 18 May 2018, aged 69.  
Last Word spoke to historian Philippa Langley, who was on the team which discovered Richard III; Michael Ibsen, a distant relative of Richard III; and Professor Turi King, archaeological geneticist at the University of Leicester.  
Anne Coates OBE
Born 12 December 1925; died 8 May 2018, aged 92. 
Last Word spoke to her daughter, film editor Emma Burford, and Danny Leigh, Film Curator at the British Film Institute.
Dr. Davida Coady
Born 15 April 1938; died 3 May 2018, aged 80. 
Last Word spoke to her husband Tom Gorham, and Sarah Shannon, her friend and fellow aid worker.
Samuel F. "Ted" Dabney
Born 15 May 1937; died 26 May 2018, aged 81.   
Last Word spoke to Chris Garcia, curator at the Computer History Museum in California.
Brendan Ingle
Born 19 June 1940; died 25 May 2018, aged 77. 
Last Word spoke to boxing historian John McDonald.
Credits
| Role | Contributor |
| --- | --- |
| Presenter | Matthew Bannister |
| Interviewed Guest | Emma Burford |
| Interviewed Guest | Danny Leigh |
| Interviewed Guest | Philippa Langley |
| Interviewed Guest | Michael Ibsen |
| Interviewed Guest | Turi King |
| Interviewed Guest | Tom Gorham |
| Interviewed Guest | Sarah Shannon |
| Interviewed Guest | Chris Garcia |
| Interviewed Guest | John McDonald |