Main content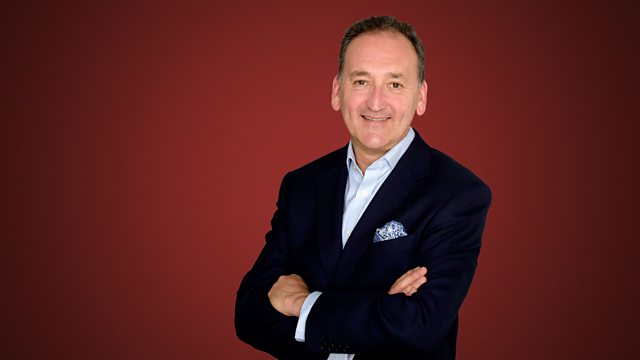 Wednesday with Ian Skelly - Jackie Kay, Nocturne from Borodin's 2nd String Quartet, The Baddeley Cake
Ian Skelly with the best in classical music. Plus the poet and novelist Jackie Kay on the things that inspire her.
Ian Skelly with Essential Classics - the best in classical music.
0930 Your ideas for companion pieces on the Essential Classics playlist. Today we'll hear Borodin's Nocturne from his second string quartet, written as a present to his wife. Your choice revealed at 10.30 for a companion piece to that!
1010 Time Traveller - A quirky slice of cultural history. This morning, Dr Naomi Paxton introduces London's oldest living theatrical tradition.
1050 Each day this week the poet and novelist Jackie Kay talks to Ian about the people, places, books and music that inspire her. Today Jackie talks about the musician Nina Simone who left a profound impression on her.
Other music in the programme includes Mozart's concerto for flute K.314, Britten's Festival Te Deum, Alissa Firsova's beautiful setting of the Stabat Mater, and Dvorak's Scherzo Capriccioso.
Last on
Music and featured items
Carl Maria von Weber

The Ruler of the Spirits Op.27

Orchestra: Tapiola Sinfonietta. Conductor: Jean‐Jacques Kantorow.

Weber: Overtures.
BIS.
1.

Frédéric Chopin

Mazurka in A minor, Op 17 No 4

Performer: Murray Perahia.

Chopin: 4 Ballades.
Sony.
9.

Benjamin Britten

Festival Te Deum, Op. 32

Performer: Nicholas Morris. Ensemble: Choir of Clare College, Cambridge. Conductor: Graham Ross.

O lux beata Trinitas.
harmonia mundi.
2.

Antonio Vivaldi

Sinfonia in E flat major, RV 130, 'Sonata al Santo Sepolcro'

Ensemble: Arte dei Suonatori.

Vivaldi: Concertos for Strings: Arte dei Suonartori.
Bis.
3-4.

Ludwig van Beethoven

Symphony no.1 in C major Op.21 (4th mvt)

Orchestra: Minnesota Orchestra. Conductor: Osmo Vänskä.

Beethoven: The Symphonies: Minnesota Orchestra, Osmo Vanska.
BIS.
4.

Alexander Borodin

Nocturne from String Quartet no.2 in D major

Performer: Lindsay String Quartet.

Borodin: String quartets: The Lindsays.
ASV.
007.

Mikhail Ivanovich Glinka

Valse-fantasie in B minor

Orchestra: Orchestre philharmonique de Radio France. Conductor: Paavo Järvi.

Ballets Russes: Russian Dances and Ballets.
Virgin Classics.

Wolfgang Amadeus Mozart

Flute Concerto in D major, K 314

Performer: Emmanuel Pahud. Orchestra: Berlin Philharmonic Orchestra. Conductor: Claudio Abbado.

Mozart Flute Concertos Concerto For Flute And Harp.
EMI Classics.

Time Traveller: The Baddeley Cake

Duration: 01:48

Thomas Arne

Artaxerxes (Overture)

Conductor: Ian Page. Orchestra: Orchestra of Classical Opera Company.

Alissa Firsova

Stabat Mater

Choir: The Sixteen. Conductor: Harry Christophers.

Spirit, Strength & Sorrow.
Coro.
2.

Maurice Ravel

À la manière de Borodine

Performer: Steven Osborne.

Ravel: The Complete Solo Piano Music: Steven Osborne, Piano.
Hyperion.
13.

Pyotr Ilyich Tchaikovsky

String Quartet no.1 in D major, Op.11 (2nd mvt)

Ensemble: Borodin Quartet.

Tchaikovsky: String Quartets Nos. 1-3, Souvenir De Florence.
Teldec.
2.

Franz Liszt

Hungarian Rhapsody No 3 in D major

Orchestra: Budapest Festival Orchestra. Conductor: Iván Fischer.

Liszt: Hungarian Rhapsodies: Budapest Festival Orchestra, Fischer.
Philips.

Cultural Inspirations: Jackie Kay on Nina Simone

Duration: 04:58

Nina Simone

Four Women

Performer: Nina Simone.

The Best of Nina Simone.
Mercury Records.
9.

Joseph Haydn

Symphony no.6 in D major 'Le matin' (1st mvt)

Orchestra: Freiburg Baroque Orchestra.

Haydn: Symphonies no. 6-8@ Freiburger Barockorchester.
Harmonia Mundi.
1.

Sergey Rachmaninov

Fantaisie-tableaux, Op.5 (Barcarolle)

Performer: André Previn. Performer: Vladimir Ashkenazy.

Rachmaninov: Suites 1&2: Ashkenazy/Previn.
Decca.
1.

Edward Elgar

Salut d'amour Op.12

Performer: Tasmin Little. Orchestra: BBC Philharmonic. Conductor: Sir Andrew Davis.

Franz Schubert

Symphony No 9 in C major, D 944, 'Great' (4th mvt)

Orchestra: Berlin Philharmonic Orchestra. Conductor: Nikolaus Harnoncourt.

Berliner Philharmoniker Franz Schubert.
Berliner Philharmoniker.
004.

Cristóbal de Morales

Parce mihi domine

Ensemble: The Hilliard Ensemble. Performer: Jan Garbarek.

Johannes Brahms

Rhapsody in G minor, Op 79 No 2

Performer: Radu Lupu.

Brahms: 2 Rhapsodies Op.79, Klavierstucke Opp.117-119, Radu Lupu.
Decca.
2.

Antonín Dvořák

Scherzo capriccioso, Op. 66

Orchestra: Oslo Philharmonic Orchestra. Conductor: Mariss Jansons.

Dvorak: Symphony No. 5, Scherzo Capriccioso etc..
EMI.
6.
Broadcast

The Classical Companion Collection