Main content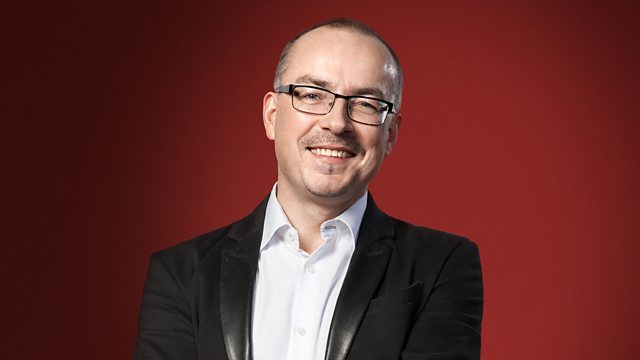 Andrew McGregor with Kate Molleson and Harriet Smith
Building a library on Stravinsky's Oedipus Rex, plus Harriet Smith reviews new releases of piano music by Beethoven, Mozart and Haydn.
with Andrew McGregor
9.30
Building a Library: Stravinsky's Oedipus Rex with Kate Molleson.
Stravinsky's "Opera-oratorio after Sophocles" is scored for orchestra, speaker, soloists, and male chorus. Jean Cocteau's French libretto was translated by Abbé Jean Daniélou into Latin but the narration is performed in the language of the audience. This dramatic and exciting work is from the beginning of Stravinsky's neoclassical period, and is one of the his finest works.
10.45
Andrew talks to Harriet Smith about new releases of piano music by Haydn and Mozart, including a new cycle of the Beethoven piano sonatas.
11.45
Andrew chooses an outstanding new release as his Disc of the Week
Producer Clive Portbury
Presenter ANDREW MCGREGOR.
9.30am Building a Library
Kate Molleson reviews recordings of Stravinsky's Oedipus Rex.
Recommended Recording:
Monteverdi Choir; London Symphony Orchestra; Sir John Eliot Gardiner (conductor).
LSO Live LSO0751 (SACD)
Other Recommended Recordings:
Below are other recordings that Kate also liked, although we can't guarantee availability.
Recommended recordings -
Shinyukai Male Choir; Saito Kinen Orchestra, Seiji Ozawa (conductor)
Philips 438 865-2 (digital download)
Bavarian Radio Symphony Orchestra and Chorus, Colin Davis
Orfeo C071831A (CD)
Swedish Radio Symphony Orchestra; Eric Ericson Chamber Choir & Swedish Radio Chorus; Esa-Pekka Salonen (conductor)
Sony Classical 88985369592 (7 CDs)
10.20am New Releases: Belohlavek Recollection
Recollection: Jiří Bělohlávek (Music by Smetana, Dvorak, Suk, Fibich, Janacek & Martinu)
Czech Philharmonic Orchestra, Prague Philharmonia, Prague Symphony Orchestra, Brno Philharmonic Orchestra, New Czech Chamber Orchestra, Prague Chamber Philharmonic Orchestra
Jiří Bělohlávek (conductor)
Supraphon SU 4250-2 (8 CDs)
https://www.supraphon.com/articles/139-supraphon-to-honour-jiri-belohlavek-s-legacy
Hej, Romale
Čhavorenge Roma Children's Choir
Czech Philharmonic
Marko Ivanović & Ida Kelarová
Supraphon SU 4246-2
https://www.supraphon.com/articles/138-ida-kelarova-chavorenge-and-czech-philharmonic
10.50am New Releases: Harriet Smith - Piano