Main content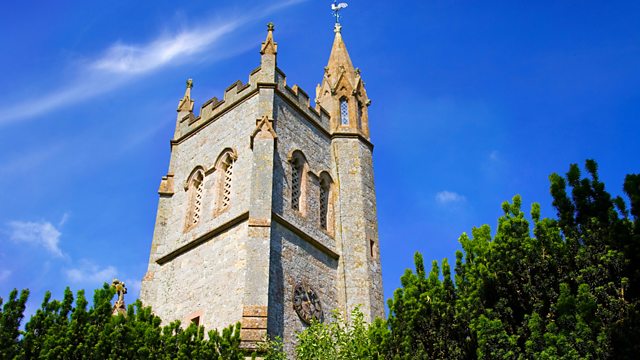 27/05/2018
A year after the terrorist atrocity in Manchester's MEN Arena, the bishop of Manchester reflects on the way faith communities came together to say no to further evil and revenge.
One year after the terrorist atrocity at a concert full of young people in Manchester's MEN Arena, the Bishop of Manchester Dr David Walker reflects on the way the faith communities of this diverse city came together to say no to further evil and revenge, and to begin to bring healing to individuals and communities across the city. Producer: Andrew Earis.
Script
Please note:
This script cannot exactly reflect the transmission, as it was prepared before the service was broadcast. It may include editorial notes prepared by the producer, and minor spelling and other errors that were corrected before the radio broadcast.
It may contain gaps to be filled in at the time so that prayers may reflect the needs of the world, and changes may also be made at the last minute for timing reasons, or to reflect current events.
+DAVID WALKER
On steps of Manchester Arena. Introduction
A year ago, here in the Manchester Arena, as thousands of concertgoers prepared to begin their journeys home, an explosive device was detonated. 22 innocent victims were killed, hundreds of others sustained injuries.' Twelve months on, the impact of that atrocity is still being felt, both within the city and far beyond. In this morning's worship we will be reflecting with some of those who were caught up in the aftermath of the terrorist attack; whether through ministering among the immediate victims and their families or by seeking to help the wider community respond to what had happened in our midst.
MUSIC: MY PEACE I GIVE YOU – TAIZE
(CD 'Domine Deus', Reading Phoenix Choir)
+DAVID PRAYER
God our Father,
We your children, cry out to you in our distress.
Be our strength when courage fails,
Be our hope when despair beckons,
Be our love when hatred tempts us,
Be our peace when chaos reigns.
Amen
+DAVID
In the days after the attack, St Ann's church became a focus for mourning Manchester's tragedy and remembering our victims. The space outside the church was transformed from a busy shopping thoroughfare to a sea of flowers; adorned with candles and tributes of every kind. From early dawn to late each night, a constant stream of people thronged into the square, to pay their respects.
Just the other side of the church door from the crowd, the volunteers and staff of St Ann's Church provided a place of calm and stillness, with a listening ear for those whose emotions were too raw for the busy street. That theme of stillness in a place of turmoil is taken up in our next hymn, sung by St Ann's Choir.
HYMN: Be still my soul
Recorded for this programme by St Ann's Choir, directed by James Hume with organist Tom Pieczora.
+DAVID
Rev Jane Vost is a member of the Chaplaincy staff at MRI and was on duty that night when those injured in the attack were brought in.
REFLECTION: REV JANE VOST
MUSIC: The Lamb – John Tavener
(CD: John Tavener – A Signum Tribute - Tenebrae)
BIBLE READING John 1: 1-9
+DAVID
I've always been fond of those opening verses from St John's Gospel. There is something extremely powerful about the image of light. For five years I was chaplain to a coalmine, regularly travelling underground into places where no natural light had ever shone. When we extinguished our helmet lamps in the lift shaft, in order to save batteries, the darkness was total. Yet even the tiniest and weakest source of light made a world of difference.
On the evening after the Arena attack, we held a simple vigil in the city centre. The square in front of the Town Hall was full; the world's TV cameras and radio microphones trained on us. On behalf of the people of Manchester, I lit a single candle. With St John's words echoing in my head, I spoke of the light that no amount of darkness can defeat. On that bright, sunny, late May evening, one extra candle seemed puny, irrelevant. Yet later that night, as I was walking across the city centre to make my way home, hundreds of tea lights were flickering in the gathering dusk.
You don't need to be a Christian to grasp the symbolism of light. And in Manchester's rich, diverse city, I wanted to focus on images that would reach across the differences of faith, to help bind together a city whose enemies wanted to blast into division. Yet for me, and for many others, every light, every candle, is a reminder of the eternal light of whom St John speaks. Our hope that evil will be defeated lies not merely in the strength of human virtue, though every person of goodwill can play their part. It lies in the God who has promised us in Christ that he will not allow the darkness to prevail.
MUSIC: Lauridsen: O Nata Lux (From Lux Aeterna)
(CD 'Lux', Voces8)
+DAVID
James Read is a Church of England priest in Manchester diocese. Two of his congregation were among those killed in the Arena attack, others were injured.
REFLECTION: REV JAMES READ
MUSIC: The Lamb – Tavener (Part 2)
PRAYER
Written and read by a pupil of St Anne's Primary School, Royton
MUSIC: Within our darkest night – Taize
(CD: Songs of Taize, Taize Community Choir)
BIBLE READING: verses from Jeremiah 29
+DAVID
Jeremiah writes in one of the Old Testament's bleakest periods. Huge numbers of Israelites have been deported into exile in Babylon. Their nation defeated, the walls of Jerusalem in ruins, even the Temple, God's own dwelling, desecrated and destroyed. Jeremiah's very name has become a byword for a bearer of negative news, a doomsayer. Yet he is a deeply hopeful writer. He knows that God will prevail in Israel's plight, even if it takes a lifetime. In the meantime, the prophecy he is given to utter is very simple. Seek the welfare of the city where God has placed you. Throw yourselves into its life to the full.
These are incredibly powerful and yet counterintuitive words. Wounded and hurting, the temptation for Jeremiah's exiles would have been to close in on themselves, to set themselves apart from the society around them, to nurture and preserve their own customs and wellbeing, their rites and rituals, for the day when deliverance might come. Yet they are called to pray and work for the good of city as a whole, not simply that of their fellow exiles. Nor is what Jeremiah demands of them an act of submission to the new order around them, a submerging of their identity into that of their vanquishers. Rather it is through a radical commitment to the diverse city in which they are a powerless minority, that they will be saved.
Within a day of the Manchester bomb, the streets looked as busy as ever, the restaurants and bars as full. The most discernible difference was the enhanced warmth with which people greeted one another, and especially the spontaneous hugs and handshakes between those of visibly different heritage. There have been a number of times in my life when I have felt I have witnessed prophecy being fulfilled, and this, with regard to Jeremiah's words, was one of them. Barriers were not being put up; they were being torn down, as together people from every community within the city sought the welfare of all of its people.
MUSIC: Never Over – Katie Ritson
+DAVID
Great tragedy has the capacity either to paralyse or to motivate. Manchester's fell very much into that latter category. Tears shared formed the cords that bound us together. Love, given and received, gave the proof that hate would not defeat us. Public harmony became the means to defy our attacker; to show those killed and maimed had not suffered in vain. Someone memorably joined together the names of our two most prominent football teams, declaring us to be "one city united".
It has been noticeable over these last twelve months how there has been a greater intensity across the community to care for one another, and especially those in the greatest need. Our different faith and belief traditions hold dear to some shared core values. One way I've seen this expressed is through the shared commitment to tackle the increasing problem of rough sleeping in our city. On the coldest nights of this last winter we saw mosques, churches and other places of worship opening their doors to offer shelter. A few days ago I joined one Muslim charity as they announced that their Ramadan appeal this year would seek to raise money to tackle homelessness.
What happened in the days after the Arena attack was only possible because of what had been going on quietly for many years before. Manchester has long been a city where people coming from different sectors of society know each other well, respect each other deeply, and like each other hugely. In the days after the attack we simply went about doing what we always do, but with that bit of extra purposefulness and intent, and more visibly.
IMAM IRFAN AND +DAVID
MUSIC: Peace – Paul Mealor
(CD: I saw eternity – Paul Mealor, Tenebrae)
+DAVID
Perhaps, a year on, where we most need to remain united and firm in our efforts, is in our support for the families and individuals most directly affected. Many hundreds will bear physical injuries or mental scars from that night for the rest of their lives. Their bravery in resisting the temptations of hatred has been remarkable, and has made our whole society a better place than it would otherwise have been. We owe them a debt for showing us how to respond well, and we must repay that debt by keeping them in our prayers, and our hearts.
MUSIC
Gabriel's Oboe – Ennio Morricone
(CD: Yo-Yo Ma plays Ennio Morricone, Yo-Yo Ma)
PRAYER
Written and read by a pupil of St Anne's Primary School, Royton
+DAVID
Blessing