Main content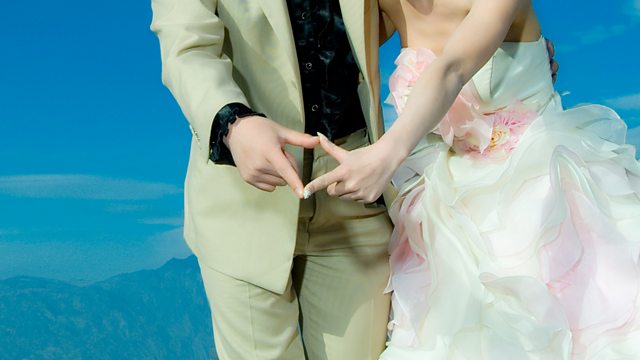 The Wedding
On the weekend of the royal wedding, Words and Music features wedding themed work by Keats, Elizabeth Jennings and Flaubert; with music by Mendelssohn, Janacek and Purcell.
On the day after Prince Harry ties the knot with Meghan Markle, Words and Music leads you up the aisle with a series of poetry, prose and music on the theme of the wedding. From the bridal marches of Wagner and Mendelssohn, to Saint-Saëns' confection of piano and strings in the Wedding Cake Valse-Caprice, the joyful ritual of the wedding ceremony has inspired some timeless music. Anna Maxwell Martin and Jamie Glover read work which explores the enduring romance of wedded bliss and the darker moments of married life. Poetry by Shakespeare and Keats meditates on the nature of love and takes us to a sumptuous Grecian wedding feast; while Jane Austen's Pride and Prejudice returns us to a time of marriage as an aid to social mobility. Dickens' Great Expectations introduces us to one of literature's most haunting brides: the jilted Miss Haversham, who resides in her faded wedding dress alongside the clock which stopped at twenty to nine on her wedding day, the moment she discovered her heart had been broken.
Producer: Georgia Mann.
Music Played
Timings (where shown) are from the start of the programme in hours and minutes
Shakespeare

Sonnet 116, Jamie Glover

Milton

Extract from Paradise Lost, Anna Maxwell Martin

T.S Eliot

A Dedication to My Wife, Jamie Glover

D.H Lawrence

The Wedding Morn, Anna Maxwell Martin

Keats

Extract from Lamia, Jamie Glover

Walt Whitman

Extract from The Song of the Open Road, Jamie Glover

Jane Austen

Extract from Pride and Prejudice, Anna Maxwell Martin

Gustav Flaubert

Extract from Madame Bovary, Anna Maxwell Martin

Thomas Hardy

Extract from Far from the Madding Crowd, Jamie Glover

Michael Longley

Swans Mating, Anna Maxwell Martin

Edith Wharton

Extract from The Age of Innocence, Jamie Glover

Denise Levertov

Wedding Ring, Anna Maxwell Martin

Dickens

Extract from Great Expectations, Jamie Glover

Robert Graves

A Slice of Wedding Cake, Jamie Glover

Elizabeth Jennings

One Flesh, Anna Maxwell Martin

Words and Music: The Wedding

The Wedding

Producer Note: Georgia Mann 

The  proposal. The ring. The dress. Those immortal Wagnerian notes from the organ….. As we enter prime wedding season, Words and Music takes you gently by the arm and walks you down the aisle in a celebration of that great romantic ritual: The Wedding. I have to confess that all things bridal are much on my mind as I make this programme, with my own wedding rapidly approaching. I am hoping to emulate Keats' opulent nuptual feast in his epic poem Lamia - complete with attendants to sponge the feet of weary guests -,  rather than presiding over a Miss Haversham style cob- webbed wedding chamber after a tragic jilting. Weddings and marriage offer a wealth of imaginative potential to composers and writers: from Saint-Saëns' frivolous musical confection The Wedding Cake Waltz to the painfully sad moment at which Sergeant Troy  arrives at the altar without a bride in Thomas Hardy's Far From the Madding Crowd.

Our ceremony opens with Mendelssohn's much loved Wedding March from A Midsummer Night's Dream – a tale of confused lovers careering towards their respective wedding days. Staying with Shakespeare we hear his Sonnet 116, a meditation on the nature of love masterfully constructed with a nod to the language of the wedding ceremony. For most, weddings are unadulterated joy and Grieg's  Wedding Day at Troldhaugen sparkles with excitement and jollity. But once the rings have been exchanged, the guests have gone home and the hangovers have subsided – marriage doesn't always deliver a happy ending. Denise Levertov's discarded wedding ring sadly mirrors a marriage which has slipped away, while Robert Graves comically ponders a general lack of impressive husbands.

Perhaps the melancholy vision of a couple lying in bed, bound together in marriage but dreaming separate dreams in Elizabeth Jennings' One Flesh is closer to the reality of marriage for many. But T.S Eliot's moving dedication to his wife - accompanied by the string-laden strains of Shostakovich's romance from The Gadfly - reminds us of the enduring love which wedding vows are there to enshrine.