Main content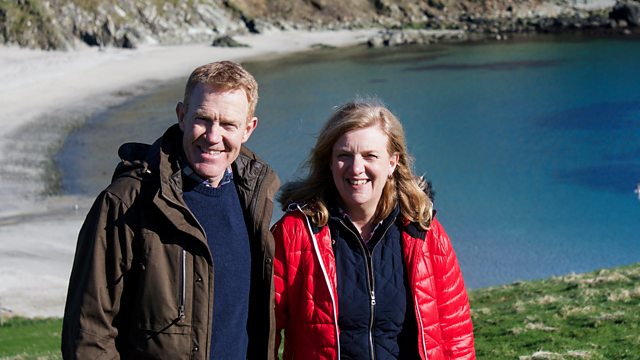 Hampshire
The team are in Hampshire, where Matt Baker hears about a project championing the use of local wood. John Craven hears how oysters are being reintroduced to the Solent.
The team are in Hampshire, where Matt Baker hears about a project championing the use of local wood, as more people using locally sourced timber leads to better-managed woodlands, and that means more biodiversity.
John Craven hears how oysters are being reintroduced to the Solent in a bid to revive stocks. The Solent Fishery was once the largest in Europe, but oyster fishing was banned five years ago when annual harvests plummeted from 200 to 20 tonnes in five years.
On the shoreline around the Solent, Ellie Harrison hears about an innovative project to study coastal erosion. She meets Sasha, who uses radio trackers placed into stones on the beach to follow their movements.
Tom Heap looks at how new technology and smart machinery could put UK farmers at greater risk of cyberattack.
Adam Henson and Charlotte Smith travel to the Shetland Islands to meet the third and last finalists for the Countryfile Farming Hero Award 2018.
Local Wood Champions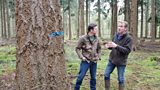 Matt meets the Forestry Commission's Matthew Woodcock to find out why our woodlands are not always as wild as they seem.
Matthew explains that Hampshire's woodlands have a long history of effective management to make them as productive as possible...and a strong local timber trade can help with that.
Matt also joins Richard Baker from a local timber mill to discover how to find the perfect tree for milling. 
And, back at the mill itself, Matt learns about the benefits of keeping the timber trade as local as possible - this is a business that really does take its product "from forest to fence post".
Cybersecurity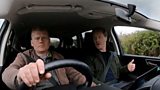 Tom finds out how more and more farmers and rural businesses are being targeted by cybercriminals who see them as easy prey.
Leading cybersecurity expert James Lyne takes Tom 'war-driving', a technique used by some hackers to identify unprotected wifi.
After meeting farmers who have already been targeted by cybercriminals, Tom finds out what steps are being taken to make sure new agricultural machinery is protected.
Could our modern farms one day be brought to a standstill by hackers targeting so-called 'smart' machinery?
The latest cybersecurity news
Rare Birds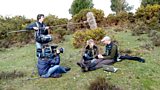 Ellie discovers how the large expanses of heathland that sit across the heart of the New Forest are home to one of England's most important populations of Curlews.
There's been a dramatic decline in their numbers over the past 12 years: there used to be 100 breeding pairs here; now there are just 40.
The birds migrate here from far and wide to breed, needing to sit in their nests for a full month to have any chance of success in raising a chick. That means they are very vulnerable to disturbance.
Professor Russell Wynn studies the Curlews and uses heat sensors to find out how often and for how long the birds are scared away from their nests.
Meanwhile, the Forestry Commission is raising awareness of the Curlew's plight with dog walkers and other users of the forest.
Oyster Cages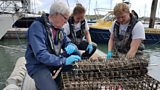 Hampshire's coastal waters were once rich with oysters but overfishing, disease and invasive species caused the population to collapse. 
John meets Dr Joanne Preston and PhD student Luke Helmer from The University of Portsmouth. He hears how they have teamed up with conservation charity the Blue Marine Foundation to suspend stacks of oysters in cages beneath the floating pontoons. 
Over the past year, the team has suspended 20,000 oysters in cages beneath pontoons right across The Solent. 
The idea is that these stacked oysters will reproduce and 'seed' a natural population. And there has already been some success – earlier this year, the team found the first baby oyster, called a spat, spawned directly from these cages. 
Countryfile Farming Hero 2018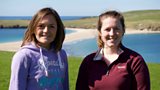 Adam and Charlotte continue their hunt for the UK's rural superstars and meet the third of our Farming Hero finalists.
They travel to Shetland to meet sisters Aimee and Kirsty Budge who took on the family farm following the death of their father in 2014.
Today, Aimee splits her time between mainland agricultural college and the farm, and when she's away older sibling Kirsty looks after the day-to-day running of the business.
And the pair have helped change the face of agriculture in Shetland, becoming the area's only "monitor farm", testing out new farming techniques and sharing their ideas with the wider farming community.
Their spirit and determination has impressed all those who know them, not least of all their proud mum, Helen.
Tracer Pebbles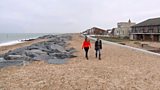 The erosion of Hampshire's coastline is an ongoing problem and it has had to be closely monitored for years.
Ellie discovers an impressive new way of doing just that - special 'tracer' pebbles that allow coastal engineers to study the movement of shingle.
Down on Hayling Island, Ellie meets Sacha Neill, from the Eastern Solent Coastal Partnership, to find out how GPS trackers on these pebbles are helping track the amount of sediment that is being moved down the beach.
That information allows the team to decide on how best to build back up any eroded areas. 
How does a 'tracer' pebble work?
How's coastal erosion being managed in your area?
Local Wood Champions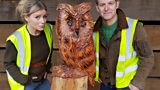 Matt meets one artist who's been carving out something of a niche for himself - with a chainsaw.
Richard Austin has taken his extreme woodcarving skills to competitions across the world and creates everything from abstract art to bowls and furniture.
Today Matt sets Richard a Countryfile challenge - giving him just 30 minutes to carve a work of art inspired by nature. 
A tall order and it's just as well Richard knows what he's doing: working with a chainsaw is a dangerous job even with all the right safety kit!
So Matt steps back and waits to see what the master creates....
Credits
| Role | Contributor |
| --- | --- |
| Presenter | Matt Baker |
| Presenter | John Craven |
| Presenter | Ellie Harrison |
| Presenter | Tom Heap |
| Presenter | Adam Henson |
| Presenter | Charlotte Smith |
| Executive Producer | William Lyons |
| Series Producer | Joanna Brame |