Main content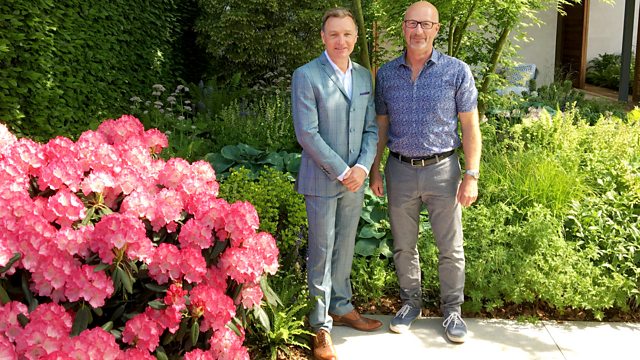 Chelsea Flower Show: Correspondence Edition
Peter Gibbs hosts a correspondence edition from the Chelsea Flower Show. Matthew Wilson, Pippa Greenwood and Bunny Guinness answer the questions from the postbag.
Peter Gibbs hosts a correspondence edition from the Chelsea Flower Show. Matthew Wilson, Pippa Greenwood and Bunny Guinness answer the questions from the postbag.
The panellists are granted exclusive access to the greatest flower show in the world and, as they look around the show gardens at the Grand Pavilion, answer listeners' questions on layering and ailing orchids - among other matters.
Peter Gibbs chats to GQT panellist and Gold Medal winner Chris Beardshaw about his award-winning garden and his inspiration for this year's design.
And garden designer (and Chelsea Gold Medal winner from last year) Charlotte Harris takes a look at this year's show gardens, chatting through the "take home tips" that can be applied to a garden at home.
Produced by Hannah Newton
Assistant Producer: Laurence Bassett
A Somethin' Else production for BBC Radio 4.
Fact Sheet
Q – I have a south-facing garden with a 1.5m (5ft) high flint wall.  What can I grow up it for an all-year round 'wow factor'?
Bunny – Trachelospermum jasminoides is fabulous but can be boring.  I have Abutilon 'Ashford Red'.   
Matthew – Cleanthus puniceus (The Lobster Claw). 
Pippa – Ceanothus 'Puget Blue'.  Cytisus battandieri (The Pineapple Broom). 
Q – Why is my 25-year old Cherry tree suddenly decided to blossom pink having always been white?
Pippa – If it's just flower colour then there won't be an underlying problem.  It could be a genetic change.  Or it could be reverting to its parentage.
Q – Last year I layered, without cutting, some overgrown Willow branches.  All the stems died, can you tell me why?
Pippa – Layering = bend down a lower, healthy stem and pin it into the ground to encourage it to root and cover with soil.
Peter – Easier to just put some cuttings in the ground
Feature:
Carpinus
Thyme, Nepeta, Chives, Dill
Beesia, Asarum
Vancouveria (similar to Epimedium)
Off the back of the feature:
Lupins
Digitalis
Alliums
Cornflower
Q – What should I do with my straggly Sedum?
Pippa – It's not had enough light and it's had too much water
Matthew – Raise the inside pot and put grit/gravel at the bottom.  Let in drain through when you water it
Q – My orchids suffer from white spots, sticky substances on the leaves, unpleasant odours and small, dark bugs.  Can I treat them or must I get rid of them?
Jim – I assume this is a Phalaenopsis.  It could be thrip damage. If the white spots are fluffy then it's mealy bugs. 
Jim – Zygopetalum (orchid with a scent)
Q – I have two large terracotta pots (which used to house Acers); what can I plant in them that will last for a minimum of twenty years?
Pippa – You could go with another Acer – there's so much variety.
Bunny – Cork Oak
Q – I have a productive wormery and have 25l (5.5 gallons) of undiluted liquid fertiliser.  How much should this be diluted and how often should she feed it to the plants?
Bunny – I used to use it undiluted and it was fine.  On a Bay tree that'd be fine.  But maybe do 50/50 if you want to play it safe.  A new seedling I'd be more cautious.
Pippa – I'd worry about exosmosis (pulling water out of the roots).  I'd aim for 50/50 but I wouldn't be too scientific about it.
Q – Am I deluded, or could a fig have seeded itself, perfectly sited by my west-facing Oxfordshire wall?  If it is, should I romantically nurture this amazing survivor, or should I just take the hint and put in a reliable fruitier like a 'Brown Turkey'? 
Pippa – it isn't a fig
Bunny – It's a birch.  Figs are easy to grow from cuttings.
Matthew – Figs like to have their roots restricted to encourage putting energy into fruiting