Main content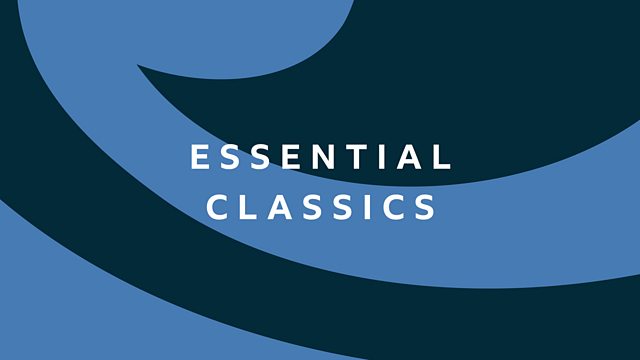 Friday with Suzy Klein - Ella Kew Shun, Joyce DiDonato
Suzy Klein presents potential companion pieces for a popular piece of music, plus mezzo-soprano Joyce DiDonato lists her influences and inspirations.
Suzy Klein with Essential Classics - the best in classical music.
0930 Your ideas for companion pieces on the Essential Classics playlist. Today we're beginning with the second movement of Haydn's Symphony in D major, famously nicknamed the 'Clock'.
Other music in the programme includes a sparkling new recording of Beethoven's Polonaise in C major, Op.89, the elegiac Andante from Elgar's Violin Concerto, Sammartini's Concerto Grosso in A Major, Op.2 No.1, and a rarely-heard overture by Goldmark - Sukuntala.
1010 Time Traveller - A quirky slice of cultural history. Today - Dr Naomi Paxton talks about Edwardian and Victorian advice on elocution.
1050 Each day this week the world-famous mezzo-soprano Joyce DiDonato reveals the people, places and ideas that have inspired her throughout her life and illustrious career. Joyce leads the cast in the UK premiere of Jake Heggie's powerful opera about the American justice system and capital punishment, "Dead Man Walking", which is broadcast on Radio 3 on Saturday 26th May.
Today Joyce talks about her optimism for the future.
Last on
Music and featured items
Isaac Albéniz

The Magic Opal - suite (Overture)

Orchestra: BBC Philharmonic. Conductor: Juanjo Mena.

Ludwig van Beethoven

Polonaise in C Major, Op. 89

Performer: Alessio Bax.

Beethoven: Piano Concerto No. 5 & Works for Solo Piano.
Signum Classics.
16.

Thomas Tallis

Suscipe, quaeso Domine à 7

Choir: Alamire. Director: David Skinner.

Tallis & Byrd: Cantiones Sacrae 1575: Alamire, David Skinner.
Obsidian.
8.

Luigi Boccherini

Guitar Quintet No 4 in D, G448 "Fandango"

Performer: Sean Shibe. Ensemble: Danish String Quartet.

Joseph Haydn

Symphony no.101 in D major 'Clock' (2nd mvt)

Orchestra: Les Musiciens du Louvre. Conductor: Marc Minkowski.

Haydn, 12 London Symphonies: Marc Minkowski, Les Musiciens du Louvre-Grenobles.
Naive.
10.

Cécile Louise Chaminade

Impromptu, Op 35 No 5

Performer: Joanne Polk.

The Flatterer.
STEINWAY & SONS.
12.

Edward Elgar

Violin Concerto in B minor, Op 61 (2nd mvt)

Performer: Nigel Kennedy. Orchestra: London Philharmonic Orchestra. Conductor: Vernon Handley.

Elgar: Violin Concerto.
EMI.
2.

Gabriel Fauré

Papillon Op.77

Performer: Alban Gerhardt. Performer: Cécile Licad.

Samuel Scheidt

Galliarda battaglia à 5

Ensemble: Hespèrion XXI. Director: Jordi Savall.

Edvard Grieg

Wedding day at Troldhaugen (Lyric pieces Book 8 No.6)

Performer: Leif Ove Andsnes.

Leif Ove Andsnes: Ballad for Edvard Grieg.
EMI Classics.
8.

Time Traveller: Ella Kew Shun

Duration: 02:03

Arthur Sullivan

A modern Major General (The Pirates of Penzance)

Librettist: William Gilbert. Singer: Richard Suart. Orchestra: Chorus of Welsh National Opera. Conductor: Charles Mackerras.

Gilbert & Sullivan: The Pirates of Penzance: mackerras / Orchestra & Chorus of.
Telarc.
13.

Giuseppe Baldassare Sammartini

Concerto Grosso in A Major, Op.2 No.1

Ensemble: I Musici.

Sammartini: 6 Concertos in 7 Parts, Op. 2.
Dynamic.
101.

Wolfgang Amadeus Mozart

Là ci darem la mano (Don Giovanni)

Singer: Danielle de Niese. Singer: Bryn Terfel. Orchestra: Orchestra of the Age of Enlightenment. Conductor: Charles Mackerras.

The Mozart Album: Danielle de Niese.
Decca.
11.

Albert Ketèlbey

The Clock and the Dresden Figures

Orchestra: Ketelebey's Concert Orchestra. Conductor: Albert Ketèlbey.

Ludwig van Beethoven

Symphony No 8 in F major, Op 93 (2nd mvt)

Orchestra: Tonhalle-Orchester Zürich. Conductor: David Zinman.

Beethoven: Symphonies Nos. 7 & 8: Tonhalle Orchestra Zurich/Zinman.
Arte Nova Classics.
6.

Zoltán Kodály

Viennese Musical Clock (Hary Janos Suite Op.35a)

Orchestra: Budapest Festival Orchestra. Conductor: Iván Fischer.

Kodaly: Hary Janos Suite - Dances of Galanta...: BFO, Fischer.
Philips.
11.

Franz Liszt

Sonetto 47 del Petrarca

Performer: Sergio Tiempo.

George Enescu

Romanian Rhapsody No 1

Performer: Chloë Hanslip. Music Arranger: Franz Waxman. Orchestra: Royal Philharmonic Orchestra. Conductor: Leonard Slatkin.

Adams: Violin Concerto.
Naxos.
2.

Cultural Inspirations: Joyce DiDonato on optimism

Duration: 03:12

George Frideric Handel

Brilla nell'alma (Alessandro)

Singer: Joyce DiDonato. Orchestra: Il Complesso Barocco. Conductor: Alan Curtis.

Drama Queens Joyce DiDonato.
Virgin Classics.
8.

Alexander Glazunov

Orientale from 5 Novelettes, Op 15 No 2

Ensemble: Vertavo Quartet.

Les Vendredis.
Simax.
12.

Johann Sebastian Bach

Prelude and Fugue in E major, BWV 878 (Book 2, The Well-Tempered Clavier)

Performer: Angela Hewitt.

Bach: The Well-Tempered Clavier: Angela Hewitt.
Hyperion.
17.

Karl Goldmark

Sakuntala - Overture, Op.13

Orchestra: Budapesti Filharmóniai Társaság Zenekara. Conductor: András Kórodi.

John Dowland

Lachrimae verae

Ensemble: Sit Fast Viol Consort.

Evidence EVCD034.
Evidence.
7.

Sir James MacMillan

Ave maris stella

Choir: Westminster Cathedral Choir. Conductor: Martin Baker.

James Macmillan: Tenebrae Responsories: Westminster Cathedral Choir/Baker.
Hyperion.
8.

Isaac Albéniz

Sevillanas (Suite Española no.1)

Performer: Alicia de Larrocha.

Fur Elise, Piano Music by Beethoven, Chopin, etc.: Ashkenezy etc..
Decca.
13.

Carl Maria von Weber

Der Freischütz (Overture)

Orchestra: Philharmonia. Conductor: Neeme Järvi.

Weber: Overtures: The Philharmonia/Jarvi.
Chandos.
8.
Broadcast

The Classical Companion Collection