Main content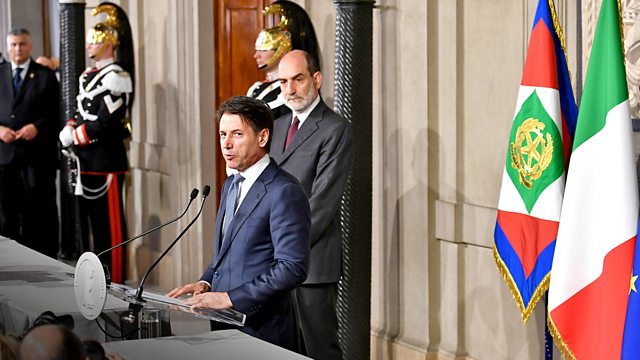 Could Italy bring down the European Union?
Why Italy's new populist government, which promises lower taxes and increased spending, has the rest of the EU worried. They see the potential for the biggest financial crisis yet.
Does the new Italian government really pose a danger for the Eurozone and the European Union?
There has been much to-ing and fro-ing in Rome this week as the two parties which finished up ahead in Italy's election in March have tried to persuade the president to approve their coalition government.
The parties are unlikely populist allies: the anti- establishment Five Star Movement and The League, which started life as a secessionist movement in the north of Italy.
Both parties reject economic austerity. They want to lower taxes and raise government debt further. This is causing alarm bells to ring in EU capitals. Were Italy to prove unable or unwilling to cut its budget deficit, the potential for a new crisis in the Eurozone looms. Italy, say some commentators, could drag other countries, such as Spain and Greece, down with it.
It is unprecedented in a country that was one of the founder members of the EEC, the EU's forerunner, to have Eurosceptic leaders at the helm.
CONTRIBUTORS
Professor John Foot, a historian specialising in Italy at the University of Bristol
Jacopo Iacoboni, author of L'Esperimento, a book about the Five Star Movement
Cristina Marconi, a journalist on the newspaper Il Messaggero
Ferdinando Giugliano, a columnist and leader writer on European economics for Bloomberg Opinion
Judy Dempsey, a former Brussels correspondent and now a senior fellow at the Carnegie Europe think tank.
Image: Italian lawyer Giuseppe Conte addresses journalists after a meeting with Italy's President Sergio Mattarella on May 23, 2018
Credit: VINCENZO PINTO/AFP/Getty Images.
Last on
Evan Davis and David Aaronovitch present a programme looking at the EU after Brexit

One year into his presidency, can France's Emmanuel Macron succeed where others failed?
Broadcast