Main content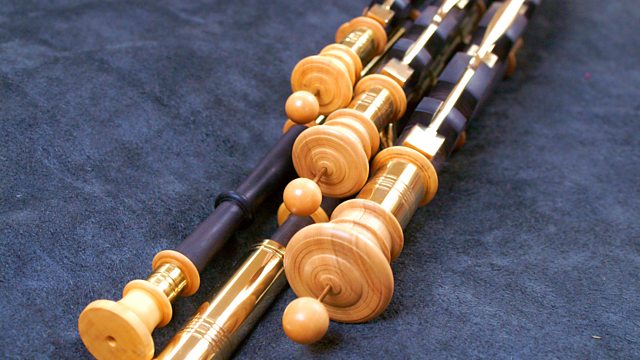 More Power to Your Elbow
Uilleann pipes maker David Lim welcomes musicians Mike McGoldrick and Jim Horan to his workshop, revealing a unique insight into how the instrument is made and played.
World-renowned musician Mike McGoldrick, with friends and fellow pipers Jim Horan and David Lim, reveal the extraordinarily painstaking processes involved in making a set of Uilleann Pipes.
Uilleann is the Gaelic word for elbow, as it's the elbow which powers the pipes' bellows. We hear how this Irish bagpipe works, and how the ability to slide, bend and lean into notes gives it unique powers of expression. At his Manchester workshop, David makes 160 different parts for each full set of pipes - everything apart from the leather bag and twelve screws.
We discover the minute detail and precision required to make the various instrument parts. Five home-made reamers are needed to create a tapered bore inside the wooden chanter, which has to be accurate to within a fraction of a millimetre. Months must be left between each adjustment to allow the wood to shrink and relax.
And what issues really matter to players of this instrument? The semi-crouch posture they adopt and how that affects the body, how travelling to humid climates can stop the instrument from working and, crucially, the quality of the delicate reed inside the chanter. According to Jim, when Uilleann Pipe players meet, they spend more time talking about reeds than actually playing music. "If your reed is going well, you know your mental health is okay as well because your outlook changes if you've got a good reed."
There's also a visit to a North West Uilleann Pipers meeting in Manchester to see how the next generation is being encouraged to take up the instrument. The organisation, run by Jim and David, facilitates workshops, one-to-one teaching and supplies sets of practice pipes to local children.
Produced by Kellie While
A 7digital production for BBC Radio 4.