Main content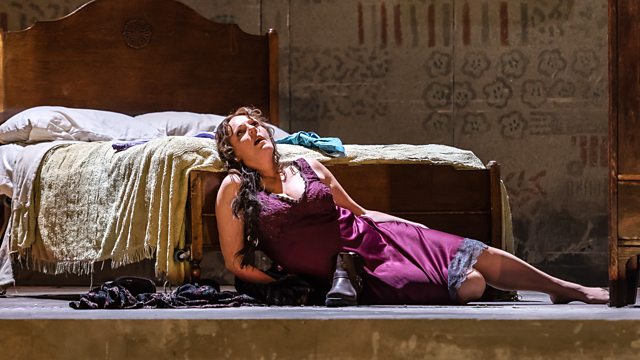 Shostakovich's Lady Macbeth of Mtsensk
Shostakovich's Lady Macbeth of Mtsensk from the Royal Opera House, starring soprano Eva-Maria Westbroek and tenor Brandon Jovanovich, conducted by Antonio Pappano.
Shostakovich's opera Lady Macbeth of Mtsensk is one of the twentieth century's masterpieces, acclaimed at its premiere in 1934 but then banned two years later by Stalin. It tells a tragic tale of adultery and murder as the bored and lonely heroine Katerina, sung by soprano Eva-Maria Westbroek, falls in love with one of her husband's workers, the manipulative Sergey, tenor Brandon Jovanovich. Their treachery leads to a gruesome series of murders - and ultimately to her own devastating end.
Eva-Maria Westbroek leads a starry cast, joined by Brandon Jovanovich and Sir John Tomlinson who is celebrating 40 years of singing at Covent Garden.
Jim Naughtie presents and is joined by Russian cultural historian Rosamund Bartlett.
Katerina Ismailova ..... Eva-Maria Westbroek (Soprano)
Sergey ..... Brandon Jovanovich (Tenor)
Boris Ismailov ..... John Tomlinson (Bass)
Zinovy Ismailov ..... John Daszak (Tenor)
Sonyetka ..... Aigul Akhmetshina (Mezzo-Soprano)
Aksinya ..... Rosie Aldridge (Soprano)
Shabby Peasant ..... Peter Bronder (Baritone)
Priest ..... Wojtek Gierlach (Bass)
Police Inspector ..... Mikhail Svetlov (Bass)
Teacher ..... Thomas Atkins (Tenor)
Old Convict ..... Paata Burchuladze (Bass)
Female Convict ..... Miranda Keys (Soprano)
Steward/Sentry ..... Simon Shibambu (Bass)
Coachman/Second Workman ..... Hubert Francis (Tenor)
Porter ..... Jonathan Fisher (Bass)
Royal Opera House Chorus & Orchestra
Antonio Pappano (Conductor).
Episode Image by Clive Barda
Synopsis
The action is set in Mtsensk and Siberia

Act I
Scene 1
Katerina, the wife of Zinovy, cannot sleep. She is bored, depressed and sexually frustrated.
Boris, Katerina's father-in-law, accuses her of frigidity towards his son. Boris will be
watching her for any signs of interest in other men. The workmen enter to tell Boris
and Zinovy that the dam at the mill has burst; Zinovy must leave to manage the repairs.
Katerina is forced to swear fidelity to Zinovy during his absence. Zinovy has employed
a new labourer – Sergey. Aksinya, the cook, enjoys telling Katerina that Sergey is a
notorious womanizer.
Interlude
Scene 2
Led by Sergey, the workmen molest Aksinya. Katerina is furious at their treatment of
women. Sergey challenges Katerina to wrestle. She accepts, and is forced to the ground.
As Boris enters, Katerina invents a feeble excuse to explain her behaviour. Boris orders the
workmen out, telling Katerina that Zinovy will hear everything on his return. He orders
her to cook mushrooms for his supper.
Interlude
Scene 3
Although it is still early, Katerina must go to bed. Boris visits her to tell her to turn the
lights off. Left alone, she contemplates her desolate existence. Sergey knocks on her door:
he wants to resume their wrestling match. Although Katerina asks him to leave she
succumbs to his seduction.

Act II
Scene 4
Boris is obsessed by his fear of burglars breaking in. He cannot sleep. As he recalls
his busy sexual past, he spots a light from Katerina's bedroom. As he decides to enter,
Sergey leaves. Boris whips the captured Sergey brutally and the workers lock him in the
storeroom. Katerina is ordered to prepare leftover mushrooms. She poisons the food,
and as Boris convulses she steals his keys to release Sergey. Boris calls for a priest, to
hear his last confession. A requiem is pronounced over Boris's dead body.
Interlude
Scene 5
Katerina wants Sergey to make love to her again, but he wants to discuss his future as her
new husband. As Sergey sleeps, Katerina is haunted by the ghost of Boris, who curses her.
Zinovy returns and Sergey hides. Zinovy questions Katerina about his father's death, and
is suspicious to find a man's belt on the bedroom floor. Zinovy starts to beat Katerina.
Sergey and Katerina kill Zinovy and hide his body in the storeroom. Katerina declares
that now Sergey is her new husband.

Act III
Scene 6
It is Katerina and Sergey's wedding-day – but she is obsessed by her guilt and consistently
drawn to the storeroom, where her dead husband is rotting. Sergey and Katerina leave.
The Shabby Peasant desires Katerina – but the alcohol in the locked storeroom will have
to do instead. He breaks in, notices the hideous smell, and discovers the corpse.
Interlude
Scene 7
The Police Inspector is furious not to have been invited to Katerina's wedding. A teacher,
a suspected 'nihilist', is investigated and locked up. The Shabby Peasant arrives to report
his discovery of the body in the storeroom. Thrilled, the Police Inspector can now exact
his revenge on Katerina.
Interlude
Scene 8
At the wedding reception, the priest pays excessive tribute to Katerina's beauty. She has
noticed that the lock to the storeroom is broken. Sergey and Katerina plot to flee – but
the police arrive. Katerina gives herself up and Sergey is beaten up while trying to escape.

Act IV
Scene 9
In Siberia, transported convicts are stopping for the night by the banks of the river.
Katerina bribes a guard to gain access to Sergey. Sergey shouts abuse at her for ruining his
life. While Katerina meditates on yet another insult, Sergey attempts to seduce Sonyetka.
Sonyetka is willing – but first she wants Katerina's warm stockings. Duped, Katerina
happily hands Sergey the stockings. She attempts to pursue Sonyetka and Sergey, but
is prevented and humiliated by the female convicts. Katerina is in black despair. As the
transportation resumes, Katerina drowns herself in the river – taking Sonyetka with her.
No attempt is made to save either of them. - Richard Jones, with thanks to the Royal Opera House
Featured in...
We broadcast more live and specially-recorded concerts and opera than any other station.