Main content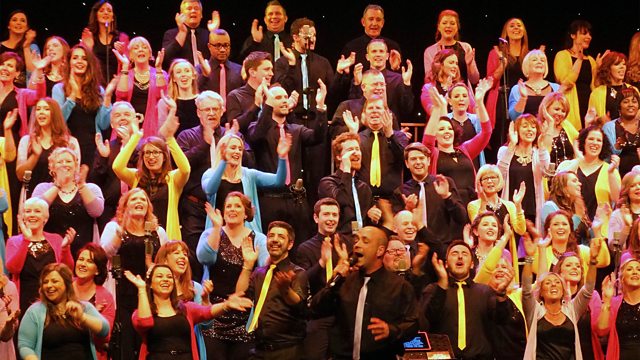 St George's Church, Belfast, ParSonik, Belfast Community Gospel Choir, Chamber Choir of Strathearn School
Enjoy the great variety of music and meet the singers in the Choir of St George's, ParSonik and the Belfast Community Gospel Choir preparing for their Grand Opera House concert.
Sing Out celebrates the very high standard of choral music in Northern Ireland. For such a small place, Northern Ireland 'punches way above its weight' when it comes to singing and choirs.
Sing Out not only features the choirs' music, but also asks who are all these people and why do they do it. It's an opportunity to enjoy the choirs singing and talking about their passion and get an insight into this wonderful world of music where absolutely anyone can be a participant, where musical expertise can range from beginners to highly sophisticated.
This week, meet the choir of St George's Church in Belfast, who maintain the age-old and beautiful musical tradition of the Anglican Church with boys and men choristers. The name of the choir 'ParSonik', is a clever play on the word 'Parkinson's'. This is a lively choir whose members' lives have all been touched by this condition, be it personally or with a family member. What they also share is a love of singing and the sheer pleasure of getting together to sing.
The Belfast Community Gospel Choir is Northern Irelands' only multicultural gospel choir. It's an auditioned choir, directed by the inspirational Marie Lacey, and the 100+ enthusiastic members come from every walk of life and background, all over Northern Ireland. Sing Out joins them as they are preparing for their big concert in the Grand Opera House. And a lively performance by the Chamber Choir of Strathearn School in Belfast who have just won the Songs of Praise Young Choir of the Year.
Last on
BBC Radio Ulster
&
BBC Radio Foyle
Music in the programme
Strathearn School Chamber Choir
(BBC Songs Of Praise Young Choir Of The Year 2018)
Hallelujah, Get Happy: Trad arr Gilpin
ParSonik
Bring Me Sunshine: Dee/Kent
Will Ye Go, Lassie, Go?: Francis McPeake
Daisy, Daisy: Harry Dacre
The Way Old Friends Do: Andersson/Ulvaeus
Belfast Community Gospel Choir
Every Praise: Walker/Bratton
How Great Thou Art: Stuart Hine
My Life, My Love, My All: Kirk Franklin
Holy, Holy, Holy: Oliver/Heber/Dykes
St. George's Choir, Belfast
Kyrie (from Communion Service in F): Herbert Sumison
Blessed City, Heavenly Salem: Edward Bairstow
Gloria (from Communion Service in F): Herbert Sumsion
ParSonik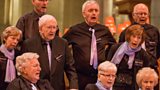 Led by musician Jonny McGeown, ParSonik is the name adopted by the Parkinson's UK (NI) community choir for Belfast, which meets in South Belfast. The choir was started initially as a trial project in March 2015, and proved so popular with its participants that the charity has continued to support it.
ParSonik is a choir for people with Parkinson's and their supporters, many of whom have had no previous experience of singing in front of an audience. The main aim is to make music, which brings with it considerable therapeutic benefits - the health and wellbeing benefits of choir membership and choral singing for people with Parkinson's are acknowledged internationally in both research and practice.
A real sense of family has grown over the years, with some supporters finding respite in conversations with others who understand their situation, reducing their sense of isolation. One of the main potential benefits of singing is to help a person enhance and maintain their vocal strength and practise facial expression, both of which are impacted by the condition.
Like any other choir, ParSonik is made up of people from various walks of life, careers, expertise and experience. Singing helps members regain confidence, if that has been impacted by their health condition. And the hope that they continue to benefit each other by their lifetime's experience.
Belfast Community Gospel Choir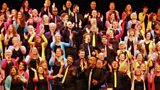 In 2009 Marie Lacey's dream was to create a choir that, through unity and inclusiveness, would promote a positive image internationally of Belfast and Northern Ireland. The dream has become a reality, and the choir is an expression of the diversity of the city of Belfast, with members from Kenya, Nigeria, South Africa and Spain.
The Choir has featured in many TV & Radio programmes, and performed for Heads of State, Royalty, Corporate and Civic functions and Charity & Church concerts.
Internationally they have performed in New York City, Boston and Indiana USA.
Led by their director and founder, BCGC performances are famous for their high energy passion and the joy in the music and gospel message.
You can find out more about the choir by visiting their website www.bcgc.biz
St George's Choir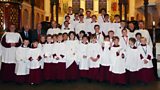 St George's Choir is unique in Northern Ireland.
It's the only Church of Ireland parish choir to have a liturgy sung by Trebles and Gentlemen. The boys come from a variety of schools in the greater Belfast area, and begin their training at age 8. After their voices break, they move into the Alto, Tenor and Bass parts with the gentlemen.
Here, they can become choral scholars, a role which involves their singing twice on a Sunday during term, taking a singing lesson each week , progressing through singing exams, and finally attending an Eton Choral Course in the summer of Lower 6th, with a view to becoming university choral scholars in England and elsewhere.
This is all funded by the parish. 
The repertoire is based on the Anglican tradition, with liturgies sung in English and in Latin. The choristers engage in concerts and in Choir tours, and receive payment and organised activities throughout the year. 
The choir is directed by Mr David Falconer, with organists Mark McGrath, Peter Hunter and Stephen Hamill. Singing tuition, probationer training and recruitment  is all undertaken  by Mrs Maeve Falconer. This work is greatly supported by the parishioners of St George's and the Music Committee. 
For more information visit: stgeorges.connor.anglican.org
Broadcasts
BBC Radio Ulster

&

BBC Radio Foyle

BBC Radio Ulster

&

BBC Radio Foyle