Main content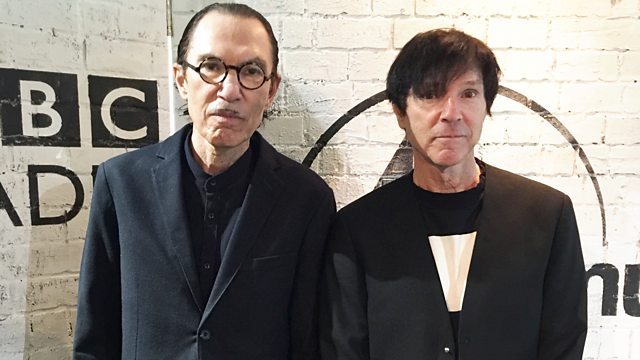 Ron & Russell Mael of the iconic group Sparks talk to Katie Puckrik about their teen years on the Sunset Strip and how British groups they saw live shaped their musical future.
Ron and Russell Mael are best known as the art pop geniuses behind the iconic band Sparks. What is less known is that they are born and bred California boys who came of age in the first flowering of 1960s rock'n'roll.
As LA teenagers, the Maels prowled the clubs of the Sunset Strip, witnessing first-hand early gigs by the likes of The Doors (Russell modelled his look on Jim Morrison's), The Byrds, Bob Dylan, The Ronettes, Love, Buffalo Springfield, Alice Cooper and The Beach Boys.
Too ahead of their time for the hippy trippy LA scene, a last throw of the musical dice (and a change of name) saw them despatched to London where they found favour with an Art School rock crowd hungry for more of the kind of showmanship deployed by Bowie and Roxy Music.
Before too long this town wasn't big enough for the both of them...
In addition to making musical history themselves, Sparks have been present at the key points in rock's timeline and have collaborated with artists peers and fans to great success. Sparks on Sunset features the Maels in conversation with their long-time friend Katie Puckrik, who draws out vivid, never-before-heard anecdotes and insights, interspersed with key tracks from the iconic artists who all made their mark on Sparks.
The first programme in this two part odyssey deals with their rise from being music fans to creators and how an encounter with super-producer Todd Rundgren at an out-of-town dog kennel workshop finally landed them their big break...
As teenagers they lived the Californian dream, surfing by day and going to gigs and parties at night. The venues on LA's famous Sunset Strip gave them front row access to homegrown stars like The Doors and The Byrds and also the British 'invasion' of groups like The Small Faces, The Who and The Move and a young David Bowie...
This melting pot of innovative music, lyrics and fashion provided a platform for the Mael brothers to find their own musical direction.
Sparks on Sunset is a riveting documentary that re-contextualises beloved pop classics through the first-hand experiences of the veteran art-rockers who're celebrating fifty years of making music together.
Last on
Music Played
Sparks

The Number One Song In Heaven

The Rolling Stones

Little Red Rooster

The Rolling Stones, Now!.
London.

The Beach Boys

Surfin' Safari

The Rivingtons

Mama Oom Mow Mow (The Bird)

The Beach Boys

Be True to Your School

Bob Dylan

Like A Rolling Stone

Bob Dylan - Greatest Hits.
Columbia.

James Brown

Please, Please, Please

Pink Floyd

Interstellar Overdrive

The Move

Fire Brigade

Move.
Esoteric Recordings.
014.

The Kinks

Dedicated Follower Of Fashion

The Doors

Break On Through

The Byrds

Eight Miles High

Canned Heat

Let's Work Together

Bob Dylan

One Of Us Must Know (Sooner Or Later)

Alice Cooper

Changing, Arranging (Live At The Whisky)

The Jimi Hendrix Experience

Purple Haze

The Jimi Hendrix Collection.
Universal.

Jack Nitzsche

The Lonely Surfer
Broadcasts