Main content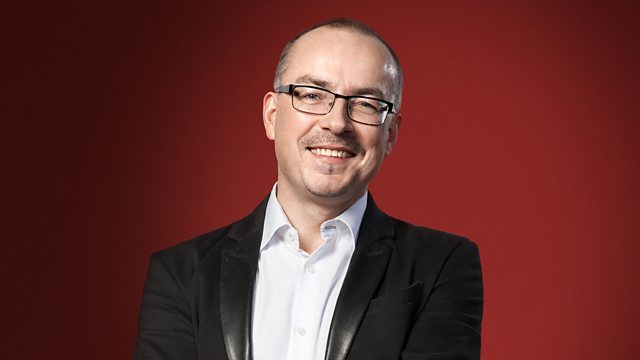 Andrew McGregor with Kate Kennedy
With Andrew McGregor. Including Building a Library.
with Andrew McGregor.
9.30
Building a Library: Britten's Winter Words, Op 52, with Kate Kennedy.
Britten composed Winter Words, his eight setting of Thomas Hardy, in 1953 at a time when he was also working on his operas Gloriana and The Turn of the Screw. The style of Winter Words does, however, contrast with that of the two operas in its austere textures, while allowing the Hardy texts to be projected with particular clarity. After the opening song, Day Close in November, comes Midnight on the Great Western, which even includes train-whistle noises. Then comes The Wagtail and Baby, The Little Old Table and The Choirmaster's burial (or The Tenor Man's Story), in which the departed master's favourite hymn-tune 'Mount Ephraim' is woven into the texture. Proud Songsters is followed by At the Railway Station, Upway (or The Convict and the Boy With the Violin), and the whole cycle ends with Before Life and After, a powerful expression of Britten's fascination with the conflict between innocence and experience.
10.30
Andrew McGregor discusses the new 61-CD box set Esa-Pekka Salonen: The Complete Sony Recordings with critic Andrew Mellor.
11.45
Disc of the Week: Andrew chooses an outstanding new release.
Record Review
9.00am
POULENC: LES BICHES - SUITE, LES ANIMAUX MODÈLES - SUITE & SINFONIETTA
FRANCIS POULENC:
Les biches Suite, FP 36b
Les animaux modèles Suite, FP 111
Sinfonietta, FP 141
RTE National Symphony Orchestra, Jean-Luc Tingaud
Naxos 8573739 (CD)
STRAVINSKY: COMPLETE MUSIC FOR SOLO PIANO
IGOR STRAVINSKY:
The Firebird (Excerpts Arr. G. Agosti for Piano):
No. 16, Infernal Dance of King Kashchei
No. 17, Lullaby
No. 19, Finale
Tango
Valse pour les enfants
Ragtime (version for solo piano)
Études (4) for piano, Op. 7
Circus Polka
Les 5 doigts
Piano-Rag-Music
Piano Sonata (1924)
Scherzo
Three Movements from Petrushka
Souvenir d'une marche boche
Piano Sonata in F sharp minor (1903-4)
Fragment des Symphonies pour instruments à vent à la mémoire de C.A. Debussy
Serenade in A for piano
Oxana Shevchenko (piano)
Delphian DCD34203 (2 CDs)
TELEMANN: ESSERCIZII MUSICI
GEORG PHILIPP TELEMANN:
Sonata TWV 41:B6 in B flat major for oboe (or chalumeau) & b.c.
Sonata TWV 41:a6 in A minor for viola da gamba & b.c.
Sonata TWV 41:D9 in D major for flute & b.c.
Sonata TWV 41:e5 in E minor for viola da gamba & b.c.
Trio 4. A major for traverso, harpsichord & continuo (42:A6)
Trio 5. A minor for recorder, violin & continuo (42:a4)
Trio 6. B minor for traverso, viol & continuo (42:h4)
Trio TWV 42:c2 in C minor for recorder, oboe & b.c.
Trio TWV 42:d9 in D minor for 2 violins & b.c.
Trio TWV 42:G6 in G major for viola da gamba, harpsichord & b.c.
Trio TWV 42:g5 in G minor for oboe, violin & b.c.
Florilegium
Channel CCS40118 (2 CDs)
MONTEVERDI: LETTERA AMOROSA
CLAUDIO MONTEVERDI:
Lettera amorosa
Lamento d'Arianna 'Lasciatemi morire'
L'Orfeo: 'Dal mio Parnasso amato'
Voglio di vita uscir
Disprezzata regina (L'incoronazione di Poppea)
Ohime ch'io cado
Lamento della Ninfa (Book 8)
Et è pur dunque vero
Mariana Flores (soprano)/, Cappella Mediterranea, Leonardo Garcia Alarcon (with Julie Roset (soprano)
Ricercar RIC 390
JOHN ADAMS: NAIVE AND SENTIMENTAL MUSIC & ABSOLUTE JEST
JOHN ADAMS:
Absolute Jest
Naive and Sentimental Music
Doric String Quartet, Royal Scottish National Orchestra, Peter Oundjian
Chandos CHSA5199 (Hybrid SACD)
9.30am – Building a Library – Kate Kennedy on Benjamin Britten's Winter Words
Composer:      Britten
Piece:              Winter Words
Reviewer:        Kate Kennedy
Recommended Recording:
Anthony Rolfe Johnson (tenor); Graham Johnson (piano)
Cypres CYP8607
Other Recommended Recordings:
Below are other recordings that Kate also liked, although we can't guarantee availability.
Peter Pears (tenor); Benjamin Britten (piano)
Decca 4756051
Robert Tear (tenor); Sir Philip Ledger (piano)
Warner Classics 0151642
Philip Langridge (tenor); Steuart Bedford (piano)
Naxos 8557201
1020 – Schumann, Mendelssohn etc
ALFRED BRENDEL: LIVE IN VIENNA
ROBERT SCHUMANN:
Piano Concerto in A minor, Op. 54
JOHANNES BRAHMS:
Variations and Fugue on a Theme by Handel, Op. 24
Alfred Brendel (piano), Wiener Philharmoniker, Sir Simon Rattle
Decca  4833288 (CD)
MENDELSSOHN: SYMPHONY NO. 3 'SCOTTISH' & WIDMANN: 180 BEATS PER MINUTE, FANTASIE
FELIX MENDELSSOHN:
Hebrides Overture, Op. 26
JÖRG WIDMANN:
180 Beats per Minute
Fantasie for solo clarinet
FELIX MENDELSSOHN:
Symphony No. 3 in A minor, Op. 56 'Scottish'
Irish Chamber Orchestra, Jörg Widmann (conductor and clarinet)
Orfeo C945181A (CD)
SCHUMANN: ADVENTLIED & BALLADE VOM PAGEN UND DER KÖNIGSTOCHTER & JS BACH: CANTATA BWV 105
ROBERT SCHUMANN:
Vom Pagen und der Königstochter, Op. 140
JOHANN SEBASTIAN BACH:
Herr, gehe nicht ins Gericht mit deinem Knecht, BWV 105 (Arr. R. Schumann)
ROBERT SCHUMANN:
Adventlied, Op. 71
Carolyn Sampson (soprano), Ülle Tuisk (soprano), Benno Schachtner (counter-tenor), Werner Güra (tenor), Cornelius Uhle (bass), Jonathan Sells (bass), Helsinki Baroque Orchestra & Estonian Philharmonic Chamber, Aapo Hakkinen
Ondine ODE13122 (CD)
10.50am New Releases – Andrew Mellor on Esa-Pekka Salonen
ESA-PEKKA SALONEN - THE COMPLETE SONY RECORDINGS
Sony 88985471842 (61 CDs)
https://www.sonyclassical.com/releases/88985471842
11.40am – Disc of the Week
SCHUBERT: PIANO SONATA NO. 21 & FOUR IMPROMPTUS, D935
FRANZ SCHUBERT:
Piano Sonata In B Flat, D 960
4 Impromptus, D 935
Marc-André Hamelin (piano)
Hyperion CDA68213 (CD)