Main content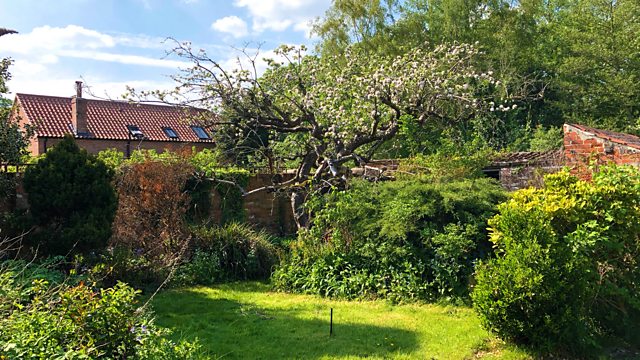 Southwell
Eric Robson and his panel are in Southwell, Nottinghamshire. Bunny Guinness, Christine Walkden and Matthew Wilson answer the horticultural questions this week.
Eric Robson and his panel are in Southwell, Nottinghamshire. Bunny Guinness, Christine Walkden and Matthew Wilson answer this week's questions.
Eric makes a pilgrimage to the world's original Bramley Apple tree while the panellists help audience members with queries about compost, planting a Wisteria close to a house, and unresponsive bluebell bulbs.
They also advise on getting rid of ivy, lily beetles and ground elder. Quite the clear out!
And on the weekend of the Royal Wedding, floral designer Jonathan Moseley gives a masterclass on wedding flowers - dos and don'ts and the symbolism of different plants in a bouquet.
Produced by Dan Cocker
Assistant Producer: Laurence Bassett
A Somethin' Else production for BBC Radio 4.
Fact Sheet
Q - Will you demystify a compost question please, at the garden centre there is a veritable plethora of choice, will I get better results with the pricey stuff or is the 'three bags for a tenner' just as good?
Matthew - Well just as there are a multitude of different composts, there are a multitude of different answers to that question.  It really depends on what you're wanting to grow.
Bunny - Well I used to go and get the 'three for one offer's, up till about three years ago, but now they're having a lot more substitute in for peat and I'm finding if you try sewing in that material, it just doesn't work.
Christine - I will buy cheap and cheerful compost if it's just simple plain annuals, so it very much depends on what I'm doing.
Q - I recently bought a Wisteria floribunda 'Alba', it's in a one litre pot and I want to plant it by the back door and train it against the brick wall. I was wondering how close should I put it to the door and what support does it need along the wall?
Bunny - Wisteria's do get mighty big so I would go a good foot (30cm) away at least with a view to taking the horizontals out on either side and obviously that needn't be symmetrical are fabulous. People always think they take ages but they seem to come into bloom really fast. In two or three years it will be giving so much to your doorway.
Q - I bought my husband a bluebell wood for his birthday in December 2016. It was a thousand bulbs and they weren't in the green, they were just bulbs and I planted them and in the Spring a few of them came up and there were a few bluebells. But this year, hardly any of them have come up at all and there's hardly any leaves and I just wondered if its the end of the bluebell wood?
Christine - It's not uncommon for dry bulbs to take a year off and become dormant.
Matthew - So as Christine says, bulbs can go completely dormant for a variety of reasons so I would keep the faith for a bit longer.
Q - Can you tell me the best way of controlling or preferably getting rid of ivy permanently?
Bunny - What I'd do is go and hack it off at the knees, at the bottom and then I wait for it to reshoot and then I use a very good systemic weed killer. 
Christine - It's a case of management isn't it. In the right place it is a sensational plant but when it becomes a thug and it goes everywhere and it can go up walls and become a pain, then it needs controlling and what Bunny has said is the right way.
Matthew – Learn to love it
Q - What would be your basic tips for anybody looking to grow wedding flowers?
Bunny - Well it depends what time of year of course. My son is getting married in August. I've got annual Lupins, Cosmos, Gypsophila paniculate 'Baby's-Breath, Gladioli, we've got all sorts of things.
Christine - Yeah I run with that and also late herbaceous plants like the Penstemons, Inulas, all of the bulbs of course, eg Watsonias, along with the gladioli, agapanthus makes a good cut flower. Dahlias of course, even late Chrysanthemums depending on the time of year. One of the most beautiful weddings I went to was where they'd used cow parsley at this time of the year with a base of Alchemilla mollis.
Q - In spite of cleaning pots and renewing compost, I again have an infestation of lily beetle. can the panel suggest any non-chemical prevention or control or do I need to enlist a lily beetle vigilante?
Christine - I just use a bamboo cane and split the top and stick the yellow sticky trap on the bamboo in the pot, and then the lily beetles will go on there.
Matthew - I don't know of anything other sticky traps that you can use and just physically picking them off.
Bunny -. I would also push all the pots together and then wrap them. It's worth it if you love your lilies.
Matthew - I agree; if you move all the pots together and cover them with mesh then its making the watering easier as well.
Q - This winter has been hard and taken its toll on some of my garden shrubs, in particular the Magnolia 'Susan' which looks very sorry for herself and one pathetically small flower and leaves just showing, very small. Any advice? It's in the ground, not in a pot.
Matthew - Scrape the stems with your thumbnails to see if there is any green. That's what woody plants will do, they will sort of retreat in like my Viburnum has, I suspect probably because of root damage. My advice would be, give it some TLC, mulch around the base, and feed it with a foliar feed as a tonic.
Q - How do I get parsnips and carrots to grow straight rather than fanged roots?
Christine - Normally fanging is associated with compacted soils, soils with fresh compost, high levels high levels of fertiliser in there, or stony ground.  Break up the soil and get some good compost in there.
Bunny - If you're lazy, get a nice deep raised bed.
Q - I've got a Rambling Rector rose against a wall which is obviously the wrong place to put it. So my question is what do you do with a rambling rector?
Matthew - You can be very tough in term of pruning. It will recover perfectly well. All those strong growing vigorous roses do. I've got 'Paul's Himalayan Musk' against a north-facing wall and I've cut that back to within a metre (3.2ft) from the ground and already its put on two metres (6.5ft)of growth.
Bunny – 'Sir Paul Smith' roses are great for that situation
Christine - The other thing is it makes a fantastic bank stabiliser.
Eric – I've planted a Clematis montana next to mine to give it some competition
Q - I am so despairing of my garden, if I gave the team its dimensions, could they tell me how much concrete I need to concrete it over please? It's covered in ground elder.
Bunny - Have a go at the ground elder with herbicide
Matthew - Ground elder is a tricky one. If you don't mind using herbicides, you can certainly knock it on the head, I have ground elder in my garden, I have bind weed, and I have a thing called Hedge Horehound which goes everywhere.  Learn to love it!
Christine - Ground elder when it's in flower, is very beautiful and you can eat it also.