Main content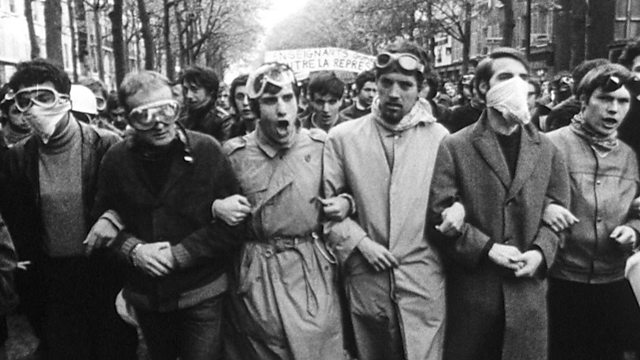 Vive la Revolution! Joan Bakewell on May '68
Joan Bakewell looks at the protests in France that nearly toppled De Gaulle's government in 1968, a year when the younger generation challenged authoritarian ideas worldwide.
In 1968 Joan Bakewell was one of the few female TV presenters, fronting the BBC's Late Night Line-Up and addressing daily the most pressing issues of the time. In this film she looks back at the events that led to what for many became the defining event of that extraordinarily turbulent year - the protests in France in May.
While the rest of the world was in turmoil, with the Vietnam War causing increasing dissent, the Civil Rights movement growing in intensity and young people finding new ways of expressing themselves, as 1968 began it seemed to France's president, General de Gaulle, that his country was immune to the kind of protest sweeping the rest of the world.
De Gaulle had been back in power for ten years. Although France had enjoyed economic stability under his leadership, he presided over an old-fashioned and paternalistic regime that offered little opportunity for young voices to be heard. With increasing numbers of young people attending authoritarian outmoded and crowded universities, tensions were mounting. When young student Daniel Cohn Bendit confronted a government minister visiting his university at Nanterre to ask for rights for male and female students to cohabit it was the beginning of a chain of events that quickly escalated. Within just two months France had all but closed down as students occupied universities and took to the streets, joined by workers with their own grievances who declared a general strike.
Using archive from the period, Bakewell looks at some of the ideas that fuelled the protests - from the Situationist philosophy that inspired the iconic posters and slogans, to the widespread opposition to the Vietnam War. She looks at the legacy of the events in France, asking whether perhaps the most lasting change to have come out of that extraordinary year was the feminist movement, as taking inspiration from the young French who took to the streets that year, women found renewed confidence to challenge authority.
Music Played
Timings (where shown) are from the start of the programme in hours and minutes
00:02

The Rolling Stones

Street Fighting Man

00:04

Small Faces

Song Of A Baker

00:04

Steve Miller Band

Children Of The Future

00:06

Juliette Gréco

Deshabillez-Moi

00:08

Dusty Springfield

&

Barry Manilow

Look of Love

00:10

Steve Miller Band

Living In The U.S.A.

00:11

Canned Heat

Going Up The Country

00:14

The Mamas & the Papas

Dream a little dream of me

00:17

Gerry Mulligan

Blue Boy

00:20

James Brown

Say It Loud (I'm Black and I'm Proud)

00:23

Sam Cooke

A Change Is Gonna Come

00:25

The Who

I Can See For Miles

00:26

Family

See Through Windows

00:27

Jacques Dutronc

Il Est Cinq Heures Paris S'eveille

00:32

Jethro Tull

Serenade to a Cuckoo

00:35

Mary Hopkin

Those Were The Days

00:36

Pink Floyd

Interstellar Overdrive

00:42

Bob Dylan

The Wicked Messenger (Album Version)

00:45

Gotan Project

Mil Millones

00:59

Léo Ferré

Paris Je Ne T'aime Plus
Credits
| Role | Contributor |
| --- | --- |
| Presenter | Joan Bakewell |
| Executive Producer | Stuart Prebble |
| Producer | Anne Elletson |
| Director | Anne Elletson |