Main content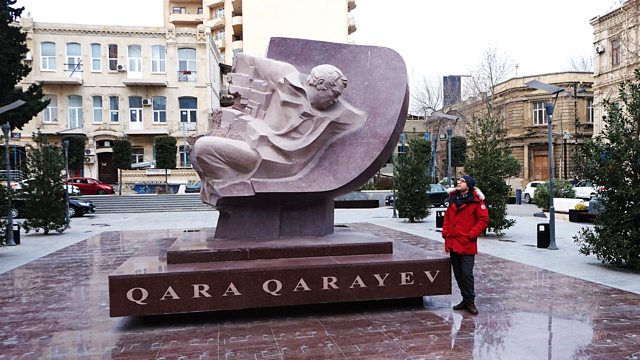 The Other Iran
Harpsichordist Mahan Esfahani visits Azerbaijan to explore the effect of a border on two musical cultures.
Harpsichordist Mahan Esfahani visits Azerbaijan, to explore how the creation of a border in 1828 shaped two very different musical cultures.
Esfahani, born in Iran but raised in the USA, has long wondered whether he could ever have become a western classical musician had his family stayed in Tehran. Yet just over the border in Azerbaijan, the art-form has a very different status.
In the early 19th century a rising Russia and declining Persia went to war. In the 1828 treaty of Turkmenchay, the Azeri territories were split in two, the north annexed to Russia, the south remaining in Persia. Today, the people of this northern half, now the Republic of Azerbaijan, enjoy a wealth of classical music culture - from the opera houses to the symphony orchestra, to uncovered women singing solo - as well as rich collaborations with their own traditional culture. Yet for their southern neighbours, in what is now the Islamic Republic of Iran, this culture is almost beyond reach.
For Esfahani, who is Azeri on his father's side, his possible futures had he stayed at home are mapped out across this national border. He heads to Azerbaijan's capital, Baku, to ask what happened to create such a vibrant classical music culture in the north. He plays Purcell with soprano Farida Mammedova and begins to understand Azerbaijan's place at the crossroads of Asia and Europe, of a Western cultural presence fast-tracked by Russian rule and a 19th-century oil boom. He sits in on rehearsals of a new ballet celebrating the centenary of one of the country's most celebrated composers, Gara Garayev, the product of a Soviet education system in which both Leopold Rostropovich and Shostakovich had leading roles.
Over the same period, Iran's relationship with western music has been more problematic – at times supported by the ruling classes but never absorbed in quite the same way, and at various points since the 1979 Islamic Revolution, discouraged or banned completely. The familiar image of a religiously conservative and anti-western regime might explain this away, but the truth is more complex, as Mahan discovers in conversations with conductor Ali Rahbari and Idin Samimi, a composer in Tehran. 
As Mahan peers through the border fence at a country he hasn't set foot in for over 20 years, is there cause for optimism that Iran may come to embrace the music he loves, as Azeris north of the border have? Could Mahan himself ever play in Tehran?
Produced by Chris Elcombe.
A Reduced Listening Production for BBC Radio 3.
Last on
Broadcasts