Main content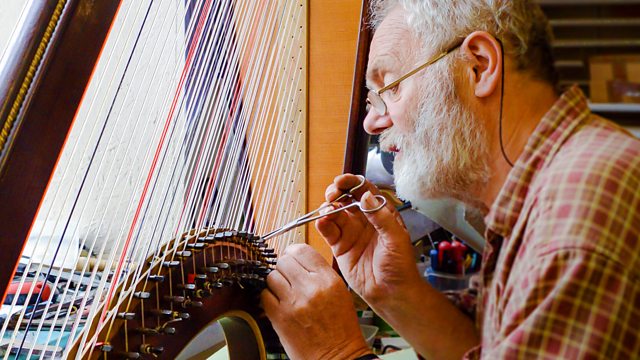 New Strings Attached
Gwenan Gibbard and Robin Huw Bowen visit the Teifi Harps Factory in Llandysul, where Allan Shiers is passing the traditional skills of harp-making on to the next generation.
Making harps in Wales is a tradition stretching back centuries and is being preserved in Llandysul, at community enterprise Teifi Harps. Founder Allan Shiers, an apprentice to the late renowned maker John Weston Thomas, has been designing and making harps for over 40 years.
In the company of esteemed players Gwenan Gibbard and Robin Huw Bowen, we discover more about the Welsh harping tradition and the evolution of the instruments. Together, the two musicians engage in lively conversation about how this emblem of Wales is valued in society today and the challenge of interesting a new generation in making the instrument, as well as demonstrating the different types of harp made here.
In this former Victorian schoolhouse by the River Teifi, there is an interesting and evolving marriage of tradition and technology using hand tools and computer aided design to make the 350 parts that go into the making of a harp.
And it's more than just the rich history and tradition of these instruments that inspires Allan in his craft. There is a strong sense of community with a local artist and a local seamstress centrally involved in production. One harp's delicate ornamentation is based on harebells growing on the local church wall and another is named 'Gwyneth' after his wife.
Find out why one harp has a snail carved on the top, who played a harp made out of corned beef tins, and discover which of the three types of harp has a load equivalent to one sixth of an elephant on this unique journey into the heritage, tradition and practice of harp-making.
Produced by Kellie While for 7digital.
Last on

Broadcasts