Main content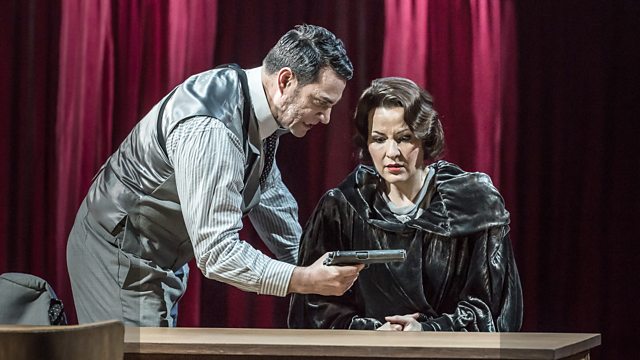 Un Ballo in Maschera
Donald Macleod presents a broadcast from Leeds Grand Theatre of Verdi's 3-act masterpiece Un Ballo in Maschera (A Masked Ball) in Tim Albery's new production for Opera North.
Donald Macleod presents a broadcast from Leeds Grand Theatre of Verdi's 3-act masterpiece "Un Ballo in Maschera" (A Masked Ball) in Tim Albery's new production for Opera North. He's joined by the expert in 19th century opera Dr Flora Willson, Lecturer in Music at King's College London.
The opera is based, somewhat loosely, on the real life assassination of King Gustav III of Sweden in 1792. To beat the censors Verdi had to agree to transposing the action from Stockholm to Boston. This production, however, follows the modern trend to bring Un Ballo in Maschera back to Europe once again. King Gustavo is in love with the wife of his friend and advisor, Count Anckarstrom. Ulrica, the fortune-teller, informs the King that the next person to shake hands with him will be the person who will betray and kill him. When subsequently Anckarstrom walks in and shakes his hand King Gustav pours scorn on the prophesy since he knows his friend would not murder him. So he thinks.
The cast is led by the brilliant Mexican tenor Rafael Rojas.
King Gustavus ..... Rafael Rojas (tenor)
Count Anckarstroem ..... Phillip Rhodes (baritone)
Amelia ..... Adrienn Miksch (soprano)
Ulrika Arvidson ..... Patricia Bardon (mezzo-soprano)
Oscar ..... Tereza Gevorgyan (soprano)
Count Ribbing ..... Dean Robinson (bass)
Count Horn ..... John Savournin (bass)
Christian ..... Richard Mosley-Evans (bass)
Opera North Orchestra & Chorus
Richard Farnes (Conductor).
Last on
Episode Image by Clive Barda
Synopsis
ACT I
Now that the civil war is over, supporters of King Gustavo wish that he could find peace again; but his enemies, led by Counts Horn and Ribbing, long to see him dead.
Gustavo is secretly enthralled by the idea of seeing Amelia again at a ball that he is to give. He has not been able to suppress his love for her, despite the fact she is married to his closest friend and advisor, Count Anckarström. He refuses to hear from Anckarström the names of those plotting to kill him – he has had enough of bloodshed.
When the Chief Justice demands that the fortune-teller Ulrica be banished as a subversive troublemaker, Oscar, Gustavo's young secretary, defends her, insisting that she merely brings hope to those in doubt and despair. On a sudden whim Gustavo decides to visit Ulrica's to find out for himself, despite Anckarström's objections. He will go disguised as a fisherman, along with all his courtiers.
Ulrica summons Satan to her, so that she may with his help reveal the secrets of the future. As Gustavo watches in his disguise as a fisherman, Ulrica prophesies to Cristiano, a sailor in the king's navy, that he will receive money and promotion. To his surprise, a moment later Cristiano finds, in his coat, money and a note from the king with news of his promotion. Gustavo has slipped them unnoticed into his pocket.
Amelia's servant requests a private audience with Ulrica for his mistress. Gustavo hides so that he can overhear the meeting. When Amelia pleads for help in freeing herself from her secret love for a man of power, Ulrica tells her she must pick a herb at midnight from the place on the edge of the city where the guilty are put to death. This herb will make her forget her love. Realizing that Ulrica returns his love, Gustavo decides to follow her there.
The men from the court arrive, all disguised as fishermen. Gustavo is first to have his fortune told. Ulrica sees through his disguise, sensing his status, but then refuses to read his fortune. When he insists, she reluctantly prophesies that he will be killed by the first person he shakes hands with. At that moment, Anckarström arrives, and Gustavo greets him with a handshake. To Ulrica's surprise, Anckarström calls the king by name. Gustavo mocks the fortune-teller for her inability to divine who he was and to foresee the threat of banishment hanging over her. She warns him that there are still traitors in the crowd.
Now that his identity is revealed, the common people sing the king's praises – while the conspirators still plot his death.

ACT II
At the place of execution, Amelia cannot force herself to pick the herb – the place is too
haunting and terrifying. Gustavo has followed her, and, despite her pleas, declares his love for
her. At first, she rejects him, but he is ecstatic when, reluctantly, she admits that she loves
him too. She is, however, agonized at the thought of betraying her husband – the man
who, she points out, would lay down his life for his king.
They are surprised by Anckarström, who warns Gustavo that traitors are on their way to kill him. Amelia hides her face so that her husband won't recognize her. Anckarström urges the king to flee to safety. Gustavo agrees, as long as Anckarström escorts the lady back to the city, and makes him promise not to try to find out who she is. As the conspirators close in, Anckarström and Gustavo exchange clothes, and Gustavo makes his escape.

Ribbing, Horn and their fellow conspirators believe that they have cornered the king with his unknown mistress, and are surprised to be confronted instead by Anckarström. When Horn tries to reveal the woman's face, Anckarström threatens to kill him. As the conspirators surround him, Amelia defuses the situation by revealing herself, to Anckarström's horror. Everyone else is much amused by the idea of Anckarström meeting a lover in secret only to find that she is his wife. Filled with shame and overcome with hatred for Gustavo, Anckarström instructs Ribbing and Horn to meet him at his house in the morning.

ACT III
Returned home, Anckarström rages at Amelia, threatening to kill her. She admits that she loves Gustavo, but denies that she has been unfaithful. Anckarström is unmoved, and Amelia begs to be allowed a last farewell with their son. Alone, Anckarström admits to himself that it is Gustavo's betrayal that really deserves his punishment, and resolves to have his revenge on the king.
Ribbing and Horn are sceptical when Anckarström tells them that he has, for reasons he won't specify, decided to join their conspiracy; but they are convinced when he offers the life of his son as hostage should he fail them. Each wants to strike the fatal blow, so they decide to settle the matter by drawing lots. When Amelia interrupts to announce that Oscar has come with a message from Gustavo. Anckarström forces her to draw the name: it is her husband's. Realizing what the three are planning, Amelia decides that she must try to save Gustavo's life. Oscar enters with the king's message: an invitation to the masked ball that evening.
As the ball begins, Gustavo reluctantly signs an order sending Anckarström to a new post abroad, where Amelia will accompany him. Oscar brings him a letter from an unknown woman, warning that an attempt on his life will be made at the ball that evening. But Gustavo dismisses the warning and looks forward to seeing Amelia one last time.
At the ball, the conspirators search in vain for Gustavo. Anckarström finds Oscar and persuades him to identify the king. Amelia finds Gustavo alone and asks him why he hasn't heeded her letter of warning. She pleads with him to escape, but he says that he fears nothing now he is sure of her love. He tells her of his painful decision to send her and her husband away. As they take their last farewell, Anckarström stabs the king. With his dying words, Gustavo assures Anckarström that Amelia has behaved blamelessly, and absolves him of his crime.
Broadcast

Featured in...
We broadcast more live and specially-recorded concerts and opera than any other station.