Main content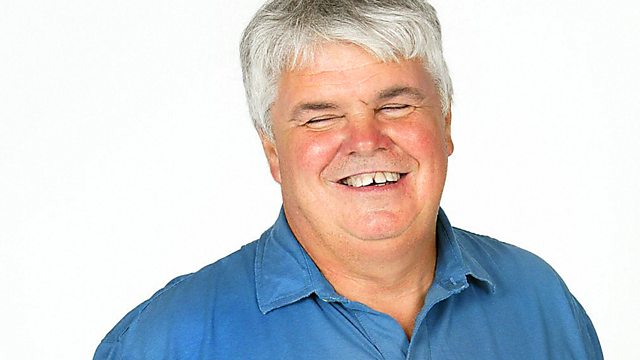 Dockless Bikes, Elia and Michael Whapples
Dockless bikes make life difficult for a blind pedestrian in Oxford, we talk to the man behind a new reading system, Elia, and a visually impaired sharp shooter bags a gold.
Dockless bikes are everywhere. And the tendency of users to abandon them on pavements is making life difficult for people like 15-year-old Adam Solan. He enjoys his independence in his hometown Oxford, but three rental bike companies are battling it out in the city for customers. One of them is Mobike, and their European Development Director Steve Pyer is in the studio to answer Adam's questions.
We also talk to Andrew Chepaitis in New York about his reading system Elia. He thinks advances in 3D printing mean blind and VI readers are ready for an alternative to the challenges of braille.
And we may have had no luck at Eurovision - but one brit has just beaten the Swedes in Europe. Michael Whapples tells us about his gold for Great Britain at the International Shooting Competition of Hanover.
Presented by Peter White.
Produced by Kevin Core.
In Touch Transcript: 15-05-2018
THE ATTACHED TRANSCRIPT WAS TYPED FROM A RECORDING AND NOT COPIED FROM AN ORIGINAL SCRIPT.  BECAUSE OF THE RISK OF MISHEARING AND THE DIFFICULTY IN SOME CASES OF IDENTIFYING INDIVIDUAL SPEAKERS, THE BBC CANNOT VOUCH FOR ITS COMPLETE ACCURACY.
IN TOUCH – Dockless Bikes, Elia and Michael Whapples
TX:  15.05.2018  2040-2100
PRESENTER:          PETER WHITE
PRODUCER:            KEVIN CORE
White
Good evening.  Tonight, a blind teenager strikes back about the latest pavement hazard.
Clip
Why is it still happening, you tell me?  You've mentioned you're expanding, you've written different things on the apps, you've added all sorts of these things – why is it still happening I'm asking you?
White
Tough questions for a company director.  We'll also be testing out a prototype tactile system aimed at helping newly blind people to continue to read.  And talking to Britain's latest European champion.
But first, finding obstacles strewn across pavements is no new problem for blind and partially sighted people.  Parked cars, shop A boards, café tables and now there's a new hazard to add to the list – dockless bikes.  Now imagine a Boris bike set free from its docking station.  The way they work is that you find one, you pay for a set time on your phone and then off you go.  But the fact that you can pick the bike up anyway on the street means you can also leave it anyway as well.  And that's exactly what 15-year-old Adam Solan says people are doing.  He's so fed up with it he's contacted his local paper – the Oxford Mail – to vent his spleen.  In the same spirit he showed us around his home town.
Solan
I'm feeling quite independent because I've applied for a guide dog and with applying with a guide dog you have three routes which you have to do, so I have to independently walk around the Oxford City Centre.  And where I'm standing there's been one dockless bike and then another and then after a few minutes or so and so there would be five more bikes.  People are just seeing other bikes so they find it right to park their bikes there.
When you're taught how to cross when you're visually impaired you learn always not to cross from a junction and this would be an ideal place where you would cross.  But then without me actually taping it with my cane I would have no clue that there would be a bike here and especially if this is going to increase, it's not going to be fun for anyone and especially with me, I love to be independent and I like to be by myself a lot of the times but having these bikes just parked anywhere really it's – yes it is being selfish because they're not considering how there's other people around in these areas that may not see these bikes potentially.  And it's not just me, it's people with other disabilities.  There's another bike across there and they're just parked altogether, it's very crowded.  When you're paying a certain amount of money it's not yours, it's not your responsibility.  I think they have that mindset in their heads and they believe that – oh look, we can leave it here, I'll just dump this bike and move on.  It's more like an obstacle course, less like a fun place to walk.
White
Adam Solan there picking his way gingerly along the pavements of Oxford.  Well we'll hear more from Adam in a moment but Oxford is a challenging city because three dockless bike firms are battling it out there:  Pony Bikes, Ofo and Mobike.  Well Mobike's European Development Director is Steve Pyer and he's joining us.
Steve, Adam has to practise these routes, as he said, to get to his guide dog and the bikes are cropping up everywhere, what do you say to him?
Pyer
Firstly, thank you very much for coming on and talking to us about this, it's very good of you to do so and clearly the bikes have changed Adam's experience in his environment, so it's up to us to try and work out how we can help him and how we can help everyone really to experience Mobike properly, whether you're a user or whether the Mobikes are just around in the areas you go to.
White
I mean have you anticipated this problem?
Pyer
Yes, well we've done a lot of work and there's lots of things in the app we do to try and encourage people to park it correctly and we have campaigns going on at the moment to park it right, through all our social media and in the app.  So, we're really trying to encourage people to think about where they do put the bikes at the end.
White
The thing is, as blind people, we can get to know where a docking station is, why have you ditched them?
Pyer
There's a couple of reasons really.  One is user experience, so docking stations have been around for quite a long time but you have to find where the docking station is, there's not always that many of them and then sometimes you get there and the docking station's full, so it's quite difficult, you've then got to find out where the next one is.  And the other one is cost.  If you want to have a docking station in London it's upwards of £100,000 to have space for 25 bikes in one of these big heavy docks, so it's very expensive.
White
Now three companies battling it out for trade and anything up to, maybe more, than 50,000 students in Oxford, many of whom already have bikes, it's overkill isn't it?
Pyer
I don't think so.  I see the dockless operators there, they all work really closely with the council and the local authorities who are very heavily regulated on who can come in and how many bikes they can have.  And it could actually be a long-term benefit to Oxford, like you say 50,000 students and so many of those have their own private bikes that they leave there at the end of every year and have to be sort of identified and picked up.  So, if students coming in realise they don't need to bring their own private bike, they can use the dockless schemes, that could be beneficial in the long run.
White
Let me bring in Adam, he's been listening to that, you've got the chance to put your points to Steve.  What do you want to say to him and what do you want him to do?
Solan
Well first of all I'd like to say that within Oxford and I believe in other cities as well the Oxford City Council have something called zero tolerance.  If you're paying with card surely businesses, such as yourself, could work on getting them to stop just leaving dockless bikes everywhere.
Pyer
Adam's right, we do work with the county council and the city council, we work very closely, they've got their own code of conduct and if any of the operators that are in Oxford don't follow that then they could have the number of bikes they're allowed on the street reduced.  So, we work very closely with them and their code of conduct is probably the severest in all of the UK.  There's always more that we could be doing, which is why it's good to talk to you right now, to understand that.
Solan
I mean there's not just one company, there's three other companies, I mean people such as myself being visually impaired we wouldn't use those dockless bikes and a lot of your customers that use dockless bikes not necessarily speak or read English even.  In Oxford, itself, there's about nine million tourists annually, so could there be such as a visual display to show that – please don't park here – because I mean those apps aren't doing enough?
Pyer
I guess there could be and we speak to the city council regularly.  At the moment the parking bays that we put in place are very light touch but if we can work with them to get some more sort of signage up there then I'm more than happy to do that, yes.
White
Steve, you've heard what Adam says, isn't the problem that there's the lack of regulation of this new phenomenon?
Pyer
Like I say, Oxford have been very good in putting regulation in place but it is a very new thing.  There is no sort of central government legislation on it and I think all of the operators that are in Oxford and the rest of the UK have been calling out for that, it would be a very good thing for us to know exactly what we should and shouldn't be doing and getting advice from the likes of Adam and the RNIB, we're speaking to later this week, so perhaps they can give us some really good input and advice on what we could do to help you.
White
But why is there no legislation?
Pyer
I can't really answer why central government isn't putting regulation in but I think they're all quite busy with Brexit at the moment, that's probably taking up everyone's life.
White
Final word Adam?
Solan
You mentioned about in London certain docking stations £100,00, you mentioned yes?
Pyer
Yes.
Solan
You're looking to expand correct?
Pyer
Yes, we're expanding globally now.
Solan
Yes, exactly, so, couldn't you invest a bit of money to actually improve that?
Pyer
Yeah, we're investing in our technology all the time, so it's gone on leaps and bounds in the two years we've been in operation and I have no doubt it will evolve again.
Solan
So, why is it still happening, you tell me?  You've mentioned you're expanding, you've written different things on the apps, you've added all sorts of things, why is it still happening, I'm asking you?
Pyer
I think it's a very new phenomenon in the UK and people are getting used to it and very quickly people will get used to what they should and shouldn't be doing, what behaviours they should exhibit when they're using the scheme.
White
Perhaps you should take Adam on in order to direct your PR and your attitude to this new development.
Pyer
I think people would certainly listen to him.
White
Well that was Steve Pyer of Mobike, taking a little friendly advice from 15-year-old Adam Solan.
Two other companies who are in the competition for trade – Pony Bikes and Ofo – both say they employ teams to monitor the problem and they're in discussion with blind organisations.  Oxfordshire County Council says that while they encourage initiatives to reduce the carbon footprint the public still has to act responsibly.
So, is this a problem in your area?  And if not bikes what else is barking your shins on the pavements of the UK?  Let us know.  Details of how to contact us at the end of the programme.
Now ask most newly blind people what they miss most and in my experience it's a toss up between driving their car and reading a book.  There are problems with all existing forms of reading.  Braille means learning a totally unfamiliar system and it requires very sensitive touch.  A system called Moon does bear a closer relationship to conventional print but it founded on the fact that it was bulky and difficult to write.  And though audio books are very popular, many people still say but it's not like reading a book yourself.  Which is why people continue to look for alternatives.  People like Andrew Chepaitis, whose work as an industrial psychologist looks at how people learn new skills. 
Well his system is called Elia and from New York he told me how he became interested in the problem.
Chepaitis
My grandmother lost her vision due to macular degeneration and she loved to read mysteries and do crossword puzzles and she was very independent.  And when she started to lose her vision she tried to learn braille and she had a great deal of difficulty, she was unable to do it.  My mother was studying industrial design at the time and noted that best practices from that field would suggest that you would build a person's existing knowledge.  And also, that you would use a frame, if you were presenting different symbols, so that people knew where one symbol began and another symbol ended.  She started to design that and she became a professor and had her hands full and so I took over and started testing it and redesigning it.
White
Is that the essential principle behind it?  Because I've got this in front of me and I can see I'm touching this, it uses the letters which people will be familiar with from print and they're contained in either squares or circles.  So, that's the basic principle is it?
Chepaitis
Pretty much.  There's a – if you can imagine a square with a small characteristic on the inside, like a slash right, from one corner to another corner, depending on the corners that could be a z or a n, right.
White
Well le me bring in Adam Lin [phon.], because Adam you're visually impaired yourself and you're a braillist I think but you've been helping with Elia.
Lin
Initially I came along to be part of a pilot and as a blind person I sit down and look at the system.  And so, as time's gone on, I've been working more with Andrew, helping to determine what really works for a blind reader, what a braille reader likes or doesn't like about the system, what works or doesn't work.
White
But you are a braille reader and braille is very well established.  What would be the incentive for someone like you to learn a new system?
Lin
I'm a writer and so I work a lot with words and I'm quite interested in anything that's going to help me read faster or read better.  You mentioned when people later in life lose their sight and they lose the ability to drive or read a book, I think it will be enormously helpful for people who are older to be able to sit down and quickly begin to get information from a tactile system again.
White
Now I'm running my hands over this and I'm saying exactly what people say to me when they run their hands over my braille, which is – how on earth can you read that, that doesn't make any sense at all.  Well of course I say, it doesn't make any sense to you because you've never learnt braille but this doesn't make sense to me.  Can you actually read this system?
Lin
Oh I sure can.  I mean could you ever see, Peter?
White
Er no.
Lin
Okay, so I had vision up until about the age of 12 or 13, so when I look at the O and the E and the T and the N, they're quite recognisable.  My wife is sighted and I showed it to her and within five minutes she could recognise words.
White
So how fast can you read?
Lin
At this stage I think – I've read about three pages in 10 minutes the other night.  I'm getting faster.
White
Andrew, plenty have tried and failed with the idea of an alternative system to braille and isn't one problem that there is already a huge body of literature and books in braille.  There's the alternative of audio books as well.  What's the incentive for people to learn this do you think?
Chepaitis
The braille materials are helpful to people who know braille and can read it.  In the US, for example, the National Federation of the Blind estimates that 90% of people who are blind can't read braille.  And so, for that 90% of folks who can't those braille books are not helpful.  And our expectation is that those folks would benefit from a tactile alphabet, just as braille – as braille readers do in terms of independence and literacy.
White
Now there has been an alternative tactile system and that was Moon, also developed in Britain in the 19th century, that really foundered on the difficulty of writing the system I think.  How will Elia get over that problem?
Chepaitis
Moon was developed around the technology of the day, much the way braille was developed around the technology of the day.  The easiest way in the 1800s to make something tactile was to take a pointed object and push it into a piece of paper.  But with Moon, in those days, it was very difficult to produce unless you were going to emboss something.  Our expectation is, is now is the time – the technology supports any tactile font shape and the production of it.  So, what we've basically done is customise the standard alphabet for touch reading.
White
I still have to ask you this.  You came up with this idea or your mum came up with this idea I think in the – back in the 1980s, you're still working on it, what do you think are the chances that this could really catch on and bring reading to this large number of people who do lose their sight in later life?
Chepaitis
Up till now this alphabet was simply the optimised alphabet for touch reading but it wasn't terribly helpful because it's just a font.  But now printing technology has advanced and now you can print anything in tactile form, whether it's with a 3D printer or a printer that we have in development.  Given that this new technology can print anything in tactile form it's a change that alters the dynamics.
White
Andrew Chepaitis and before that you heard Adam Lin.
Now if you're still smarting after yet another humiliating night at the Eurovision Song Contest take heart.  Britain has a brand new European champion and he caused a Swede to meet his Waterloo. 
Michael Whapples has just taken gold for Great Britain at the International Shooting Competition in Hanover for visually impaired competitors.  So, first of all, Michael, many congratulations.
Whapples
Thank you very much.
White
Before we talk about your win itself, just explain how target shooting actually works for visually impaired competitors, what do you do?
Whapples
Okay, so we use standard air rifles and then we fit to it a piece of electronics that produces a varying pitch of tone, so nearer the centre it produces a higher pitched sound.  And I have a device with me.
White
Okay, so can you illustrate roughly what it sounds like when you're getting near the target?
Whapples
Okay.
Air rifle electronics
So, when it's got to the highest pitches I think I then have to fire.
White
Right, so it must be a very precise thing that you have to do.
Whapples
Yes, the target we use, the very centre scoring ring, because you have scores – the centre one is 10 and that's only half a millimetre.
White
And do you compete against people with no sight at all or do people with visual impairment compete with each other?
Whapples
Everyone, regardless of the amount of sight, we all compete together and we've actually had some research done which shows there is no advantage if you do have a little bit of sight.  It's all fairly equal.
White
Now tell me a bit about your victory because you've actually been doing competitive shooting for quite a while haven't you?
Whapples
Yes, I've done shooting since about 1998, when I first started…
White
You must have been pretty young then?
Whapples
Yes, I was about 12, at school.  Since then I've done about – I think it's about six international competitions.  But this is probably my biggest.
White
What is it about shooting which appeals to you?
Whapples
The one thing I like about it is that with that electronic device once I start aiming I'm doing it very independently, it's for me to decide – do I think I'm on the very middle – and when to take that shot.
White
Now I also gather that there's something of a campaign on to make this a Paralympic sport.
Whapples
Yes, in fact yesterday I was at a meeting where we were putting together some of the finalised – finalising it and it's looking promising on that.
White
So, I imagine, you must be hopeful because you can go on shooting for quite a long time that you will end up as a Paralympian?
Whapples
I really hope so and I think it has been mentioned in the past, some of the oldest athletes at the Paralympics are shooters.
White
And just finally, I mean how tight a win was it that you had the other day?
Whapples
In the final, I won by about two points but throughout the whole of the final the first and second place kept swapping.  So, I had to keep on it.
White
Many, many congratulations.  Michael Whapples, thank you.
Whapples
Thank you, goodbye.
White
And that's it for today.  You can call our actionline for 24 hours after the programme on 0800 044 044 with your queries and comments about anything you've heard in the programme.  You can email intouch@bbc.co.uk or click on contact us on our website from where you can also download tonight's and other editions of the show.  From me, Peter White, producer Kevin Core and the team, goodbye.