Main content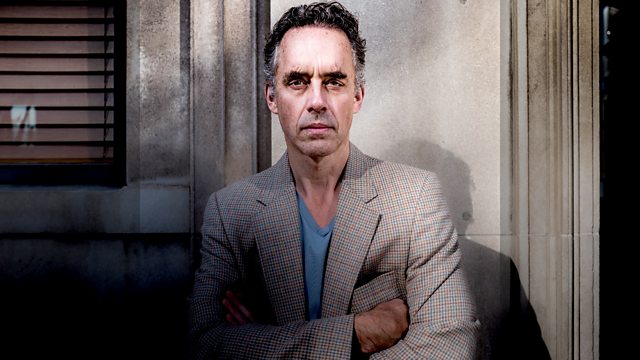 Jordan Peterson: Rules for Life
Cultural discussion programme. Jordan Peterson, Louise O'Neill, Hashi Mohamed and Lawrence Wright teach Tom Sutcliffe lessons for life.
Jordan Peterson, clinical psychologist and YouTube sensation, professes to bring order to chaos in his 12 Rules for Life. He tells Tom Sutcliffe about the importance of individual responsibility, using lessons from humanity's oldest myths and stories. But his home truths are not without controversy: acclaimed by many, his critics accuse him of reinforcing traditional gender and family roles and attacking liberal values.
Hashi Mohamed is the living embodiment of many of Peterson's life rules: he came to Britain when he was 9 years old with little English and through a combination of skill, luck and hard work is now a barrister. But he is critical of the lack of social mobility and his own rags to riches story is one he thinks is increasingly difficult to realise.
The Irish author Louise O'Neill has made her name challenging the roles given to women. In her books for young adults she has tackled small town hypocrisy and sexism, rape culture and victim-blaming. She too has looked to the stories of the past and her latest book is a radical retelling of Hans Christian Anderson's The Little Mermaid.
The Pulitzer Prize-winning journalist Lawrence Wright turns his focus on his home state Texas, to see what it can teach us about America. A 'superstate' with a GDP larger than most industrialised countries, and with a population on track to double by 2050, Texas both confirms and challenges its stereotype. Wright is confronted by cowboy individualism, gun-loving patriotism and nostalgia for an ersatz past, but also finds pockets of liberal progressiveness and entrepreneurial drive.
Producer: Katy Hickman
Picture: Jonathan Castellino for Penguin.
Jordan Peterson
Jordan Peterson is a Professor of Psychology at the University of Toronto. He has published many of his lectures online to a growing global audience. 
12 Rules for Life is published by Allen Lane.
Louise O'Neill
Louise O'Neill is an Irish novelist. She is a regular contributor on Irish TV and radio, and has a weekly column in the Irish Examiner.
The Surface Breaks: A Reimagining of The Little Mermaid is published by Scholastic.
Hashi Mohamed
Hashi Mohamed is a Barrister at No 5 Chambers, specialising in planning and environment, and commercial litigation. He has presented several documentaries on BBC Radio 4, including Adventures in Social Mobility.
Lawrence Wright
Lawrence Wright is a staff writer for The New Yorker and a Pulitzer prize-winning author.  
God Save Texas: A Journey Into the Future of America is published by Allen Lane.
Credits
| Role | Contributor |
| --- | --- |
| Presenter | Tom Sutcliffe |
| Interviewed Guest | Jordan B Peterson |
| Interviewed Guest | Hashi Mohamed |
| Interviewed Guest | Louise O'Neill |
| Interviewed Guest | Lawrence Wright |
| Producer | Katy Hickman |