Main content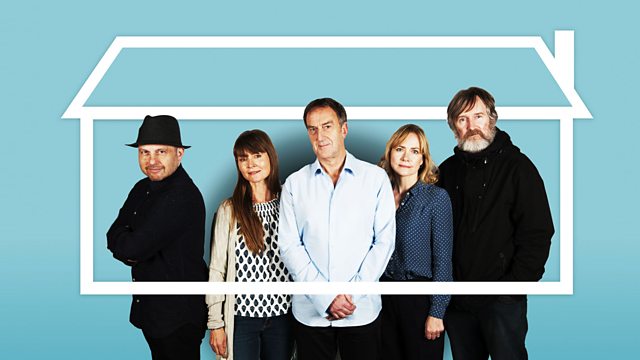 Mitch's inability to say no means he is double-booked one evening with Ellie and Morris, while Will tries to help Louisa film a scene for a casting. Stars Angus Deayton.
A sitcom, written by Moray Hunter and starring Angus Deayton, about five single, middle aged neighbours living in flats in a converted house in North London.
Mitch (Angus Deayton) is a widower and part-time therapist who is looking to put his life back together now that he is single and living - supposedly temporarily - with Will (Pearce Quigley), his younger, more volatile and unhappily divorced half-brother.
Elsewhere in the building are schoolteacher Ellie (Abigail Cruttenden) who is shy, nervous and desperately missing her ex-boyfriend, overly honest, frustrated actress Louisa (Kate Isitt), and socially inept IT nerd Morris (Bennett Arron).
In Just Say No, Mitch's inability to say no causes problems when he agrees to go for drinks with Ellie and a friend of hers, Marie (Hilary MacLean), who is keen to meet him, and then agrees also to help out Morris by making up a four for a dinner party on the same evening.
Louisa meanwhile has a big casting opportunity and, perhaps unwisely, enrols the services of Will to help her film a scene.
An Absolutely production for BBC Radio 4.
Credits
| Role | Contributor |
| --- | --- |
| Mitch | Angus Deayton |
| Ellie | Abigail Cruttenden |
| Maria | Abigail Cruttenden |
| Will | Pearce Quigley |
| Louisa | Kate Isitt |
| Katrina | Kate Isitt |
| Morris | Bennett Arron |
| Marie | Hilary Maclean |
| Writer | Moray Hunter |