Main content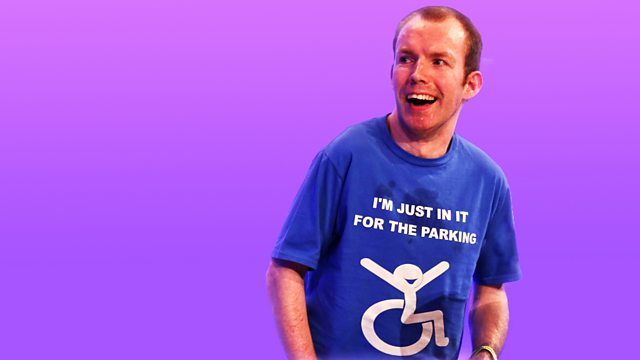 Matt's rubbish carer Bob (played by Allan Mustafa) is due for his first assessment. But he really shouldn't have let Matt talk him into going down the pub the night before.
Matt is 25. He has cerebral palsy and can only speak via an app on his iPad. Everyone who cares about Matt knows that this isn't the defining thing about him. He is funny and clever and "up for stuff" - partly because he is keen to show that there's nothing he can't do, but also because, if he's honest, he's aware that he's less likely than other people to get the blame.
Now Matt's left home for the first time and moved in to share a flat with his best mate, Jess. But when Bob (Allan Mustafa) shows up as the new carer, the fun really starts. Bob is new to the job and, although willing, domestic duties are not really his forte. He's better at selling weed and dealing in knocked off iPads.
But he likes Matt and treats him like a real person. So, as far as Matt is concerned, Bob is here to stay.
Ability is the semi-autobiographical co-creation of Lee Ridley, otherwise known as Lost Voice Guy. Like his sitcom creation, Lee has cerebral palsy and can only speak via an app. Lost Voice Guy is - probably - the first stand up comedian to use a communication aid. He won the BBC New Comedy Award in 2014, has done three full Edinburgh shows and been tour support for Ross Noble, Patrick Kielty and Jason Cook. Lee has previously worked for Sunderland City Council's communications team, and the BBC in Newcastle and London as well, as various local newspapers.
Katherine Jakeways is the co-creator and co-writer of Ability. Katherine is a multi-award nominated writer. She has written North by Northamptonshire, Guilt Trip and All Those Women for BBC Radio 4 as well as numerous radio plays. She has also written for Crackanory and The Tracey Ullman Show for TV along with a BBC 1 pilot, Carol and Vinney.
A Funny Bones production for BBC Radio 4.
Credits
| Role | Contributor |
| --- | --- |
| Matt | Lee Ridley |
| Bob | Allan Mustafa |
| Writer | Lee Ridley |
| Writer | Katherine Jakeways |