Main content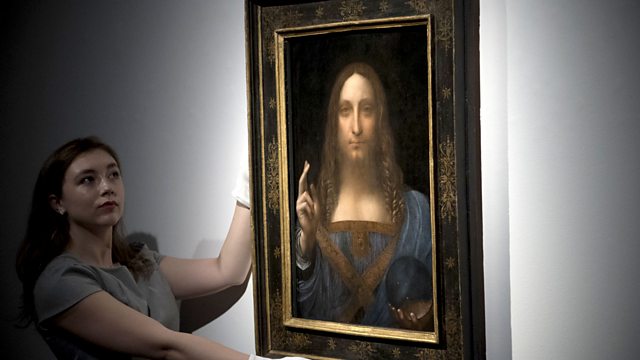 The Art of Money
As paintings achieve world record prices, John Wilson investigates the pros and cons of the current art market boom.
On May 8th Christie's auction house in New York will host what's expected to be the greatest auction of a single owner art collection. It will feature the sale of 1500 pieces of art collected by David and Peggy Rockefeller. Experts say the sale could raise in excess of half a billion dollars but the figure could be a lot more if the recent sale of Leonardo Da Vinci's Salvator Mundi is anything to go by.
In November 2017 the Salvator Mundi was bought for a world record $450m, which was way in excess of expectations. There's been plenty of speculation as to who the buyer was but what we do know for sure is that the painting will go on display in Abu Dhabi's newly opened Louvre museum.
In The Art of Money, John Wilson discovers how incredibly wealthy Gulf states are preparing for their post-oil futures by attempting to become cultural destinations for travellers. That means that they can be competing against each other for some of the world's art masterpieces.
He also finds out what the escalating prices mean for the rest of the art world and how nearly 80% of artworks end up being stored in mysterious freeports, which the authorities are currently investigating.
Presenter: John Wilson
Producer: Ben Carter
Researcher: Namir Shabibi.
Last on
Broadcasts