Main content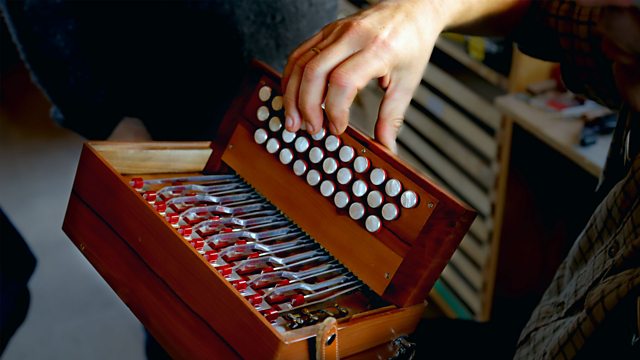 Thinking Inside the Box
Accordion maker Emmanuel Pariselle welcomes Andy Cutting and Katie Howson to his workshop in France, with a unique insight in to how the instruments are made and played.
Emmanuel Pariselle welcomes renowned musicians Andy Cutting and Katie Howson to his home, just outside the picturesque French city of Poitiers, where he builds diatonic button accordions for some of Europe's finest players.
In his workshop, Emmanuel combines technical skill with a passion for problem-solving, as he aims to build the perfect squeezebox for every musician. Here, he discusses how the instruments are built and maintained, the special relationship between a musician and a maker, and what qualities make a great musician.
We hear how the arrival of the Sheng from China in the early-1800s gave birth to the whole accordion family, including harmonium, mouth organ, concertina and melodeon, and how the instruments have travelled around the world to Ireland, Portugal, South Africa and Quebec.
Emmanuel talks us through the key process of tuning the reeds, operating the bellows with a foot pedal and filing off tiny amounts of steel each time to adjust the pitch.
Later, we hear him take a nervous Katie's two-row button accordion apart to try and diagnose a clickety rattle in the action. And, on a box he designed and built with Emmanuel, Andy demonstrates the difference in what the left-hand and right-hands do and explains that the longer he plays the instrument, the more it plays how he wants it to play.
Ever wondered what a free reed is? Or what distinguishes an accordion from a melodeon? Or whether you can make a musical instrument from plywood? This is a unique insight into this fascinating instrument - and three friends' relationship with it - with stories and music along the way.
Produced by Kellie While
A 7digital production for BBC Radio 4.
Last on
Broadcasts