Main content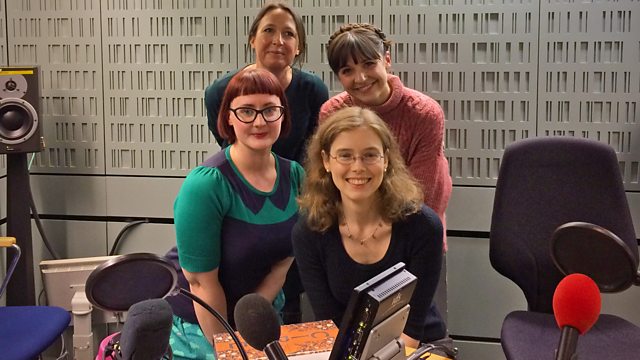 Charms: Madeline Miller; Zoe Gilbert; Kirsty Logan
Re-telling Odysseus and Circe with Madeline Miller, the old-new folk world created by Zoe Gilbert and the half-world of The Gloaming with Kirsty Logan.
Each generation creates its own myths and in Free Thinking, Eleanor Rosamund Barraclough talks to three writers Madeline Miller, Zoe Gilbert and Kirsty Logan, whose novels and stories spring bright and fresh from a compost of classical legend and British folk stories.
Madeline Miller, the American writer who re-created Achilles for the 21st century, now turns her attention to Circe, nymph, lowest-of-the-low goddess or witch, who possesses a unique sympathy for humanity.
Zoe Gilbert's obsession with folk stories where strange things happen and no-one asks why has led her to create a new island replete with a population of selkies and hares, water bulls and human happiness and tragedy.
Kirsty Logan's novel of The Gloaming, takes us to an island somewhere-sometime-never off the West Coast of Scotland where turning to stone and the mermaid life are all part and parcel of daily existence. Together they discuss the enduring nature of certain kinds of stories, why they still matter and so often enjoy a surge in popularity at times of social stress and confusion.
Madeline Miller: Circe is out now in papberback.
Zoe Gilbert: Folk is out now in paperback
Kirsty Logan: The Gloaming is out in paperback in April 2019.
You might also be interested in the Free Thinking discussion Is British Culture Getting Weirder ? https://www.bbc.co.uk/programmes/p072nvvj
Enchantment, Witches and Woodland https://www.bbc.co.uk/programmes/p06p9w81
And the Radio 3 Sunday Feature Into The Eerie https://www.bbc.co.uk/programmes/p07276tl
Producer: Jacqueline Smith.
Last on

Eleanor Rosamund Barraclough and renewal of myth, folk and fairy in modern writing

Neil Gaiman talks Norse myths with Rana Mitter. And a look at the ugly side of Valentines

Joanne Harris and Eleanor Rosamund Barraclough discuss the god Loki and Norse beliefs.
Broadcasts

Featured in...
Fact, fiction, key authors and contemporary voices from around the world

Creativity, performance, debate