Main content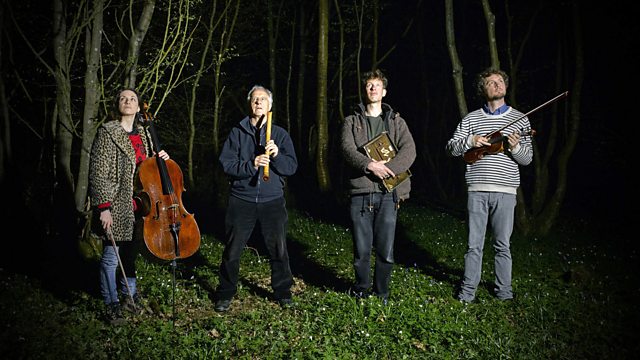 Nightingales
Musicians go into the Sussex woods by night to play music with nightingales. Clive Bell (shakuhachi); Laura Moody (cello); Sam Amidon (vocal & fiddle), John Baily (rubab).
A magical late night listening experience - six musicians go into the Sussex woods to play nocturnal music with the nightingales, who gather there to sing at night each Spring. The soloists taking turns to respond musically to the nightingales are Clive Bell (Japanese bamboo flute); Laura Moody (cello and vocal); Sam Amidon, (violin and vocal), John Baily (rubab) with Veronica Doubleday (frame drum and vocal) ,and Sam Lee (vocal & harmonium). The entire programme takes place in the woods, recorded on one night in April. Verity Sharp presents, leading the listener into the wild nocturnal environment and describing the atmosphere, and folk singer and outdoorsman Sam Lee will explain the migratory behaviour of the birds, the character of their songs, and the habitats that they favour for singing.
This is a Slow Radio experience, immersing the listener in the remarkable and magical experience of the nocturnal songs of nightingales. They are rarely to be heard in England today, but this programme will lead your ears into one of the woods where they still migrate every Spring, to sing through the night.
And who knows what other sounds may be captured on the night - a fox bark, an owl hoot, frogs calling, the wind in the branches...
Featured in...
Magical musical moments with the bird world's most powerful and beautiful songster.

We broadcast more live and specially-recorded concerts and opera than any other station.