Main content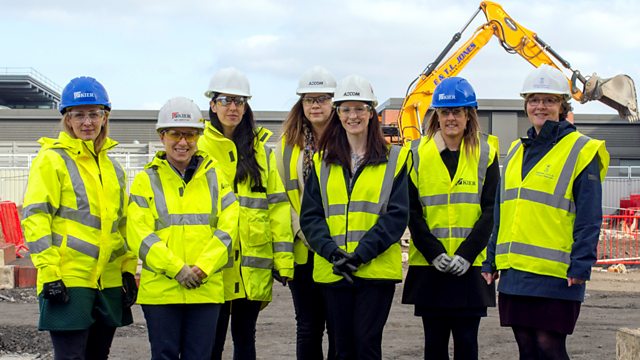 Women in Construction
Adam learns more about a ground-breaking building project in Swansea where women are filling many of the construction roles.
Last on
Building a Career
We often hear about a gender cap in certain careers. Well, in the construction industry, it's a yawning chasm. The sector has the worst gender balance of any - less than 1 per cent of its 800,000 construction and building trades workers are women, and even when you add architects, planners and surveyors it only rises to 18 per cent.
Yet according our guests on Science Café this week, women excel at many of the key skills you need for a well-paid  and successful career in construction. Adam is talking to some of the women involved in the IMPACT building project on Swansea University's Bay Campus. The construction is remarkable because it has many more women in key roles than is usual. And perhaps that is no coincidence, because Swansea University's School of Engineering is also ahead of the game, employing more female teaching staff than other institutions. 
An architect, building site manager, electrical engineer, bridge builder and lecturer in engineering - all female - offer their thoughts on how they would encourage more women into the industry. And also working on innovation in the building industry, a team from Cardiff University reveal their development of self-healing masonry.
Broadcasts