Main content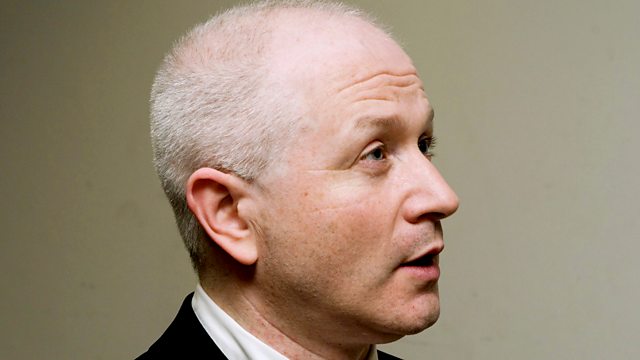 George Benjamin
Kate Molleson meets George Benjamin, whose hotly-anticipated opera Lessons in Love and Violence premieres at the Royal Opera House.
Kate Molleson meets the leading English composer George Benjamin & librettist Martin Crimp, whose hotly anticipated opera 'Lessons in Love and Violence', premieres at the Royal House Opera. Seclusion, the past as a playground for the imagination, and a liking of ambiguity are at the heart of a creative process which brings Christopher Marlowe's Edward II to the operatic stage.
Composer Ed Hughes and filmmaker Cesca Eaton trace the changing moods of the Cuckmere river in Sussex over the course of a year. We join them at Cuckmere Haven to discover the images and sounds that inspired their new collaboration of silent film and live music.
Kate becomes privy to Ludwig van Beethoven's most intimate and private thoughts as his Conversation Books begin to appear in English translation for the first time. Volume I covers the period February 1818 to March 1820, and offers insights on Beethoven's every day life in Vienna as his hearing starts to deteriorate.
In our continuing series on music and language around the British Isles, Kate travels to Wales to learn what it means to artists to make music in Welsh. She meets Pat Morgan of Punk 80s band Datblygu, who ranted against the romanticised clichés of the Welsh traditions, to show their love of the Welsh language. Gareth Williams of the Pendyrus Male Choir gives us a sense of how the Rhondda Valley choirs' robust sound is a result of its industrial history and use of Welsh language. We hear how native language opera can change deeply-held attitudes to the art form from Patrick Young of Opra Cymru, and we meet electronic psych-pop musician Gwenno, a passionate advocate for minority languages as a force for self expression and social diversity.
Chapters
George Benjamin & Martin Crimp

Duration: 08:57

Cuckmere River (Ed Hughes and Cesca Eaton)

Duration: 05:55

Beethoven Conversation Books

Duration: 05:00

Music and Language: Wales (Pat Morgan - Datblygu)

Duration: 07:06

Music and Language: Wales (Gareth Williams - Pendyrus Male Choir )

Duration: 04:56

Music and Language: Wales (Patrick Young - Opra Cymru)

Duration: 02:28

Music and Language: Wales (Gwenno)

Duration: 06:47