Main content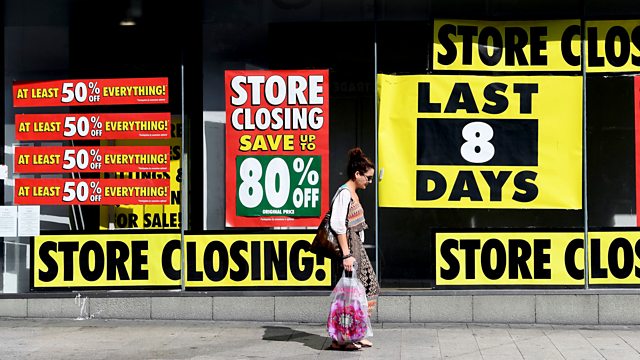 Retail job losses, New MOT test, Self-build homes
What is the future for the thousands of people who have lost their jobs as high street shops have closed? Plus a report from the UK's biggest self-build housing estate.
Hundreds of shops are closing on Britain's high streets as retailers struggle to compete with online shopping. In February, Toys R Us and Maplins collapsed, and other big chains have announced store closures too, including M&S, Carpetright and New Look. One estimate suggests that around 650 shops and restaurants have closed since the start of 2018, or are at risk of closing. There has been much concern about the future of the high street, but what about the thousands of shop and restaurant workers who have lost their jobs in recent years? Where are they going? What kind of work are they able to find, and what do their stories tell us about the state of retailing in the UK?
A new MOT test comes in later this month. There will be stricter emission tests for diesel cars and a number of new checks on things like brake pads, reversing lights and fluid leaks. Some cars which are more than forty years old will no longer need a test at all. The changes will affect cars, motorcycles and vans. But some garages are far from ready to carry out the new tests, and the RAC is warning that mechanics may mistakenly pass some vehicles which should really fail. We speak to the people behind the new test and ask why the changes are needed.
Designing and building your own new home is, for most people, nothing more than a dream. Even if you can afford to do it, most of us have neither the know-how nor the building skills to make it happen. But a new estate is being built in Oxfordshire, where all of the houses will be custom designed and built. From a modest and minimalist black box, to extravagant and elaborate designs, people are creating unique homes on pre-prepared plots, limited only by their budget and their imagination. Building is underway and people will start moving in later this year.
Producer: Jonathan Hallewell
Presenter: Winifred Robinson.
Chapters
Retail Jobs

Rising wages have resulted in a demand for permanent staff - all except for in retail.

Duration: 05:56

New MOT

Changes to MOT tests have now included newer and much more stricter emission tests.

Duration: 05:50

Insurance Pricing

People are now being punished if they don't compare insurance prices.

Duration: 07:55

Wasteful Direct Debits

How much are you throwing away each month on Direct Debits for things you never use?

Duration: 06:21

Self Build Housing Estate

Thousands of homes are being propping up on the new "Oxford/Cambridge corridor".

Duration: 06:59

Bouncy Castle Death

There are calls for a review of the safety standards for inflaltables at public fairs.

Duration: 04:16