Main content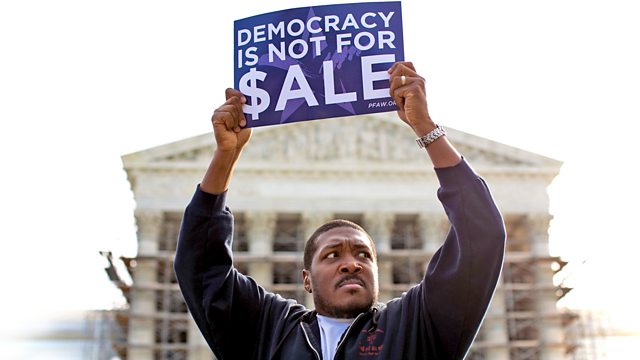 The Death of Democracy
Amol Rajan with journalist and historian Anne Applebaum, and political scientists David Runciman and Nic Cheeseman.
Will we recognise the signs that democracy has ended? Cambridge professor David Runciman worries that we spend far too much time comparing today's politics with the 1930s, and that this blinds us to the frailties of democracy today. He tells Amol Rajan why he thinks our current political system will come to an end - and why we may not even notice this happening.
Professor Nic Cheeseman is all too aware that democracy can become an empty shell. His new book How To Rig An Election, co-written with Brian Klaas, looks at the myriad ways autocrats use elections for their own ends, from buying votes and bribing electors to issuing fake pens in the ballot box. And it is not only the developing world in which corruption takes place. He addresses the role of outside states in the 2016 US presidential election, and asks how western democracy can be kept healthy.
Anne Applebaum has studied the ways in which democracy can arise like a phoenix from the ashes of authoritarianism. As the author of Red Famine: Stalin's War On Ukraine, and a professor at the LSE, she has analysed the reasons why democracy flourished in Poland and Ukraine after 1989, and suggests reasons why the 2012 Arab Spring has not yet had the same results. But as a journalist for the Washington Post she is all too aware of attacks on democracy today, both in the former Soviet bloc and in America. She argues that the onus is on us to save our own systems.
Producer: Hannah Sander.
Critics claiming elections are rigged often cite 'gerrymandering'. What does it mean?
Anne Applebaum
Anne Applebaum is a journalist and prize-winning historian. She was recently appointed Professor in Practice at the London School of Economics Institute of Global Affairs, is a weekly columnist for the Washington Post and the author of several books. 
Red Famine: Stalin's War on Ukraine is published by Allen Lane.
David Runciman
David Runciman is Professor of Politics at Cambridge and Head of the Department of Politics and International Studies. As well as writing, he hosts the widely acclaimed weekly podcast Talking Politics. 
How Democracy Ends is published by Profile Books.
Nic Cheeseman
Nic Cheeseman is Professor of Democracy at the University of Birmingham and founding editor of the Oxford Encyclopaedia of African Politics. 
How to Rig an Election by Nic Cheeseman and Brian Klaas is published by Yale University Press.
Credits
| Role | Contributor |
| --- | --- |
| Presenter | Amol Rajan |
| Interviewed Guest | Anne Applebaum |
| Interviewed Guest | David Runciman |
| Interviewed Guest | Nic Cheeseman |
| Producer | Hannah Sander |