Main content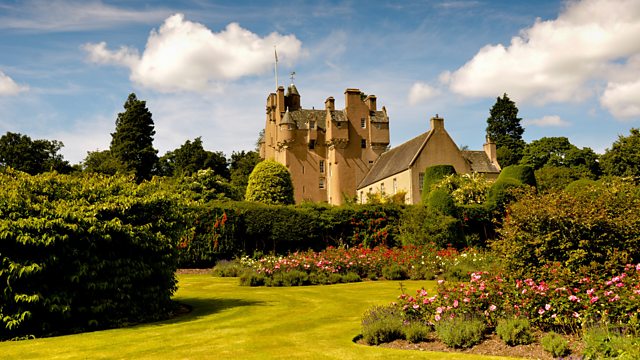 11/05/2018
As the weekend approaches, Fiona Stalker offers activity inspiration and insight into what's happening across Scotland. Includes gardening and weather news.
Jenny Tough is on a quest to run the length of a mountain range on every continent. She tells Helen Needham about her encounters with police in Morocco's Atlas Mountains and about the challenges of navigating through Asia's Tian Shan range.
We all know that Edinburgh is a magical place, but this weekend marks the return of the amazing Edinburgh International Magic Festival. Magician and artistic director Kevin Quantum tells us what's in store.
Continuing our 'adventuring hero' series, Royal Scottish Geographical Society Writer in Residence, Jo Woolf, shines a spotlight on Victorian female travel pioneer, Isabella Bird.
Rainbows are beautiful, inspiring and culturally powerful. Historian, Daniel MacCannell, shares stories of their myths and magic. Crawick Multiverse Executive Director, Steve Owens, also explains what we can look forward to seeing in the summer night skies.
With cetacean activity increasing as the weather improves, Karen Hall of Scottish Natural Heritage advises on marine wildlife watching best practice.
Perth's Festival of the Arts returns for its 47th year, and festival chairman Peter Rutterford tells about the cultural offering.
Fiona Stalker takes a trip down memory lane by wild swimming in the Highlands with by her dad and twin daughters. Author of Swim Wild, Jack Hudson, also tells Fiona about the aquatic adventures featured in his new book.
The Scottish Mental Health Festival launched earlier this week and Gail Aldam tells us about the different events on offer across the country.
The old prisoner of war camp, Cultybraggan, is opening its doors this weekend with live music, dancing and lots of historical artefacts on show.
If you're in the mood for free food this weekend, then consider foraging for wild garlic, nettles and wych elm seeds. Fi Martynoga explains to Fiona Stalker how this is done and what delicacies can be prepared from these ingredients.
Emily Esson hears about a toy boat that's been clocking up the nautical miles. Ollie and Harry Ferguson tell her the tale of how a toy boat sailed the seven seas.
And if you fancy getting on the water this weekend, we hear about a series of events run by the Royal Yachting Association hoping to get more people enjoying the water.