Main content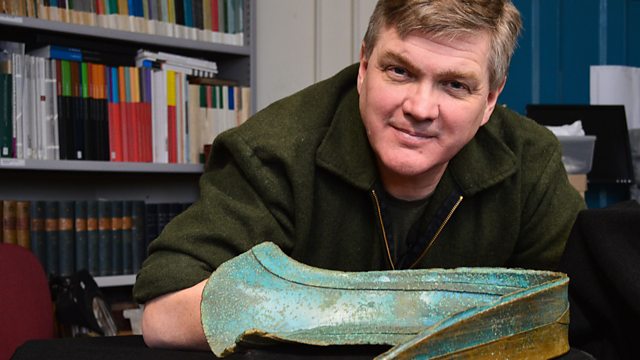 Treasures of the Bronze Age with Ray Mears
Documentary in which Ray Mears discovers East Anglia's Bronze Age art and artefacts and explores how they reflect the spirit of innovation of the age.
Bushcraft expert Ray Mears travels back in time 4,000 years into Bronze Age East Anglia in search of clues about its people living in this mysterious yet innovative period of our history.
The Bronze Age was a crucial point in time that linked the Stone Age with the Iron Age. Ray discovers its artworks, jewellery, monuments and unusual finds - and how each object tells us something about the spirit of our ancestors.
He begins at Southwold Museum in Suffolk where he examines a small and personable stone carving, the Easton Bavents Deer, made just as the Stone Age was ending and the Bronze Age was beginning. At Holme beach in north Norfolk, Ray investigates the site of an imposing timber circle Seahenge, now preserved at Lynne Museum. He discovers what it tells us about the ceremonial rites of the early Bronze Age people, and how they were capable of great engineering undertakings.
Ray learns about the shared religious beliefs of Bronze Age people at Norwich Castle Museum where he goes behind the scenes with senior curator of archaeology Dr Tim Pestell to find a rare Bronze Age treasure - the Rudham Dirk. Heading west towards the Fens, he visits Flag Fen Archaeology Park - the site of an important Bronze Age settlement. Along with archaeologist Francis Pryor, Ray admires a beautifully made dagger with antler handle and learns of the ceremonial worship of water.
At Ely Museum in Cambridgeshire, Ray comes face to face with the Great Gold Torc - a majestic piece of jewellery that marks the emergence of a warrior aristocracy.
The journey concludes back at Norwich Castle Museum with one of the greatest treasures ever discovered in Britain, the Snettisham Treasure. This may have been the royal treasure of the Iceni tribe and was produced as the Bronze Age receded and the Iron Age dawned. Ray's curiosity leads us on a journey back through time and to enlightening treasures - showing us how the Bronze Age developed into an astonishingly advanced civilisation.
Credits
| Role | Contributor |
| --- | --- |
| Presenter | Ray Mears |
| Director | Andrea Cornes |
| Producer | Kieran Turner |
| Editor | Johnny Moore |
| On-line editing | Nikki Chang |
| Executive Producer | Paul Baker |
| Composer | Edward Graves |
| Music | Nick Holywell-Walker |
| Production Company | Tin Can Island Ltd |