Main content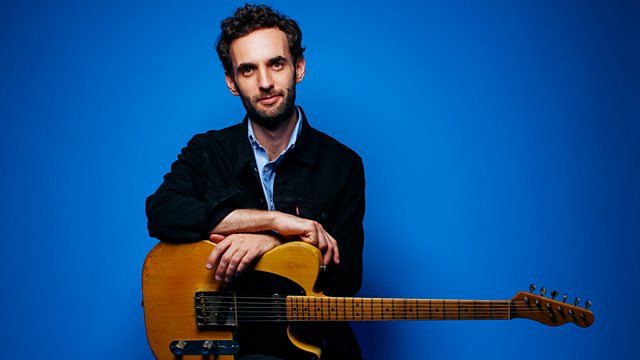 Julian Lage
Soweto Kinch presents US guitarist Julian Lage and his trio in concert at the 2017 Pori Jazz Festival in Finland The other members of the band are Chris Lightcap, bass and Eric Doob, drums.
PLAYLIST
DISC
Artist              Soweto Kinch
Title                The Healing
Composer     Kinch
Album            The Legend of Mike Smith
Label              Soweto Kinch Recordings
Number        SKP003 CD 2 Track 39
Duration       13"
Performers: Soweto Kinch, as, rhodes, prog; Shabaka Hutchings, ts; Karl Rasheed-Abel, b; Graham Godfrey, d. . 2015
INSERT: Clip of Music – Persian Rug – 28"
INSERT:  clip of Al and Joachim
Julian Lage's Trio perform at Pori Jazz Festival.
The Ramble                                      6'11"
Atlantic Limited                               4'37"
Persian Rug                                      4'56"
Roger The Dodger                          4'47"
Music: All music composed by Lage, except Persian Rug (Gus Kahn)
Personnel: Julian Lage, gtr; Chris Lightcap, bgtr; Eric Doob, d.  
Set 2:
MUSIC:
40s                                                                 12'29"
Splendor Riot                                              4'44"
Earth Science                                               3'51"
Presley                                                          7'16"
DISC
Artist              Joachim Kuhn New Trio
Title                Casbah Radio
Composer     Chris Jennings
Album            Love and Peace
Label              ACT
Number        9861-2
Duration       1'03"
Performers: Joachim Kuhn, piano; Chris Jennings, bass; Eric Schaefer, drums           
DISC
Artist              Joachim Kuhn New Trio
Title                Night Plans
Composer     Ornette Colman
Album            Love and Peace
Label              ACT
Number        9861-2
Duration       4'17"
Performers: Joachim Kuhn, piano; Chris Jennings, bass; Eric Schaefer, drums                       
DISC
Artist              Joachim Kuhn New Trio
Title                New Pharoah
Composer     Joachim Kuhn
Album            Love and Peace
Label              ACT
Number        9861-2
Duration       4'40"
Performers: Joachim Kuhn, piano; Chris Jennings, bass; Eric Schaefer, drums                       
DISC
Artist              Joachim Kuhn New Trio
Title                Phrasen
Composer     Joachim Kuhn
Album            Love and Peace
Label              ACT
Number        9861-2
Duration       6'29"
Performers: Joachim Kuhn, piano; Chris Jennings, bass; Eric Schaefer, drums                       
BBC INTRODUCING MUSIC:
Wandering Monster – The Rush Begins – 5'55"
Chube – Interlude – 2'17"
Artephis – Agamemnon – 4'30"
DISC
Artist              Soweto Kinch
Title                The Healing
Composer     Kinch
Album            The Legend of Mike Smith
Label              Soweto Kinch Recordings
Number        SKP003 CD 2 Track 39
Duration      
Performers: Soweto Kinch, as, rhodes, prog; Shabaka Hutchings, ts; Karl Rasheed-Abel, b; Graham Godfrey, d. . 2015