Main content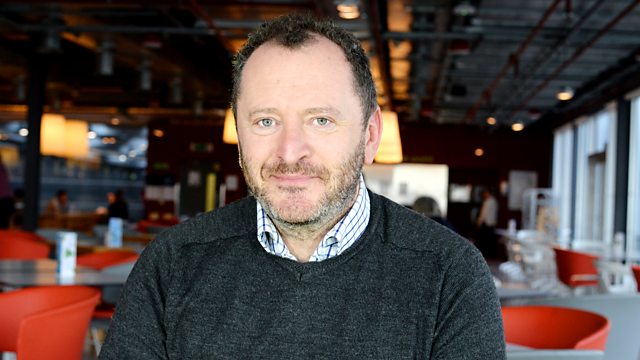 Brain Food
Chef Neil Forbes is joined by nutritionist Laura Wyness to give students advice on how to keep their brains firing on all cylinders throughout their exams.
Stress, Anxiety, Pressure, Worry, Oh and not forgetting the dread.... Yes, it's that time of year when students all over the country have got their heads buried deep in books preparing for exams so on this week's Kitchen Cafe, Chef Neil Forbes is joined by nutritionist Dr Laura Wyness to give university students Maeve and Cameron lots of practical advice on how to keep their brains and bodies firing on all cylinders.
Gnocchi with aubergine, tomato, red pepper and basil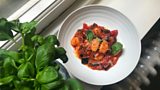 Gnocchi with aubergine, tomato, red pepper and basil, by Neil Forbes
serves 4
prep time 10 mins
cook time 40 mins
Ingredients
200g pack of good quality shop bought gnocchi
1 red onion thinly sliced
2 cloves of garlic, finely chopped
1/2 red pepper, seeds removed and diced
1 small aubergine, diced into 1 "squares and salted with a pinch of salt
1 tablespoon of tomato puree
1 can of good chopped tomatoes or a jar of passata
1/2 punnet of very ripe cherry tomatoes, halved
Good salt and pepper
50ml good extra virgin olive oil
1 table spoon of rapeseed oil
A few basil leaves and a few sprigs of curly parsley
A few tablespoons of grated hard cheese
Method
In a hot pot on the hob heat the rapeseed oil and fry the red onion and garlic with some salt and pepper until soft and starting to colour.
Next add the tomato puree and fry until it cooks out cook out which should take a minute or so.
Now in goes the passata and red peppers, and season again. Cook this for 10 mins or so.
Meanwhile, in a frying pan heat half the olive oil and fry the aubergine until its golden and soft then add to the tomato sauce with the halved tomatoes and cook for a further 10 mins.
Bring a pan of salted water to the boil and blanch the gnocchi in it for 2 mins (it will rise to the surface when it's ready) and add to the aubergine and tomato stew.
Finish off with some ripped basil and chopped parsley and season to taste.
To serve, spoon the stew into warm bowls and sprinkle on the grated cheese and add another drizzle of olive oil and a few more basil leaves.
Haggis Nachos
Haggis Nachos by Sue Lawrence
Prep Time: 10 mins
Cooking Time: 5-10 mins
Serves: 2-4
Ingredients
Half a haggis
A large bag of tortilla chips (or pitta chips)
A large tub of salsa
A handful of jalapenos, sliced
A good handful of grated cheddar
A large tub of sour cream
A large tub of guacamole
A handful of coriander, roughly chopped
Method
1. Heat the haggis in the microwave. Do this by cutting open then disgorging the contents into a microwave bowl, cover with cling film and heat for a few minutes, stirring often until piping hot.
2. Meanwhile empty the bag of tortilla chips onto a large plate.
3. Dollop generous spoonfuls of salsa over the chips and add a few jalapeños.
4. Once the haggis is piping hot, dot spoonfuls on top of the chips, then top with the cheese.
5. Place under a hot grill until the cheese has melted and is bubbling.
6. Top with some spoonful's of sour cream, guacamole and roughly chopped coriander to finish.
7. Eat immediately with beer or margarita.
Podcast
Celebrate the joy of Scotland's larder with recipes, reviews, tips and delicious ideas!