Main content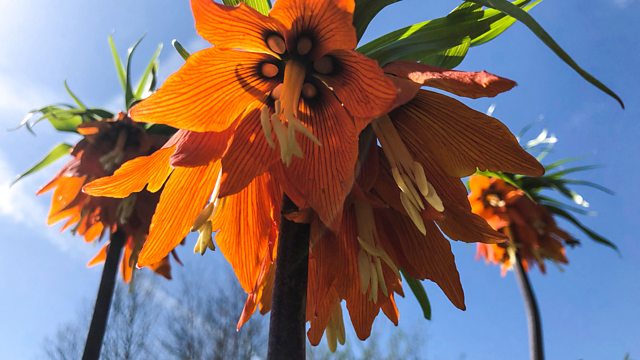 Episode 7
Monty begins to divide ornamental grasses and plant up a colourful alpine trough, while Nick Bailey responds to a cry for help from a viewer who is having border problems.
Despite the slow awakening of the garden this year, there are still plenty of jobs to be getting on with and Monty begins to divide ornamental grasses and plant up a colourful alpine trough. He also gives advice on what to do with containers which are past their best and what to sow in the vegetable garden at this time of year.
Nick Bailey travels to Shropshire to respond to a cry for help from a viewer whose border has become a tangle of shrubs. The show catches up with Frances Tophill's progress on her shared allotment in Bristol, as she begins to prepare the beds for sowing her first crops. Arit Anderson explores the future of gardening in our cities when she visits an extraordinary high-rise building in Milan which has been designed as a living forest. Plus the garden of the second finalist in our Every Space Counts competition is revealed.
Clips

Bosco Verticale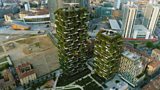 The team who worked on the project included botanists as well as engineers. Their research covered every eventuality, even going to the extremes of testing the wind resistance of certain species of trees in wind tunnels.
Inside the building, a complex irrigation system redirects the water people use back onto the balconies to sustain plant life. All the plants help reduce smog, dampen noise levels, and of course produce oxygen. This not only improves the quality of living spaces, but also saves energy making the buildings more efficient.
During the winter, sunlight can easily pass through the bare plant life and help heat people's rooms. During the summer, the leaves block harsh rays stopping apartments from getting too hot. So effectively, the plant life of Bosco Verticale forms the perfect thermal buffer.
The amount of plants and trees used in the project is staggering. If all the trees from both towers were laid flat on the ground, the resultant forest would cover an area of nearly 40,000 square meters. More than mere gardens, planted high-rises have the potential to change our cityscapes.
This kind of biological architecture, is a refreshing approach to environmental sustainability. Thankfully proposals for buildings featuring ingenious use of vegetation are becoming more common. There is immense value in creating as much green space as possible in our growing cities.
Other similar projects:
Park Royal on Pickering, Singapore
One Central Park, Sydney
Chicago City Hall, Chicago
Chilean Consortia Building, Santiago, Chile
Gardens by the bay supertrees, Singapore
National Gardening Week
National Gardening Week was launched seven years ago by the RHS and aims to become the country's biggest celebration of gardening. Thousands of people, gardens, charities, retailers, culture and heritage organisations and groups have got involved over the years and you can too.
In 2018 at the RHS, National Gardening Week is all about sharing your passion for plants. At the four RHS Gardens, there will be activities and events which will inspire and help gardeners, including creative ideas, tips and suggestions for plants to grow indoors and outdoors.
 
Events and activities are being run up and down the country. From beginners' workshops to guided walks, face painting to garden parties, there's something for everyone and everyone is invited. 
 
There are plenty of things you can do yourself or with your family to get into the spirit of National Gardening Week, from growing tomatoes on your windowsill to sprucing up your driveway.
National gardening week (www.nationalgardeningweek.org.uk)
Credits
| Role | Contributor |
| --- | --- |
| Presenter | Monty Don |
| Presenter | Arit Anderson |
| Presenter | Nick Bailey |
| Presenter | Frances Tophill |
| Series Producer | Sharon Fisher |
| Executive Producer | Paolo Proto |
| Production Manager | Michael Rogers |