Main content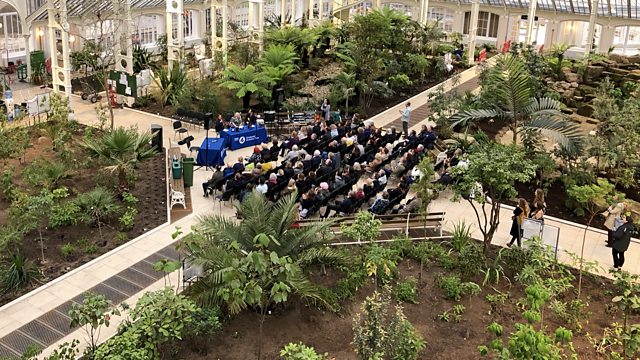 Kew Gardens
Peter Gibbs presents the programme from the new Temperate House at Kew Gardens. James Wong, Anne Swithinbank and a special guest panellist from Kew Gardens answer the questions.
Peter Gibbs presents the programme from the new Temperate House at Kew Gardens. James Wong, Anne Swithinbank and a special guest panellist from Kew Gardens answer the questions.
In and amongst the magnificent plants in the Temperate House the panel help out audience members with how to grow carnivorous plants at home, how to revive an ailing Hibiscus, and how to get the most out of a tired palm tree.
They also offer tips on what to do with used compost, how to pot on an olive tree, and they offer planting suggestions to climb up a windowsill.
In the feature we hear from James Wong's previous trip to the Temperate House when construction was still underway and he investigates the mammoth task of removing and replacing all the plants during the process.
Produced by Dan Cocker
Assistant Producer: Hester Cant
A Somethin' Else production for BBC Radio 4.
Fact Sheet
Q – My grandsons love the carnivorous plants here at Kew.  They have a Sarracenia Velvet which is surviving – can the panel suggest some more to go with it please?
James – Venus Fly Trap.  There are lots of different varieties e.g. Red Dragon.  Vivarium nurseries would be a good place to start.
Lara – Drosera or Sundew.  Pinguicula. 
Anne – Sarracenia leucophylla
Q – I took a cutting of a yellow Hibiscus from a Spanish hotel about ten years ago.  It has grown into a shrub but has never flowered.  What can I do?
Anne – It's probably to do with low light or low feed.  I would advise potting it on too.  Pop it out in the garden for the summer to get it some more light. 
Lara – This is Hibiscus rosa-sinensis I would assume
James – Yes it's unlikely to be an unusual variety like schizopetalus
Q – What is the difference between a cultivar and a variety?
Scott – A cultivar is man-made and a variety is naturally occurring
Q – I have a palm in a pot on my patio that's looking a bit tired.  How can I perk it up?  It's about 4ft (1.2m) tall and in a 30 litre (6.5 gallon) pot.
James – this is almost certainly the 'Windmill Plant' (Trachycarpus fortunei).  I would make sure you're giving it enough water and humidity.  You can't really over-fertilise either.
Feature:
Bitter Oranges
Livistona chinensis
Q – What do you think is the best thing to do with spent multipurpose compost in a small garden?
Lara – Generally you can't reuse it as compost but you can use it as a mulch. 
James – I have used old compost indoors for things like Proteas like Banksia, Leucospermums 
Q – I have some mature Olive trees that have been in the same pots since 2007.  How can I pot them on?
Lara – Olives don't need great soil.  I would pot them into something soil-based but with gravel in there. 
James – They don't need a lot of topsoil so don't worry about that but I would give them a good feed
Anne – Feed them once a month from early-Spring until August
Q – I always pot up combinations of Geraniums, Lobelias and Petunias but this year I'd like to do something different.  What can you suggest?
Anne – Melianthus major.  Heliotrope (a variety like 'Chatsworth'). 
Lara – Canna 'Durban', Canna 'Panache', Canna 'Cleopatra'.
Q – Are there any climbing plants (in the Temperate House at Kew) that are suitable for a windowsill?
Scott – 'Chilean Bellflower' (Lapageria rosea). 
Anne – I'd recommend moving away from the windowsill if you want to grow things like Cestrums or African Hemp/House Lime (Sparmannia Africana).
James – Cissus rotundifolia.  Jasminium sambac ('Arabian Jasmine').  Passion flowers like 'Lady Margaret' if you keep on top of the pruning.  Tetrastigma.
Q – I breed hardy passion flowers but seed germination is very erratic.  How can I improve the odds?
Lara – We have a brilliant tree Passiflora called Passiflora arborea that has done well here.  You need to recreate the journey the seed takes through the body of the animal that eats it!