Main content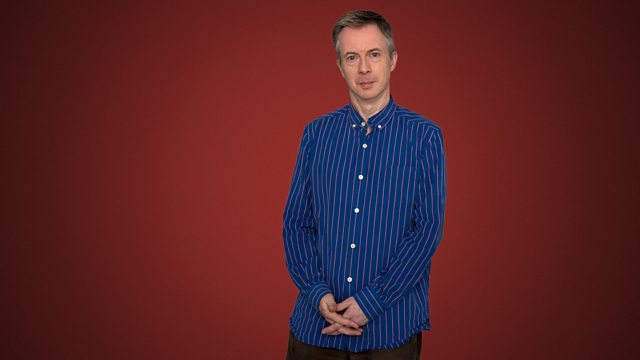 John Shea, with music from around Europe, including BBC New Generation Artists
John Shea presents performances by BBC New Generation Artists.
John Shea presents performances by BBC New Generation Artists
12:31 AM
Antonin Dvořák [1841-1904]
Piano Quartet No 2 in E flat major, Op 87
Zhang Zuo (piano), Elena Urioste (violin), Lise Berthaud (viola), Guy Johnston (cello)
1:07 AM
Edvard Grieg [1843-1907]
Violin Sonata No 3 in C minor, Op 45
Esther Yoo (violin), Robert Koenig (piano)
1:31 AM
Igor Stravinsky [1882 - 1971]
Suite italienne for violin and piano (1933) (arr. from 'Pulcinella' in collaboration with Dushkin)
Narek Hakhnazaryan (cello), Oxana Shevchenko (piano)
1:49 AM
Dmitry Shostakovich [1906-1975]
Piano Quintet in G minor, Op 57
Igor Levit (piano), Apollon Musagete Quartet
2:20 AM
George Frideric Handel (1685-1759)
Suite No 2 in F major HWV 427
Christian Ihle Hadland (piano)
2:31 AM
Edward Elgar [1857-1934]
Violin Concerto in B minor, Op 61
Nikolaj Znaider (violin), Bergen Philharmonic Orchestra, Andrew Litton (conductor)
3:19 AM
William Mathias [1934-1992]
A May Magnificat for double chorus Op 79 No 2
BBC Singers, Stephen Cleobury (conductor)
3:29 AM
Wolfgang Amadeus Mozart [1756-1791]
Overture to Le Nozze di Figaro - opera in 4 acts K492
Stavanger Symphony Orchestra, Susanna Mälkki (conductor)
3:33 AM
Tomasi Albinoni (1671-1750)
Oboe Concerto in D minor Op 9 No 2
Carin van Heerden (oboe), L'Orfeo Barockorchester, Michi Gaigg (director)
3:45 AM
Charles Villiers Stanford (1852-1924)
Eternal Father - from 3 Motets Op 135 No 2
BBC Singers, Stephen Cleobury (conductor)
3:52 AM
Fini Henriques (1867-1940)
Air for string orchestra
Danish Radio Concert Orchestra, Børge Wagner (conductor)
3:58 AM
Frédéric Chopin [1810-1849[
Nocturne in C minor Op 48 No 1
Llyr Williams (piano)
4:06 AM
Juan Crisostomo Arriaga (1806-1826)
Los Esclavos Felices - overture
Bergen Philharmonic Orchestra, Juanjo Mena (conductor)
4:13 AM
Claude Debussy (1862-1918), transc. Nina Cole
Prélude à la Damoiselle élue
Roger Cole (oboe), Linda Lee Thomas (piano)
4:18 AM
Johann Sebastian Bach (1685-1750)
Brandenburg Concerto No 2 BWV 1047 in F major
Alexis Kossenko (recorder), Erik Niord Larsen (oboe), Ole Edvard Antonsen (trumpet), Elise Båtnes (violin), Risör Festival Strings, Knut Johannessen (harpsichord)
4:31 AM
Jean Sibelius [1865-1957]
Music to a Scene (1904)
Finnish Radio Symphony Orchestra, Jukka-Pekka Saraste (conductor)
4:37 AM
Henry Purcell [1659-1695]
Chacony a 4 for strings Z730 in G minor
Psophos Quartet
4:45 AM
Willem de Fesch [1687-1757]
Joseph's Aria "Tremble Shudder at the Guilt" - from the oratorio 'Joseph', Act 1
Claron McFadden (soprano: Joseph), Musica ad Rhenum, Jed Wentz (conductor)
4:51 AM
Wolfgang Amadeus Mozart [1756-1791]
Rondo for violin and orchestra in C major K373
Barnabás Keleman (Violin), Hungarian National Philharmonic Orchestra, Zoltan Kocsis (Conductor)
4:57 AM
(Johann) Michael Haydn [1737-1806]
Divertimento for string quartet MH 299 (P121) in A major
Marcolini Quartett
5:13 AM
John Foulds [1880-1939]
Keltic Suite Op 29
Katharine Wood (cello), BBC Concert Orchestra, Ronald Corp (conductor)
5:29 AM
Dietrich Buxtehude [1637-1707]
Alles, was ihr tut mit Worten oder mit Werken, Bux WV 4
Klaus Mertens (Bass), Amsterdam Baroque Orchestra, Amsterdam Baroque Chorus, Ton Koopman (Conductor)
5:42 AM
Wolfgang Amadeus Mozart [1756-1791]
Adagio and Allegro in E flat major K.Anh.C 17.07) for wind octet (attrib. Mozart)
The Festival Winds
5:51 AM
Jean Sibelius [1865-1957]
Symphony No 1 Op 39 in E minor
Rotterdam Philharmonic Orchestra, Valery Gergiev (conductor).