Main content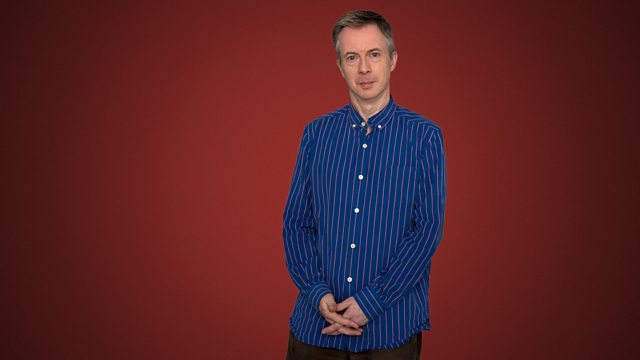 John Shea presents music from around Europe. Including the Ebene Quartet, performing Schubert's 'Death and the Maiden'
Ebene Quartet perform quartets by Mozart and Bartok and Schubert's 'Death and the Maiden'. With John Shea.
John Shea presents performances by the Ebène Quartet of Mozart, Bartok and Schubert.
12:31 AM
Wolfgang Amadeus Mozart [1756-1791]
String Quartet in C major K465 "Dissonance"
Ebène Quartet
1:02 AM
Béla Bartók [1881-1945]
String Quartet No 3
Ebène Quartet
1:17 AM
Franz Schubert (1979-1828)
Quartet for Strings D810 in D minor "Death and the Maiden"
Ebène Quartet: Pierre Colombet (violin) Gabriel Le Magadure (violin) Mathieu Herzog (viola) Raphaël Merlin (cello)
1:58 AM
Robert Schumann (1810-1856)
Davidsbündlertänze - 18 character-pieces for piano Op 6
Tiina Karakorpi (piano)
2:31 AM
(Franz) Jozef Haydn (1732-1809)
Symphony No 95 in C minor
Oslo Philharmonic Orchestra, Marek Janowski (conductor)
2:50 AM
Leonardo [Lionardo] (Ortensio Salvatore de [di]) Leo (1694-1744)
Miserere Mei Deus - concertato a due chori
Ensemble William Byrd, Graham O'Reilly (director)
3:08 AM
Wolfgang Amadeus Mozart (1756-1791)
Piano Concerto No 15 in B flat K450
Deszö Ranki (piano), Franz Liszt Chamber Orchestra, János Rolla (leader)
3:32 AM
Jean-Philippe Rameau (1683-1764)
3 pieces from 'Les Indes Galantes' (Air pour Zéphire; Musette en Rondeau; Air pour Borée et la Rose); Le Rappel des Oiseaux
Stephen Preston (flute), Robert Woolley (harpsichord)
3:39 AM
David Popper (1843-1913)
Hungarian rhapsody Op 68 vers. for cello and orchestra
Shauna Rolston (cello), Calgary Philharmonic Orchestra, Mario Bernardi (conductor)
3:47 AM
Moritz Moszkowski [1854-1924]
Valse for piano in E major Op 34 No 1
Dennis Hennig (piano)
3:55 AM
Tadeusz Szeligowski (1896-1963)
Four Polish Dances
Polish Radio National Symphony Orchestra, Katowice, Miroslaw Blaszczyk (conductor)
4:12 AM
Johann Sebastian Bach (1685-1750)
Furchte dich nicht, ich bin bei dir - motet BWV 228
Tafelmusik Chamber Choir, Tafelmusik Baroque Orchestra, Ivars Taurins (Conductor)
4:21 AM
Jenö Hubay (1858-1937)
Der Zephir - from 6 Blumenleben Op 30 No 5
Ferenc Szecsódi (violin), István Kassai (piano)
4:25 AM
Antonín Dvořák (1841-1904)
Slavonic dance No 8 in G minor Op 46 No 8 orch. composer (orig. for pf duet)
Norwegian Radio Orchestra, Ari Rasilainen (conductor)
4:31 AM
Joseph Guy Ropartz (1864-1955)
Serenade (1892)
CBC Vancouver Orchestra, Daniel Swift (Conductor)
4:35 AM
Claude Debussy (1862-1918)
Sonata for violin and piano in G minor
Janine Jansen (violin), David Kuyken (piano)
4:50 AM
Heinrich Schutz [1585-1672]
Magnificat anima mea Dominum SWV 468
Kölner Kammerchor , Collegium Cartusianum, Peter Neumann (conductor)
5:00 AM
Dag Wiren (1905-1986)
Serenade for Strings Op 11
Swedish Radio Symphony Orchestra, Niklas Willen (Conductor) Recorded at Berwaldhallen, Stockholm on 10 October 2001
5:16 AM
Franz Liszt [1811-1886]
A la Chapelle Sixtine (Miserere de Allegri et Ave verum corpus de Mozart) (1862)
Jos Van Immerseel (piano - instrument is an Erard of 1897)
5:26 AM
Luigi Boccherini (1743-1805)
Minuet (from Quintet G275) for strings
Varazdin Chamber Orchestra, David Geringas (Conductor) Recorded on 23 September 2001
5:30 AM
Mily Alexeyevich Balakirev (1837-1910)
Overture on Russian Themes
Slovak Radio Symphony Orchestra, Ondrej Lenard (conductor)
5:39 AM
Georg Frideric Handel [1685-1759]
Agrippina - overture; 'Son contenta di morire' - aria from Radamisto
Delphine Galou (contralto), Les Ambassadeurs, Alexis Kossenko (director)
5:48 AM
Ludwig van Beethoven (1770-1827)
Symphony No 8 Op 93 in F major
BBC Philharmonic, Gianandrea Noseda (conductor)
6:14 AM
Peter Ilyich Tchaikovsky (1840-1893)
Capriccio Italien Op 45
Oslo Philharmonic Orchestra, Andrej Boreyko (conductor).