Main content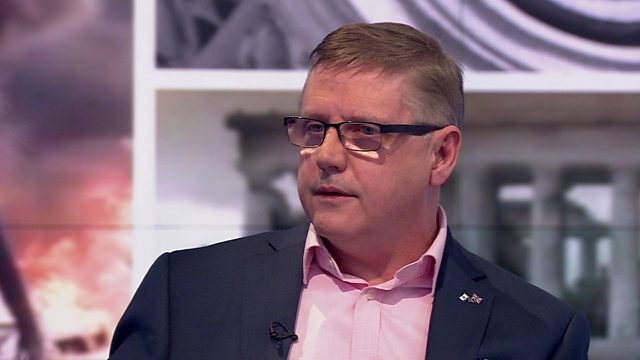 The Invisible Man of Britain's Far Right
An investigation into Jim Dowson, the front man for the anti-immigration, anti-Muslim organisation Knights Templar International.
Simon Cox investigates the anti-immigration, anti-Muslim organisation Knights Templar International - not to be confused with the medieval Knights Templar organisation. In a recent interview its front man Jim Dowson described KTI as a "militant Christian organisation". KTI posts regular ads on social media to recruit new members and seek donations to fight what Dowson calls the "war between militant Islam and Christianity". In a recent interview he warned "we are going towards a war in the West. We want to make sure when people hit the streets, militias will form. The Templar way is to train men up in everything - we have training course in video journalism, military stuff".
With the money raised KTI buys paramilitary equipment which is sent to places like Northern Kosovo where British troops are still stationed to keep the peace between the Muslim Kosovo Albanian community and Orthodox Christian Serbians. Last year Dowson was banned from Hungary for being a threat to national security. The British anti-racism NGO Hope not Hate warns "he (Dowson) and his organisation tread a very fine line between antagonising people's fears, stirring up and stoking people's fears. He is the 'Mr Slippery' of the far-right world in Europe". Within the far right community Dowson is a familiar figure but more generally he has kept a fairly low profile and has been dubbed in media reports "the invisible man of Britain's far right". Concern about the activities of Dowson and Knights Templar International is growing across Europe as the organisation recruits more members to its cause and threatens the peace in some of the most volatile regions.
Last on
David Anderson examines the government's controversial counter-terrorism strategy Prevent

What threat do the new and emerging far right groups pose to the UK?

The British Muslims who joined Jihad in Afghanistan, Bosnia & Kashmir in the 80s and 90s
Broadcasts