Main content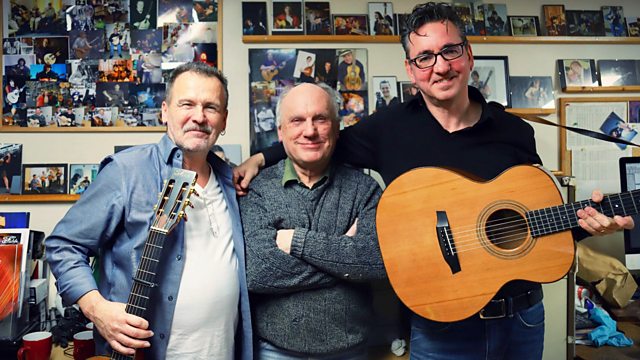 A Guitar Is Born
Martin Simpson and Richard Hawley visit master luthier Roger Bucknall, discovering how an acoustic guitar is made, from wood to finished product.
Martin Simpson and Richard Hawley visit master luthier Roger Bucknall, who reveals the extraordinarily painstaking and creative labour of love involved in making an acoustic guitar.
On a tour of his workshop, Roger shows not only a passion for instrument-making, but for the pure pleasure in working with wood. In the vast store of tonewood, we hear about the aural and decorative properties of centuries-old Claro Walnut, Bearclaw and the incredibly rare Snakewood. Roger discusses some of the fascinating and surprising stories behind his stock including the Giant Redwood, reclaimed from the Big River at Mendocino, and the 2,000-year-old Alaskan Sitka Spruce windfall.
We find out how Roger acquired some rare Brazilian Rosewood from the folk musician Mike Waterson and crafted it into three guitars, one of which Richard Hawley owns. "If anybody's ever seen Harry Potter, then they'll understand what the word Horcrux means," he says. "Roger, you're going to live forever with this 'cause part of your soul, without doubt, went into this guitar."
Roger explains the minute detail and precision employed here, with bespoke machinery and hand-made tools, from steam-bending and curfing to the hammering-in of frets with a hammer thought to have now made more than two million blows. "I have a deep passion for frets," says Martin Simpson. "It's how we do what we do. They are beautiful things, and when they're properly finished it makes all the difference in the world."
And who knew bits of guitars and mandolins could be made from old snooker tables or whiskey barrels? Or why Rosewood is called Rosewood?
A unique insight into a popular and much-loved instrument and three friends' obsession with it - with stories, laughs and music along the way.
A 7digital production for BBC Radio 4.
Last on

Broadcasts