Main content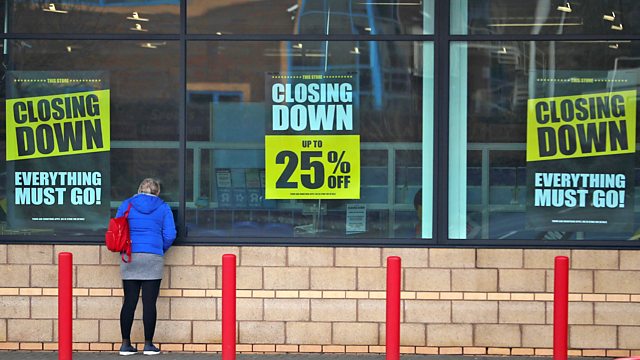 Money Box Live: Is the High Street Finished?
Financial phone-in. Shops that do not sell anything and immersive spaces on the High Street that make you spend. Big retailers are trying everything to get your business.
Join Adam Shaw and guests as they discuss what the High Street is for in 2018.
If you type 'uk high streets' into an internet search engine, you'll find no end of headlines - and they make grim reading. Crisis, struggling, gloom and decline... just some of the cheerful words that will jump out at you. But with 10% of national income coming from retail and more jobs in retail than any other sector of the economy, can we afford to kill off the High Street? We'll be looking at how the High Street is responding to one of the most challenging times in its history.
Traditional High Street names like Debenhams have reported profits collapsing and debt going up. Marks & Spencer announced a five-year transformation plan earlier this year, committing to shutting underperforming shops and downsizing other stores. And just this week we've heard about a merger between Sainsburys and Asda, that they say will help them lower prices for customers.
Adam is joined by Matthew Hopkinson, retail expert, visiting professor at University College London and part of a task force looking at the future of the High Street.
Catherine Shuttleworth, who's the founder of Savvy Marketing, and has spent more than 20 years working in retail.
Howard Saunders, a retail futurist, keeping us informed of the latest retail innovations and shifts in customer expectations.
Presenter: Adam Shaw
Producer: Amanda Dellor.
Last on

Broadcast