Main content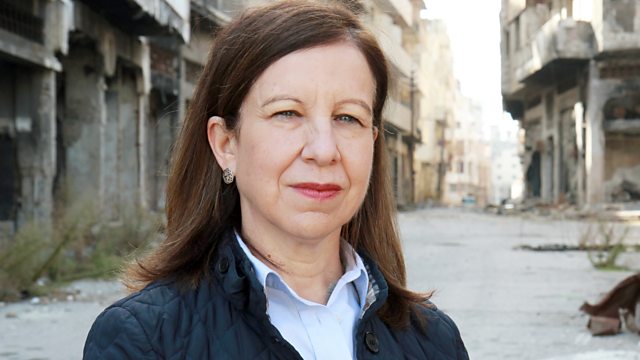 Lyse Doucet and Syria: The World's War
Lyse Doucet discusses her documentary Syria: The World's War. Plus, what to do if you have been abused online, deaths of women in custody, and feeling outnumbered as a parent.
Lyse Doucet was in Daraa, Syria during the early pro-democracy protests eight years ago. Since then, the BBC's Chief International Correspondent has been reporting extensively from the country, covering the humanitarian costs of the conflict, and the world's response to it. She talks to Jenni about her two part documentary on the war and the different women she spoke to. Noura Al-Jizawi was a Syrian revolutionary imprisoned in a military prison for seven months and now a Masters student at the University of Toronto. Hyatt works for the Ministry of Information and supports President Assad. Her 21 year old son Mahmoud was killed by the Syrian rebel fighters.
It's 11 years on from a landmark review into the treatment of women in the justice system and campaigners claim women are still dying avoidable deaths. Since the Corston report more than a decade ago, the charity, Inquest, claims that about 40% of female deaths in prison have been self-inflicted. We hear from Marilyn Reed, the mother of Sarah Reed who took her own life in 2016, and Deborah Coles, Executive Director of the charity Inquest.
What's it like to feel outnumbered in your own family when you are the father of four girls or the mother of four boys? Simon Hooper AKA Father of Daughters on Instagram and Ursula Hirschkorn, a freelance writer and mother of four sons discuss.
In our project Take Back ConTROLL, we heard the personal stories of Charley Hough, Jackie Teale, Charlotte Proudman and Kelly McGurk who all wanted to reclaim their identities after being shamed online. We teamed them up with Mother advertising agency who came up with a celebrity spoof song, Save Our Trolls, featuring Miranda Hart, Andy Serkis and Charlotte Church amongst others. Jenni discusses their campaign for online abuse to be treated as a public health issue and practical tips for what to do if you have been abused online with Folami Prehaye, a victim of revenge porn who started her own support website Victims of Internet Crime, Luciana Berger MP, Former Shadow Minister for Mental Health and Marjorie Wallace, Founder and Chief Executive of the mental health charity, SANE.
Presenter: Jenni Murray
Producer: Kirsty Starkey.
Chapters
Deaths of Women in Prison

Duration: 11:36

Lyse Doucet and Syria: The World's War

Duration: 08:52

Take Back Controll

Duration: 11:04

Parenting Children of One Sex

Duration: 06:39

Credits

| Role | Contributor |
| --- | --- |
| Presenter | Jenni Murray |
| Interviewed Guest | Deborah Coles |
| Interviewed Guest | Marilyn Reed |
| Interviewed Guest | Simon Hooper |
| Interviewed Guest | Ursula Hirschkorn |
| Interviewed Guest | Folami Prehaye |
| Interviewed Guest | Luciana Berger |
| Interviewed Guest | Marjorie Wallace |
| Interviewed Guest | Lyse Doucet |
| Producer | Kirsty Starkey |