Main content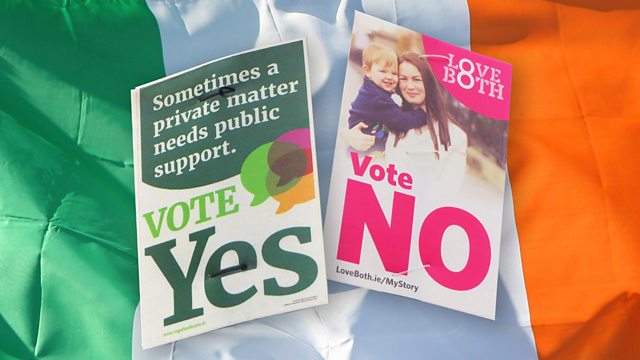 Abortion, Minister for Women and Equalities, Heart Surgeon Dr Nikki Stamp
Reaction to the Ireland abortion referendum. Dr Nikki Stamp talks about her book Can You Die from a Broken Heart? And discussion of the minister for women and equalities.
Ireland is gearing up for a referendum on abortion. On the 25th May people will be asked if they want to change the law or not. If they vote Yes, it means they want a change to the 8th Amendment of the Irish Constitution which states that the pregnant mother and the foetus have the same rights, and it's only if a mother's life is at risk that an abortion is allowed. If they vote No, it means that they want to keep the law as it is. Siobhann Tighe speaks to women in County Mayo about this controversial and emotive subject.
Dr Nikki Stamp is one of only 11 female heart surgeons in the whole of Australia. She joins Jane to talk about her new book Can You Die Of A Broken Heart?
Following Amber Rudd's resignation, the International Development secretary Penny Mourdant becomes the new Minister for Women and Equalities. She is the fourth person to take up the position in less than two years. Is the role not taken seriously enough? Does the role deserve a stand alone brief? Helen Lewis, deputy editor at the New Statesman and Isabel Hardman assistant editor of The Spectator discuss.
For her offbeat musical Why is the Sky Blue? Abbey Wright, the director, interviewed more than 10,000 children and young people about their experiences of online pornography. Currently being performed at the Southwark Playhouse in London, the outcome is a new piece of verbatim theatre with explicit references performed by a company of 6-22 year olds. Abbey joins Jane as does Annie Hawkins, one of the young actors.
Presenter: Jane Garvey
Producer: Dianne McGregor.
Chapters
Minister for Women and Equalities

Duration: 09:58

Why is the Sky Blue?

Duration: 10:42

Repeal The 8th - Part 2

Duration: 12:04

Heart Surgeon Dr Nikki Stamp

Duration: 06:46

Support On Young People and Sex and Relationships

Credits

| Role | Contributor |
| --- | --- |
| Presenter | Jane Garvey |
| Reporter | Siobhann Tighe |
| Interviewed Guest | Nikki Stamp |
| Interviewed Guest | Helen Lewis |
| Interviewed Guest | Isabel Hardman |
| Interviewed Guest | Abbey Wright |
| Interviewed Guest | Annie Hawkins |
| Producer | Dianne McGregor |