Main content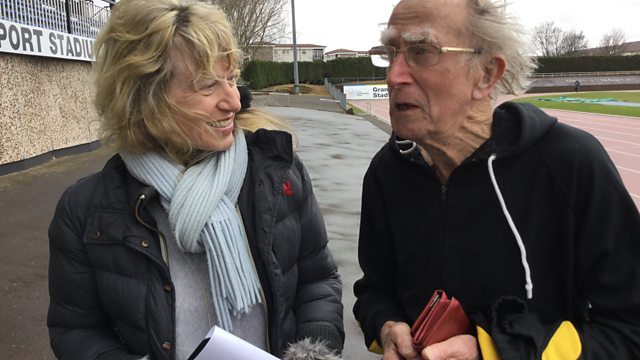 Keep On Running
Athletes in their 60s, 70s, 80s and 90s talk about inspiration, motivation and age being no barrier to keeping fit and active.
Does being fit and active matter to you? If so, are you planning to stick with it in years to come? Or if you've never really got round to exercise, do you think that you've perhaps left it too late? Gillian Russell is at Grangemouth athletics stadium seeking inspiration from athletes in their 60s, 70s, 80s and 90s who all say age is no barrier to getting fit.
Phyllis (62) and Hugh (92) talk about how running has been a part of their lives for as long as they can remember and explain what keeps them motivated as they age.
Keen runners Jim, Janette and Bob describe how they all came to fitness later in life and what inspired them to get started.
Photographer Alex Rotas talks about her passion for photographing older athletes and why she's on a mission to challenge our perceptions of what we're capable of as we age.
Hazel Mollison from Age Scotland describes the barriers some of us may encounter when it comes to keeping active in later life and how we might overcome them.
Exercise physiologist from Bournemouth University Dr Susan Dewhurst talks about the research she's done into physical activity as we age and why Scottish country dancing came out top in terms of heart and lungs, muscle strength, balance and flexibility. Richard Forbes joins a Scottish country dance class in Dingwall to find out about the impact it's having.
Podcast
Gillian Russell introduces kit and app reviews, expert advice and the latest fitness news.