Main content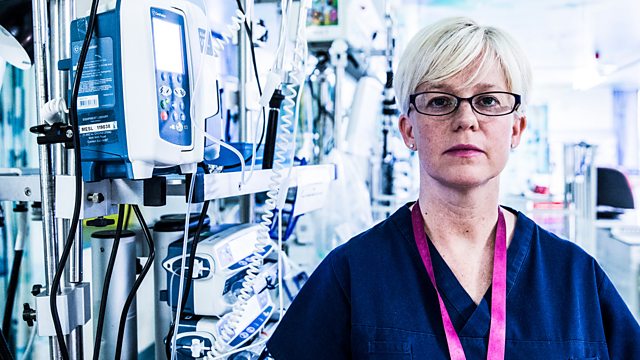 Documentary. Four-year-old Esme is rushed to Queens Medical Centre, suffering from septic shock. The lead paediatrician must stabilise her so that her life is out of danger.
On most days in winter, the Paediatric Intensive Care Unit at Queen's Medical Centre is full. Intensive care is often the last resort for very sick children, a place that can keep them alive while doctors work on making them better. It's also where children undergoing the most serious surgery come to recuperate. It's the job of Lead Consultant Paediatrician Patrick Davies to balance the ever increasing demands that are made on the over-flowing unit every day 'We're stretched to breaking point. One patient in, one patient out. There is a queue of patients around the region waiting for our beds'.
Lack of children's intensive care beds is a nationwide problem. Four-year-old Esme is rushed to Queens Medical Centre from Hull, 90 miles away, when her closest intensive care units in Leeds and Sheffield are both completely full. She is suffering from septic shock, an extreme form of sepsis, a life threatening condition that occurs when the body reacts to an infection by damaging its own organs. Patrick and the team must first stabilise her so that her life is out of danger. But the sepsis still threatens Esme's limbs and the team must now battle to save her fingers and toes.
22-month-old Amaya has contracted pneumonia on both lungs. Patrick believes her situation is extremely grave and he informs her mum Mel and dad Karl that he can't be sure she will pull through. Patrick battles to restore the oxygen levels in her lungs - the one thing that can save her life. This is not Amaya's first time in intensive care. Born very prematurely at 24 weeks, Amaya has spent 10 of her 22 months in hospital. While doctors are having ever greater success in keeping premature babies alive, those children will often return to intensive care time and time again, further increasing pressure on beds.
14-year-old Ella needs an intensive care bed to recover from major spinal surgery. She's been cancelled before due to a lack of beds in the unit and on the day of her re-scheduled operation it is completely full yet again. She waits on the ward, not knowing whether her life-changing operation will take place, while staff do everything they can to find her a bed.
Clips

Credits
| Role | Contributor |
| --- | --- |
| Executive Producer | Simon Dickson |
| Executive Producer | Lorraine Charker Phillips |
| Executive Producer | Ricardo Pollack |
| Series Producer | Sophie Jones |
| Series Producer | Emma Whitehead |
| Director | Chris Taylor |
| Director | Paul Wells |
| Director | Hiral Patel |
| Director | Rebecca Burrell |
| Director | Jack Rampling |
| Director | Natasha Zinni |
| Director | Lyttanya Shannon |
| Production Company | Label1 Television Ltd |