Main content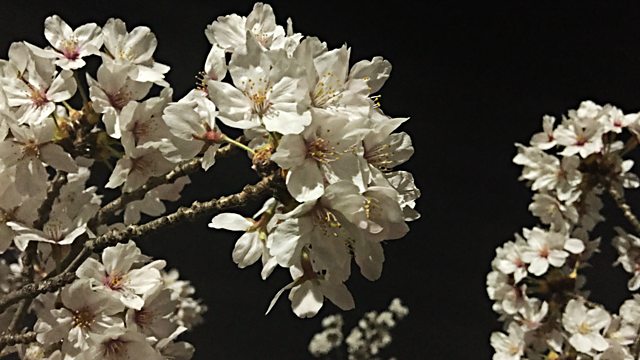 Music in Japan
Tom Service finds portals to other worlds in Japan, from Noh theatre to Japanoise, and from Masaaki Suzuki's Bach to composer Toshio Hosokawa.
Another chance to hear Tom Service visit to Japan during cherry blossom season, first broadcast as part of Radio 3's Night Blossom season, where he finds musical portals to other worlds: from Noh theatre to Japanoise, and from Bach to today's composers fusing ancient and modern ideas. Tom is accompanied by the violinist and translator Midori Komachi.
At a traditional house in the back streets of Tokyo, Tom meets the composer Yuka Takechi, shakuhachi player Rei Jin and koto player Yoko Nishi, who reveal the meaning of Ma, the space between words, objects, and sounds which is full of significance for Japanese culture: and a principal which underpins much of the music in this programme.
Dating back to the 14th century, Noh theatre is known for its rich repertoire of stories, distinctive staging, masks, costumes and music. To discover the secrets of how it connects this world with the world beyond the stage, Tom meets Diego Pellecchia, an Italian-born Noh practitioner who teaches at Kyoto University, and visits the Kita school in Tokyo to witness Noh's unique final rehearsal, the moshiawase, for the play Sakuragawa (The River of Cherry Blossoms).
At Tokyo's Soup bar, an influential venue for Japan's noise music scene, singer Taichi Nagura of Endon explains how his extreme vocal techniques enable him to transcend to other dimensions. And on the other end of the spectrum, conductor Masaaki Suzuki tells Tom about his annual performances of the St Matthew Passion, and how Bach's music has helped Japanese audiences in times of natural disaster.
And in Inokashira Park, with people gathering for one of Japan's famous Night Blossom parties, Tom encounters one of the country's leading composers, whose other-worldly music combines the delicacy of blossoming flowers with the untamed power of nature: Toshio Hosokawa.
Last on
Tom Service traces the rise of an evolving genre, from 80s chiptunes to responsive scores
Clips

Broadcasts

Featured in...
Late-evening programmes exploring the counter-culture in Japanese music and art.