Main content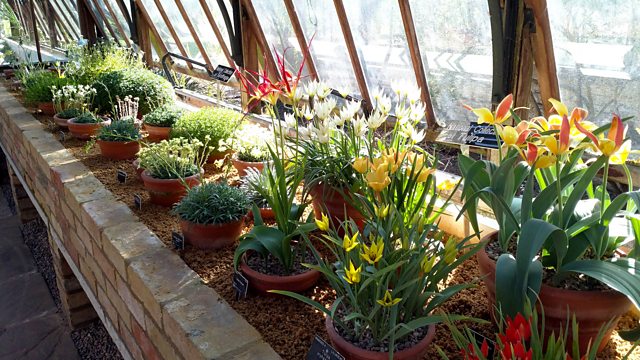 Cambridge
Peter Gibbs and his panel visit Cambridge. Bob Flowerdew, Matthew Wilson and Bunny Guinness answer the horticultural queries.
Peter Gibbs and his panel make a visit to Cambridge. Bob Flowerdew, Matthew Wilson and Bunny Guinness answer the horticultural questions.
This week, the panellists assess a poorly-fruiting Greengage, suggest ways to improve the lifespan of some pansies, and discuss whether it is possible to espalier a Pyracantha.
They also offer planting suggestions for a north-facing front garden, advise on moving rhubarb and propose some ideas for a hedgerow windbreak.
And Arit Anderson follows up on the RHS guide to gardening in a changing climate from this time last year.
Produced by Hannah Newton
Assistant Producer: Hester Cant
A Somethin' Else production for BBC Radio 4.
Fact Sheet
Q – We bought a Cambridge greengage but it doesn't produce much fruit.  What is going wrong?
Bob – They are a shy fruiter.  Reine Claude was the original gage.  Bullfinches could be eating the buds.  Tie strings to the branches, pop bottles with water in on the end so they bend over, this way the sap flows through better. 
Bunny – They like a lot of sun and a slightly hotter climate.  Best gauge for this climate is the Oullins Golden gage. 
Q – We have an east-facing flowerbed where we have tried to grow pansies and lobelias but after a few weeks they just die.  What can we do?
Bunny – They do get pansy sickness if you replant into the same bed.  Maybe grow something else. 
Matthew – I'd plant perennials instead.  Choisysa ternata is a great plant. 
Q – We've got a Pyracantha growing up the wall at the back of the house and I'd like to espalier it.  Can we?
Bob – You should cut it down to a foot in height and then focus on the lower limbs first
Bunny – Do a pear instead.  'Beurre Hardy' is a hardy variety. 
Q – We have a 2m x 8m (6.5ft x 26ft) north-facing front garden that is currently covered in gravel.  Which evergreen shrubs could you recommend to put in it?
Bunny – You could do a Victorian parterre and then fill the spaces with colour.  Make a network of dwarf Yew (if you don't want to use Box) and then I would add white roses, tulips, and other long-flowering plants in between.
Matthew – Sarcococca confusa is a good shrub.  Viburnum burkwoodii.  Hydrangea 'Madame Emile Mouillere' or 'Zorro'.  Rosa 'Winchester Cathedral'. 
Q – We're moving house next week and will it be possible to take my shooting rhubarb with me?
Bob – You can't kill rhubarb!  Take the chunks off the outside and take them with you and you might succeed.  But I would buy a new virus-free clone and start again at the new house. 
Bunny – You could risk it
Q – I would like to plant 50m (164ft) of hedgerow, preferably as a windbreak, what can I plant that I would only prune in winter?
Matthew – Stick with native plants.  You can cut a native in winter without any problems.  Focus on Holly, Dog Rose, Wayfaring tree (Viburnum lantana), Hawthorn
Bunny – Put Yew in (if you haven't got livestock).  Willow. 
Bob – Elderberry. 
Matthew – Allow three standard trees to grow in that hedge mix too
Q – My best friend will be fifty in October and I'd like to plant something now that will be in its full glory for her birthday.  What can I plant?
Bob – I love Nerines. 
Bunny – Standard fruiting vine
Matthew – Euonymus alatus 'Compactus'
Q – My primulas are being deadheaded by some sort of creature.  What is it and what can I do?
Bob – The list is endless.  Get a motion-sensor camera and find out the victim then you can make a plan of action
Q – We have a natural pond that is turning into a swamp; how do we stop this?
Bunny – You can always put a liner with a one-way valve if you want year-round water
Q – Ellen Willmot used to sprinkle Eryngium giganteum when visiting gardens.  This Sea Holly relative later got named 'Mrs Willmot's Ghost'.  What plant would be your calling card?
Bunny – Honesty 'Chedglow'
Matthew – Brunnera with Narcissus hawera poking through it